Webb Simpson Wife: Everything You Need to Know About US Open Winner's Wife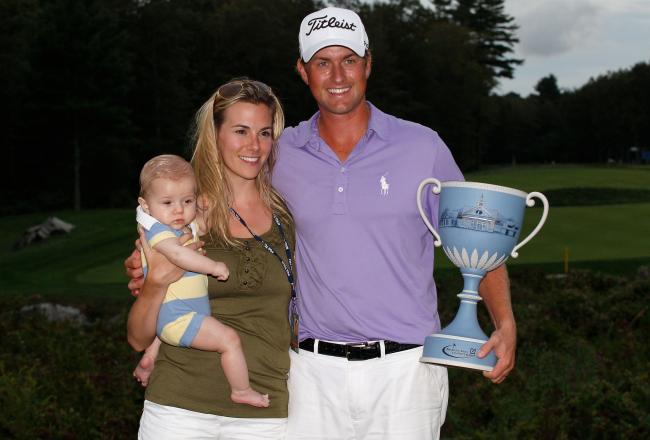 Michael Cohen/Getty Images
Behind every successful golfer, there's a hot wife.
Just look at Tiger Woods before and after his many mistresses came out of the woodwork and Elin packed her bags/unloaded on her now ex-husband with his own drivers. Anyway, that's where Dowd Simpson comes in—the wife of Webb who, unless you're a diehard golf fan (how many of those exist?), you've never heard of until he won the 2012 U.S. Open.
Webb conquered the field at the Olympic Club.
Tiger, Phil Mickelson and Rory McIlroy proved to be inferior opponents, but it isn't like you care—you're here for Dowd (and I can't blame you).
But back to Webb for just one second. It's extremely fitting that Webb of all golfers went on to win the 2012 U.S. Open on June 17th—the third Sunday of the month, Father's Day. Because single men out there can learn one thing from the story of how Webb and Dowd first met—that your dad is the ultimate wingman.
You read that right, folks.
Dowd wrote on PGATour.com that the first time she saw Simpson in person was at a Wake Forest party. Simpson yelled A-YO to Miss Dowd, and they hit it off. But Mr. Simpson wasn't the winner of the 2012 U.S. Open—he was Webb's father.
According to Dowd, Mr. Simpson said that he'd pay her $100 to take Webb out when he became a Demon Deacon the next year. Now, before you call Dowd a gold digger, a hot chick is capable of stealing far more than $100—just ask Vanessa Bryant. And before you call Mr. Simpson a pimp, just remember that pimpin' ain't easy.
I kid, I kid. Dowd said that he was just joking around.
Eventually, Dowd came to Webb's dorm room to meet him. Webb knew it was Dowd before he even introduced herself because of how intricately his dad had described her (just when you thought the story couldn't get any more awkward). And yada-yada-yada, Dowd is currently pregnant with their second child.
Now you know everything about Webb Simpson's wife.
And remember kids, don't wish your dad a happy Father's Day until he hooks you up.
David Daniels is a featured columnist at Bleacher Report and a syndicated writer.
This article is
What is the duplicate article?
Why is this article offensive?
Where is this article plagiarized from?
Why is this article poorly edited?