Which Minicamp Holdouts Could Carry over into 2012 NFL Season?
June 18, 2012

Jim McIsaac/Getty Images
In the month of June, the NFL abandons the game of football to play the game of chicken.
Players attempt to wield leverage over their teams by making themselves scarce for mandatory minicamp; general managers make austere, unrelenting public statements about player contracts.
In the worst cases, this game of chicken can dip all the way into the regular season.
Here are three NFL holdout storylines that could go there. 
Darrelle Revis
New York experienced a serious case of deja vu this offseason when Pro Bowl cornerback Darrelle Revis suggested he might yet again hold out for a new contract.
The announcement came just two years after a 35-day holdout led the corner to miss all of training camp for the 2010 season. Revis went on to record his worst statistical season in the NFL that year.
That holdout got Revis a front-loaded seven-year deal which paid out $32.5 million over the first two seasons of the contract.
But Revis' salary slips significantly in the latter portion of the contract, which is the source of his displeasure. He is owed $4.5 million this year (plus a $3 million roster bonus).
When crafting the contract, the Jets sought to make it holdout-proof.
The final three years of Darrelle's deal pay a measly $3 million per season. But New York laced in a clause that would void those years of the contract (and prevent the team from slapping Revis with the franchise tag in 2013) if Darrelle would abide by one simple rule: no contract holdouts.
Though these terms were meant to avoid yet another Revis rebellion, they, ironically, could motivate him to dig his heels in come September.
As soon as the corner cops an official holdout, he is locked into the miserable final years of his contract—terms he will never accept.
In other words, if Revis is gutsy enough to miss training camp, he has every reason to continue holding out until the Jets give him an acceptable deal. 
As of now, the Island has shown up to mandatory minicamp (though he sat out some drills in protest).
But with each passing day, it's looking more likely that he will make good on his threat to skip training camp.
Maurice Jones-Drew
The contract holdout situation in Jacksonville could get uglier as the season approaches.
Jaguars running back Maurice Jones-Drew is unhappy with his current contract and showcased his displeasure by skipping mandatory minicamp last week.
Jones-Drew led the NFL in rushing last season, notching 1,606 yards, and he wants his compensation to reflect that fact.
Per his current contract, he is owed $4.45 million this season in base salary.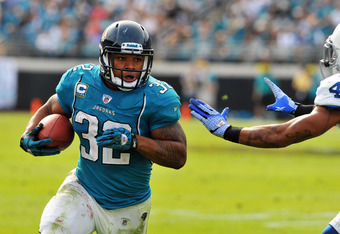 Al Messerschmidt/Getty Images
In comparison, Adrian Peterson and Chris Johnson will both receive $8 million this year in accordance with their contracts.
But despite the glaring wage gap among these elite backs, the story is not as one-sided as it seems.
The Jags did MJD a favor by offering him a long-term deal after the 2008 season. That year, Jones-Drew rushed for just 824 yards (the 25th-most in the NFL that season).
At the time, the Jags made Jones-Drew one of the highest-paid backs in the league. It was a risky move by Jacksonville.
Now, both parties are at a standstill, with Jaguars general manager Gene Smith vowing that he will not draw up a new contract for Jones-Drew and reports indicating that MJD could hold out into the season.
Jones-Drew is by far the Jaguars' best player and the face of their franchise. It would be a shame to see this one drag on.
In New Orleans, July 16 is known as Breesmageddon.
Since the New Orleans Saints hit quarterback Drew Brees with the franchise tag, the clock started ticking toward that date—the deadline for the Saints to work out a long-term deal with Brees.
If a deal doesn't get worked out by then, Brees will only be able to sign a one-year contract that cannot be extended until the final game of the 2012 season.
If that is the case, Brees could extend his holdout indefinitely. Of course, Brees skipping regular games would be the worst-case scenario—but it's possible.
Brees eclipsed Dan Marino's single-season passing record last year and brought a Super Bowl home to New Orleans in 2010. He has played in the Big Easy for six years in the absence of a long-term deal.
If the Saints fail to give Brees the contract he deserves, it could be enough of an abomination for the quarterback to sit out on principle alone.