Florida State Football: What You Need to Know About OLB Brandon Jenkins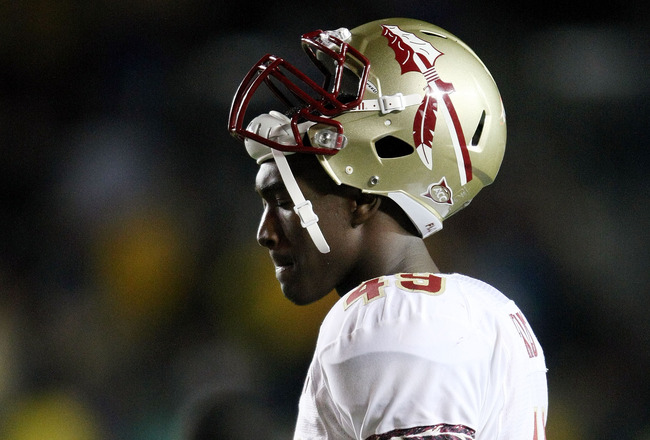 Brandon Jenkins is one of FSU's 2012 stars.
Elsa/Getty Images
Some guys have the talent but don't have the commitment. You know those players who will leave school a year early just to make fast money. Think of Terrelle Pryor, who left Ohio State likely out of his own self-interests (via Sporting News).
Granted, many players have dreamed of playing in the NFL and wouldn't want their draft stock ruined by a senior-year injury. But many who exhort the team above themselves, such as Brandon Jenkins, decided to stay another year (via Orlando Sentinel).
So fans can take solace that Jenkins is a committed Seminole. But what else should people know about this possible future NFL star?
Jenkins Is a Leader, but Not Necessarily Irreplaceable

TMB took a look at some of Jenkins' highlights and weaknesses from the 2010 season.

Without Jenkins, things would still be fine at the FSU defensive end position. Tank Carradine could simply take his spot alongside Bjoern Werner. The question is, though, would they fare as well?
Werner did have to wear a brace on his right shoulder for most of the season (via Tomahawk Nation), but that didn't cause him any pain. His stats were impressive, as he had 41 tackles last season (via Orlando Sentinel).
But Werner didn't make the spring game. The loss of that playing time could cost him from becoming an even greater of a talent than he is already.
Brandon Jenkins' presence on FSU's turf will assuage any concerned Seminoles about the position.
Jenkins Is on the Lott Trophy Watch List

Jenkins, who was on the Lott Trophy list in 2010, reflects how the 2010 'Noles beat BC.

The Lott Trophy, for those of you who might not know, is equal to the Heisman in the eyes of most defensive players. Yes, more than one trophy recognizes the best defensive player; the Bednarik and Bronko Nagurski Trophies exemplify this. But just because a running back can win the Doak Walker Award, it doesn't mean that player wouldn't want the Heisman.
So, basically the Lott Trophy is one of three trophies that award excellent play by defensive players. Brandon Jenkins is on the Lott Trophy Award List for the second year in a row. The other watch lists, to my knowledge, have yet to be released, but I wouldn't be surprised to see Jenkins on each award foundation's list.
Jenkins' Weaknesses and Strengths

One of Jenkins' most explosive games came last year against Maryland.

In the first part, I mentioned how Brandon Jenkins is a leader to his team. So, while I do want to evaluate this player justly, here's another tidbit to remind you of his leadership capability: He was named the team's Most Valuable Player in 2010 over future NFL quarterback Christian Ponder (via CBS Sports).
Jenkins can come out fast, but (again, looking from the slide on the first page) he is not necessarily strong. If he gets tangled by an offensive lineman, he's done. But when given a chance to actually go around the pocket, Jenkins does well in getting quarterback sacks. In addition, CBS Sports has announced that Jenkins has gained 20 pounds since joining the program. The increased weight should make him tougher, but shouldn't slow him down too much.
For more on the construction of Florida State's Bionic Man, look to ESPN's statistics.
Keep Reading

Florida State Football: Like this team?