WWE No Way out 2012 Results: Cena Beats Big Show, Laurinaitis "Fired"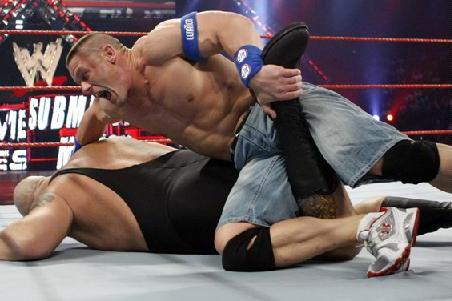 Cena began the match aggressively as he charged the Big Show, but The Big show quickly stopped the attack and tossed Cena into the side of the steel cage.
Show continued to control the pace of the match as he hit a big chop on Cena in the corner.
Cena tried fighting back, but on the way back off the ropes, Show hit a big clothesline.
Show tossed Cena around the ring and continued his assault, but Cena began a comeback. Cena begun climbing the cage, and as Show tried to pull him down, Cena crotched him on the top rope as both men fell off.
Show power bombed Cena against the cage and followed up with a reverse electric slide maneuver.
Big Show followed up with a Vader Bomb for a nearfall.
Big Show scaled to the top turnbuckle, then climbed to the middle of the top rope. Show went for a big elbow, but missed.
Show quickly attempted to go for the cage door, but Cena was able to pull him back to the enter or of the ring. From there, Cena hit his patented shoulder blocks, but was unable to capitalize as both men lay in the middle of the ring.
Laurinaitis knocked out the outside referee. Meanwhile, McMahon opened the cage door, but Laurinaitis shoved McMahon, causing him to accidentally slam the door on Cena's head.
Big Show hit the chokeslam on Cena for a two count. A second referee entered the ring, but Show knocked him out with a big punch. Show tried to exit the ring, but Brodus Clay stood in front of the door with a steel chair as he taunted Big Show.
Clay made a motion to the back as Santino and Alex Riley came down. Both men tried to climb the cage, but Show bumped them off.
This brought out Zack Ryder, who was also unsuccessful in climbing the cage as Show punched the cage, causing Ryder to fall off.
Kofi Kingston came running down, and as Show climbed to the top of the cage, Kingston kicked him in the head, causing Show to fall off.
Cena tried to climb out of the cage, but Show dragged Cena back in, leading to an AA by Cena on Big Show.
No referee was able to count the three, so Cena climbed the cage, Laurinaitis tried to stop Cena, but Brodus Clay held him back as Cena exited, winning the match.
Winner: John Cena
This Match as an NBA Finals Athlete: Serge Ibaka
After the match, Laurinaitis tried to hit Cena with a crutch but Cena ducked and picked him up into fireman's carry position. McMahon turned the mic on and declared that John Laurinaitis was "FIRED!"
Most recent updates:
This article is
What is the duplicate article?
Why is this article offensive?
Where is this article plagiarized from?
Why is this article poorly edited?