Phil Mickelson: Lefty Will Contend for British Open Despite Recent Struggles
June 17, 2012

Stuart Franklin/Getty Images
I don't care how poorly Phil Mickelson looked at the 2012 U.S. Open. When the Open Championship is played this July, count in Mickelson as a favorite.
You don't need to tell me that Mickelson shot 17 over par. You don't need to tell me that, as of 4:00 PM PST on Sunday, he's tied for 66th, and you don't need to tell me that he shot nine bogeys without a birdie to end his final day of play on Sunday.
You don't need to tell me any of that because I already know. And so does the rest of the country, so you don't need to tell them either.
We aren't talking about someone like Luke Donald, who's never won a major championship and at this point we aren't sure if he ever will.
We're talking about Phil Mickelson. Mickelson, the same golfer who has won four major championships and 40 events on the PGA tour. We're talking about Phil Mickelson, who has been a professional golfer for longer than Beau Hossler has been alive. We're talking about Phil Mickelson, who has won the Masters Tournament three times, once as recently as 2010.
Last year, in the Open Championship, Mickelson tied for second and easily could have won it sans a few momentary lapses and an impressive performance from Irishman Darren Clarke.
No one, however, would call his performance at the 2012 U.S. Open a success by any means.
"'I mean, I barely made the cut," Mickelson said, via the San Jose Mercury News. "'My goal was to shoot under par. I had multiple chances, and I was fractionally off on the greens. I just didn't make any until the last putt.'"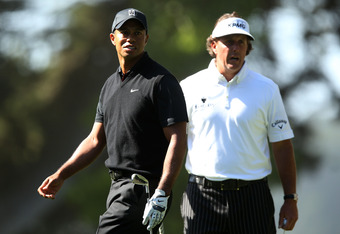 Ezra Shaw/Getty Images
But that shouldn't be the focus for the iconic golfer, who is well beyond the point in his career in which he should be judged for one weekend of play alone. Perhaps his history and achievements should be enough for the Hall of Fame golfer.
On his birthday, Mickelson rewarded himself with a 71. Not a bad outing for the golfer who was deep in his head after a terrible performance on the first day.
The struggles, unfortunately, were not related only to the U.S. Open. He was abysmal at Memorial as well, until he withdrew. As Bleacher Report writer Austin Green explained, "After stringing together two of the worst rounds of his professional career, the 42-year-old Mickelson was starting to look like his days as an elite golfer were behind him."
For his redemption at the U.S. Open, Mickelson hoped to improve on his recent struggles. Instead, he bogeyed on the first three holes for his worst start at the U.S. Open ever.
Things may not be looking good for Phil Mickelson now, but his rest and patience will help him in the future. He needs to get away from the limelight for a little bit, regain his focus and come back swinging. With the talent that Mickelson is blessed with, he shouldn't be in too harsh of a condition.
When the Open Championship begins on July 19th, fans would be foolish to count out Mickelson.