NBA Finals 2012: Updated NBA Power Rankings, Player Edition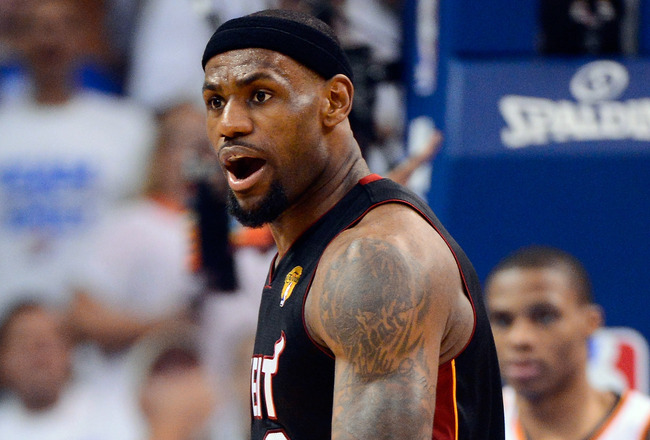 Ronald Martinez/Getty Images
We're three games into the 2012 NBA Finals, and fans have seen their fair share of memorable performances and extremely competitive individual matchups.
From LeBron James facing off against Kevin Durant to Dwyane Wade and Russell Westbrook fighting to prove who's the better player, the finals are full of players who want to prove their value and help their team take home an NBA title.
Which players have risen to the occasion, and which have failed to perform at the level that fans and experts expected them to?
Read on to find out in the 2012 NBA Finals rankings—player edition.
10. Thabo Sefolosha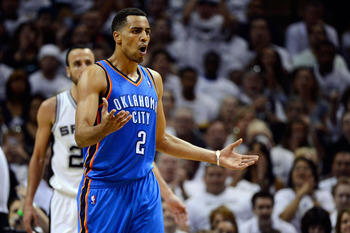 Ronald Martinez/Getty Images
NBA Finals Stats: 6.0 PPG, 2.7 RPG, 2.3 SPG, 33.3 FG%, 14.3 3PFG%
Thabo Sefolosha has been struggling, to say the least, in the finals.
After his 19-point performance against the San Antonio Spurs in Game 3 of the Western Conference finals, where he also locked down Tony Parker, Sefolosha seems to have developed the perspective that he needs to be an offensively productive player for the Thunder.
That couldn't be more incorrect. Sefolosha's terrible shooting percentage goes to show just how much his play is actually hurting the Thunder.
Every poor shot that Sefolosha takes is a shot that's taken away from Kevin Durant or another, more effective player for the Thunder. Sefolosha needs to return to being an opportunistic player for the Thunder, rather than being a piece of their offensive set, if the Thunder are to regain control of this series.
9. Mario Chalmers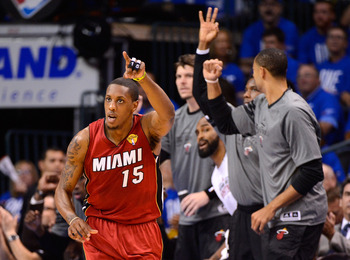 Ronald Martinez/Getty Images
NBA Finals Stats: 5.7 PPG, 3.3 APG, 3.0 RPG, 31.8 FG%, 30.0 3PFG%
Mario Chalmers falls into the same boat as Sefolosha, but luckily for Chalmers his teammates have made his lack of production seem extremely irrelevant.
Time and time again we've seen LeBron James and Dwyane Wade scold Chalmers for taking silly shots early in the shot clock or for failing to get them the ball, and they're right for doing that.
Chalmers hasn't been nearly as productive or efficient in the finals as he was throughout the rest of the playoffs, where he was averaging 11.5 points per game.
While the Heat don't truly need Chalmers to do more than he has to win, it couldn't hurt for Chalmers to channel his inner "Super Mario" and return to his more productive form.
8. Serge Ibaka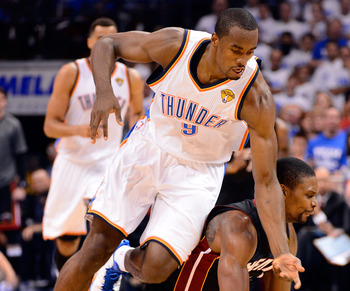 Ronald Martinez/Getty Images
NBA Finals Stats: 7.3 PPG, 5.0 RPG, 2.3 BPG, 45.0 FG%, 57.1 FT%
The lack of offensive production and efficiency that the Thunder are getting from Serge Ibaka is at the foundation of why they are behind in the series.
Ibaka hasn't been able to contest shots against the Heat like he did against the other teams he faced in the playoffs, and it's showing, as he's averaging one whole block less per game in this series than he was averaging throughout the rest of the playoffs.
The Thunder need Ibaka to stop settling for outside jump shots and start attacking in the paint and on the offensive glass more than he has.
The Thunder can't beat the Heat if Ibaka continues to play the way he has in the first three games. His lack of production in the paint is impacting the way the Heat are approaching the Thunder on the defensive side of the ball, and that's bad news for OKC.
7. James Harden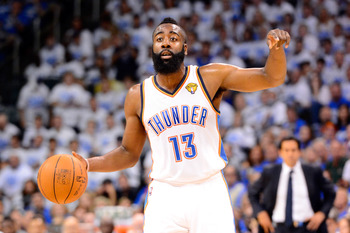 Ronald Martinez/Getty Images
NBA Finals Stats: 11.7 PPG, 3.3 RPG, 3.7 APG, 40.7 FG%, 71.4 FT%
James Harden is in an interesting position. While his statistical averages aren't all that terrible, they don't aptly display the lack of an impact he's had on this series so far.
Aside from Harden's Game 2 performance, where he singlehandedly kept the Thunder in the game with his 21 points on 63.6 percent shooting, Harden's play has been seriously subpar.
In Games 1 and 3 Harden averaged just seven points on 25 percent shooting, which shows the overall lack of impact he's had on the finals so far.
The Thunder need Harden to seriously amp up his production throughout the longevity of this series if they are to have any hope of overcoming the Heat. Harden, maybe it's time to shave your beard and see how you play without it, because it looks like it's starting to hold you back.
6. Chris Bosh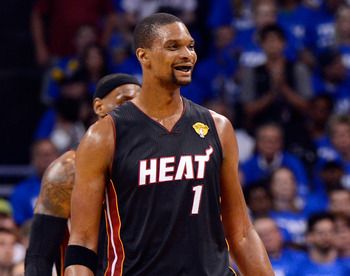 Ronald Martinez/Getty Images
NBA Finals Stats: 12.0 PPG, 10.3 RPG, 1.3 BPG, 36.1 FG%, 81.8 FT%
Chris Bosh's return to the starting lineup for the Miami Heat in Game 2 of the NBA Finals turned out to be just what the Heat needed.
While Bosh isn't setting South Beach on fire with his 36.1 shooting percentage, he's impacting the outcome of the series by being an opportunistic scorer and absolutely owning the glass for the Heat.
In Game 2 alone, seven of Bosh's team-high 15 rebounds were offensive, which helped create second-chance opportunities for the Heat that they were able to capitalize on throughout the game.
Bosh is doing anything and everything the Heat ask him to do, and he's doing it well. If Bosh can continue to dominate the offensive glass for the Heat, the Thunder are going to have a very difficult time beating the Heat again in the finals.
5. Shane Battier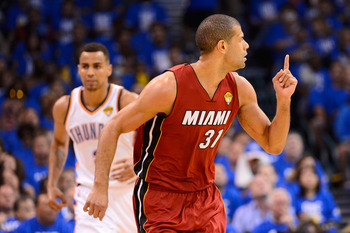 Ronald Martinez/Getty Images
NBA Finals Stats: 14.3 PPG, 2.7 RPG, 73.7 FG%, 73.3 3PFG%
It might seem somewhat odd to find Shane Battier's name at the No. 5 spot on this list, but he's deserved the honor of being that high.
Not only is Battier shooting a ridiculous 11-of-15 from beyond the arc, he's also a force to be reckoned with on the defensive side of the ball.
Batter's basketball IQ and his ability to understand when it's the appropriate time for him to step in and take a charge has been put on display in the finals, and it's a major reason why the Heat are up two games to one on the Thunder.
If the Heat go on to win the 2012 NBA title, there's no doubt that Battier's production for the Heat on both sides of the ball will be at the foundation of that success.
4. Dwyane Wade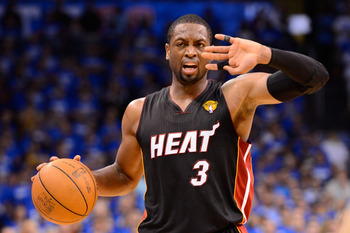 Ronald Martinez/Getty Images
NBA Finals Stats: 22.7 PPG, 6.7 APG, 5.7 RPG, 41.0 FG%, 81.8 FT%
Dwyane Wade is finally starting to figure out how to score and be efficient in the first half of games again, and that's a very good sign for the Miami Heat.
While Wade's production has been solid throughout the finals so far, the one thing that he needs to focus on moving forward is allowing LeBron James to control the tempo of the game when he's hot.
Too often, Wade finds himself taking over the point guard role of the team after LeBron has hit two or three baskets, and it seriously impacts the way LeBron is able to attack down the stretch.
With that being said, Wade is still holding his own against the Thunder's athletic defenders. The way he's been able to get into the paint and draw fouls at just the right time is exactly why the Heat are up two games to one on the Thunder.
3. Russell Westbroook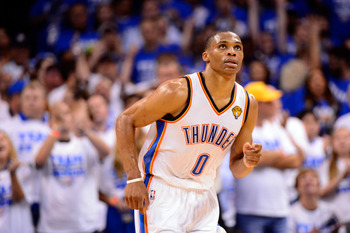 Ronald Martinez/Getty Images
NBA Finals Stats: 24.3 PPG, 7.3 APG, 7.0 RPG, 41.2 FG%, 77.8 FT%
While the Thunder are down in the series, Russell Westbrook is outplaying every member of the Heat not named LeBron James.
Yes, that means he's even outproducing Dwyane Wade in every major statistical category, which goes to show just how dominant he's been playing.
The one aspect of Westbrook's game that must improve if the Thunder want to stop the Heat from winning the 2012 NBA title in just five games is the defensive pressure that he's putting on Dwyane Wade.
Westbrook also needs to be more aggressive attacking the rim in addition to settling less for low-percentage, long-range jumpers. Westbrook's production is impressive, but if he doesn't step his game up a little more, that won't matter.
2. Kevin Durant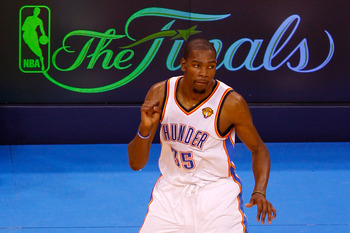 Mike Ehrmann/Getty Images
NBA Finals Stats: 31.0 PPG, 5.7 RPG, 1.7 APG, 57.4 FG%, 73.7 FT%
While the Thunder are down two games to one against the Heat, there's no doubt that Kevin Durant is playing at an incredibly elite level.
Durant is shooting a whopping 57.4 percent from the field, and his shooting is a major part of why the Thunder have been in the past two games of the finals.
If Durant wants to win his first title before LeBron, though, he has to start helping his teammates find their groove on offense as well, which he can do by facilitating the Thunder's offense a little more than he has so far.
If LeBron wasn't playing at such an elite level, Durant would be the No. 1 player on this list. That's just how well he's been playing.
1. LeBron James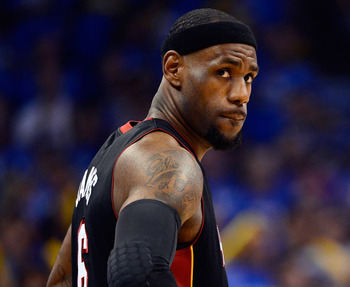 Ronald Martinez/Getty Images
NBA Finals Stats: 30.3 PPG, 10.3 RPG, 4.0 APG, 46.4 FG%, 86.2 FT%
There's no doubt that LeBron James, the 2012 regular-season NBA MVP, is also the MVP of the NBA Finals so far.
LeBron has elevated his game consistently throughout the series, and he's done whatever the Heat have needed him to do to help them win. Whether it's locking down Durant or facilitating the offense in the closing minutes of games, LeBron's been the Heat's go-to player in the finals.
LeBron's even been hitting clutch free throws and taking clutch-time shots in the fourth quarter.
If LeBron continues to play the way that he has throughout the playoffs so far, he'll certainly carry the Heat to the 2012 NBA title on his way to winning his first of many NBA Finals MVP honors.
Keep Reading