Pittsburgh Trade Rumors: Bucs Could Be Buyers, but Who Will They Target?
June 18, 2012

Dilip Vishwanat/Getty Images
After their 9-5 win over Cleveland on Sunday, the Pittsburgh Pirates moved to 34-31. If they can keep up their surprising success, Pittsburgh will surely look to be rare buyers at the trade deadline.
While there are still a lot of games left to be played before the July 31 deadline, GM Neal Huntington was in a similar position with last year's Pirates team.
On consecutive days in late July last year, with Pittsburgh still well within reach of the NL Central title, Huntington made trades for first baseman Derrek Lee and outfielder Ryan Ludwick in an effort to upgrade the offense.
With the second-worst hitting offense in the majors, the Pirates will once again be looking to upgrade their lineup in 2012.
Specifically, the corner infield spots are in need of a big upgrade. While Pedro Alvarez shows brief glimpses of his superstar ability, the combined OPS of Pittsburgh's first basemen and third basemen for the year is a woeful .645.
Here are a few players who are rumored to be on the trading block and who could be suiting up for the Buccos by the end of the July 31 deadline.
3B Chase Headley, San Diego Padres
According to Ken Rosenthal at Fox Sports, the Pirates will be looking at numerous corner infield options to help improve an offense that has struggled to put runs on the board. The Padres' Chase Headley is most likely going to be the best player available at that position for the Pirates to acquire.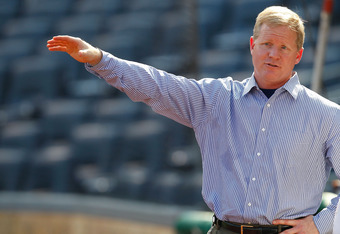 Jared Wickerham/Getty Images
The 28-year old switch-hitter is off to a solid start in 2012, putting up a .264/.374/.421 slash line with eight stolen bases on top of it.
Headley has had to play his home games in Petco Park, which can be devastating on a hitter, and his home/road splits show he has been much more successful away from San Diego.
At 24-43, it doesn't look like the Padres will be heading to the playoffs this year and should be in a position to trade Headley with prospects James Darnell and Jedd Gyorko ready to fill in at third base. Headley may be a little more costly than some of the Pirates other options, but he would be a very nice addition to Clint Hurdle's lineup.
3B/1B Kevin Youkilis, Boston Red Sox
Perhaps the most high-profile name on the market right now, Kevin Youkilis appears to be on the market now that prospect Will Middlebrooks seems to be taking over as the Red Sox third baseman of the future and the present.
There have been reports that the Pirates have inquired about the slumping 33-year-old, and a change of scenery to the National League could be just the thing Youkilis needs to regain his swing.
While Youkilis missed some time on the DL this year with a back injury and has battled health problems for the past several years, this is the same player who between 2008 and 2010 hit .308 with an average of 25 home runs a year.
He would also step in as a leader on a young Pirates ballclub and would provide fantastic defense at first base.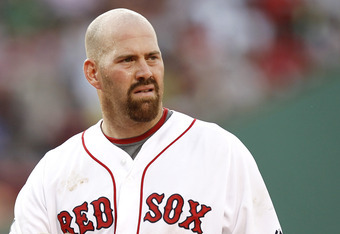 Winslow Townson/Getty Images
The Pirates might not have to give up a whole lot to get Youkilis from the Red Sox and this could be a great buy-low move that we have seen Huntington excel at in the past.
1B Bryan LaHair, Chicago Cubs
In the same video above about Headley, FOX Sports' Rosenthal discussed the Pirates' interest in Cubs first baseman Bryan LaHair.
LaHair is off to a breakout start in 2012, hitting .297 with a .940 OPS, tied for the team lead with 12 home runs. It appears that this is no fluke, either, as according to Jim Bowden of ESPN.com, scouts are comparing LaHair's late rise to the likes of Nelson Cruz and Jose Bautista.
With Chicago's top prospect, Anthony Rizzo, also a first baseman and ready for the Majors, the Pirates could swoop in and grab one of baseball's biggest surprises in 2012 while his stock is at its highest. 
LHP Joe Saunders, Arizona Diamondbacks
According to Nick Piecoro of azcentral.com, the Pirates are one of a handful of teams interested in crafty left-hander Joe Saunders.
While the Pittsburgh rotation has been a bright spot so far this year, Charlie Morton is out for the year with Tommy John surgery, Brad Lincoln has gotten hit hard in his past couple of starts and who knows what Jeff Karstens will look like when he gets back.
Saunders is having a pretty solid year for Arizona, posting a 4-5 record with a 3.44 ERA in 81 innings pitched. However, he is blocking the D'Backs' stud prospect Trevor Bauer from the rotation, and the front office might not want to wait any longer to see their young phenom in the majors.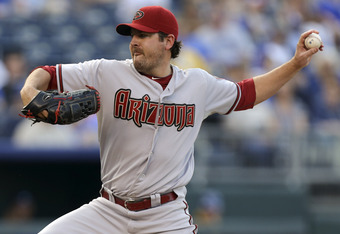 Ed Zurga/Getty Images
Joe Saunders would be a welcome addition to round out one of the best rotations in baseball in 2012 and the Pirates may be able to get him fairly cheap at that.
1B Derrek Lee, Free Agent
While it may have just been a thought from Ben Nicholson-Smith at MLB Trade Rumors, the possibility of Derrek Lee returning to the Pirates is intriguing.
Lee tore up National League pitchers to the tune of .337/.398/.584 with seven home runs in just 101 at-bats after being traded to the Pirates at the deadline last year. With first base the revolving door that it is right now, Pittsburgh could use a stable hard-hitting presence like Lee in the lineup.
While he seemed very reluctant to return to Pittsburgh earlier in the season, Lee hasn't exactly been overwhelmed with offers in 2012, and Neal Huntington may be able to make him an offer he can't refuse.