Joe Mauer, Justin Morneau and Other Minnesota Twins Tradeable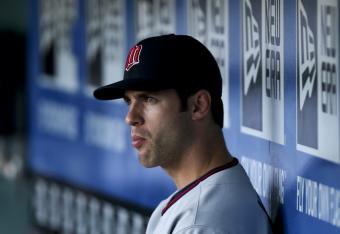 Joe Mauer has a $23 million price tag through 2018 and is the face of the franchise. He's not likely to go anywhere, but Minnesota should listen if propositioned.
Ed Zurga/Getty Images
As of June 17, at 25-39, the Minnesota Twins own the worst record in the American League and the fourth-worst record in all of baseball.
Prior to the series with the Philadelphia Phillies, the Twins had gone 9-3 in their last 12 games, but are now losers of five of their last six games.
Yes, the Twins play in baseball's worst division.
The Chicago White Sox are captains of the AL Central at 35-30 (.538 winning percentage). The Detroit Tigers have been one of the biggest disappointments in all of baseball and the Cleveland Indians are inconsistent.
And the Kansas City Royals are still the Kansas City Royals.
But come the July 31 trade deadline, any and all of Minnesota's roster should be open to the rest of baseball for the right price.
The Twins are bombarded with two very large contracts that aren't producing on the field for what they are being paid. I am, of course, talking about Joe Mauer and Justin Morneau.
Mauer is owed an average of $23 million through the 2018 season and Morneau is owed $14 million in 2013.
If Minnesota could find a way to move either of those contracts for young, talented prospects then the franchise should jump at the offer.
Morneau has shown signs of regaining the form that earned him the 2006 AL MVP award, but hasn't gotten there yet. There are already trade rumors surrounding him and the chances of him getting dealt are real.
Mauer will be difficult to move with a large contract and I doubt the franchise would move him. He's the hometown kid that Minnesota gave the then fourth-largest contract in MLB history to.
If the right deal came along should Minnesota trade Joe Mauer?
More realistically, teams will call about Josh Willingham, Matt Capps and Denard Span. All three players could instantly contribute to a contending team.
Minnesota fans wouldn't miss Capps much, or at all, as they boo him every chance they get. But he's quietly having a productive season (14 saves, 3.55 ERA, 1.03 WHIP and 15 strikeouts in 25 1/3 innings). Some contending team would love to acquire a player like that.
Willingham just signed with Minnesota this past offseason for $21 million over three years. He is far-and-away Minnesota's best hitter this season (13 home runs, 45 RBI, .283 batting average, .394 on base percentage and .553 slugging percentage). He's reasonably priced and should be a hot commodity come July 31.
Span trade rumors were everywhere last season, and the hottest rumor was Span to Washington for a reliever (depending on the source it was Tyler Clippard or Drew Storen). Span plays a good defensive center field and can still run. On the year he is hitting .280 with a .351 on base percentage, two home runs, 15 RBI and seven stolen bases in 10 tries.
Now, I'm not saying Minnesota should give away these and other valuable players.
What I'm saying is that this franchise needs a new direction. The farm system is depleted of any players that can significantly help in 2012 and maybe even 2013.
None of the team's best-hitting prospects (Miguel Sano, Byron Buxton, Eddie Rosario and Oswaldo Arcia) will be ready until at least 2014.
The team's best pitching prospects, 2009 first-round pick Kyle Gibson and 2010 first round-pick Alex Wimmer, are currently injured. (Gibson is recovering from Tommy John surgery and Wimmers has a tear in his elbow ligament.) Minnesota hopes Gibson can begin pitching in August. Meanwhile, Wimmers is a big question mark.
Beyond those two, there aren't any starting pitchers in the system expected to be significant contributors in the majors.
Minnesota's core players aren't going to develop into a winners. There are pieces that can be contributors on a winning team, but they may be past their prime when Minnesota is back to its winning ways (Span, Willingham and Capps all fit that description).
If Minnesota can acquire prospects who can have a significant impact in 2013 for veteran players who can help a contender in 2012, then the Twins should pull the trigger.
This article is
What is the duplicate article?
Why is this article offensive?
Where is this article plagiarized from?
Why is this article poorly edited?

Minnesota Twins: Like this team?