Netherlands: 4 Things That Caused Them to Crash out of Euro 2012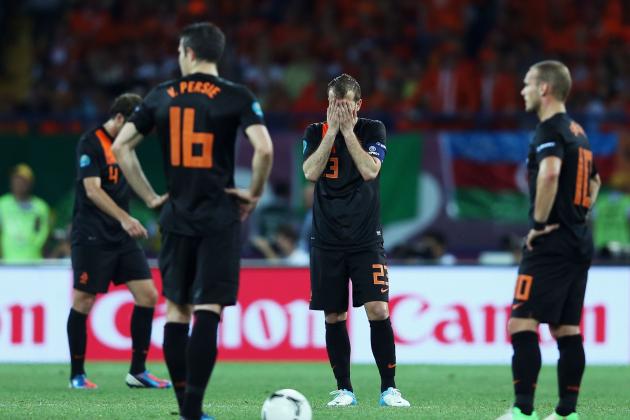 Julian Finney/Getty Images

Before Euro 2012 started, I had pegged The Netherlands as one of the favourites.
After all, they'd reached the World Cup Final two years ago and they were impressive in the qualifying stage for the tournament.
The Dutch team that showed up in Poland and Ukraine was completely different.
They looked bereft of ideas and confidence.
Their big players generally went missing and they played as if they had the weight of the world on their shoulders.
It's one of the shocks of the tournament that they've been knocked out, scoring only two goals and failing to earn a single point.
I'm going to look at four reasons why they crashed out of the tournament.
Feel free to leave your own suggestions in the comments section below. Let's get started!
Begin Slideshow

»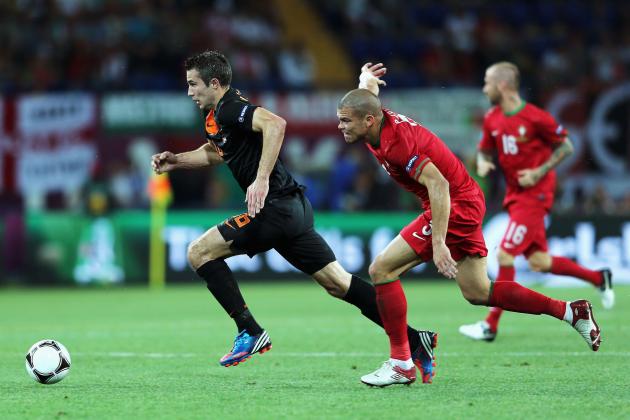 Ian Walton/Getty Images

Robin Van Persie came in to the tournament in scintillating form.
He finished the season high on confidence after scoring effortlessly for Arsenal in the English Premier League.
It seemed like the van Persie we saw then and the van Persie we saw at Euro 2012 were two completely different players.
He looked tired, leggy and hesitant.
The goal he scored against Germany was a terrific long-range effort, but the normally deadly van Persie was nowhere to be seen.
It's not as if he didn't have opportunities to score—because he did—but he just couldn't convert them.
If the van Persie that rescued Arsenal's season had turned up at Euro 2012, the Dutch might still be in the competition, but instead, they crashed out with a whimper.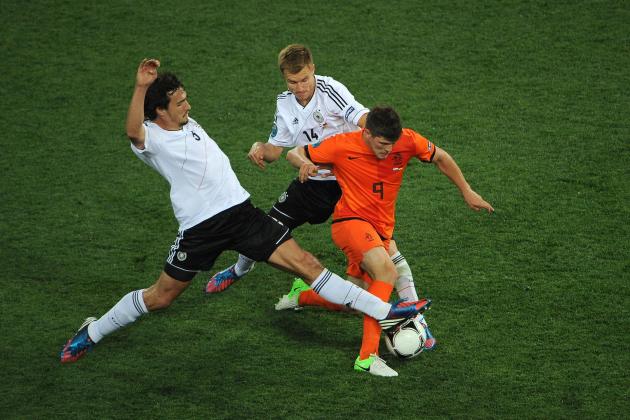 Christopher Lee/Getty Images
Huntelaar evades two challenges during the defeat to Germany
Klaas Jan Huntelaar is arguably The Netherlands' most potent goal-threat, yet he only started one match at Euro 2012.
You'd think that if you were looking for goals, he'd be the man to help.
I understand that Robin van Persie had a tremendous season for Arsenal, but if it were me, I'd have looked to make full use of all my attacking options.
My midfield would have been Sneijder, van der Vaart, De Jong and Robben, with van Persie just in behind Huntelaar.
With a freer role, van Persie would have been able to effect the game more and create more opportunities for the deadly Huntelaar.
If he'd have started the game against Denmark, Huntelaar could have been the key to Dutch success at Euro 2012.
A goal scorer is the most difficult thing in the world to find.
The Netherlands had one in their ranks, but only chose to play him when it was too late.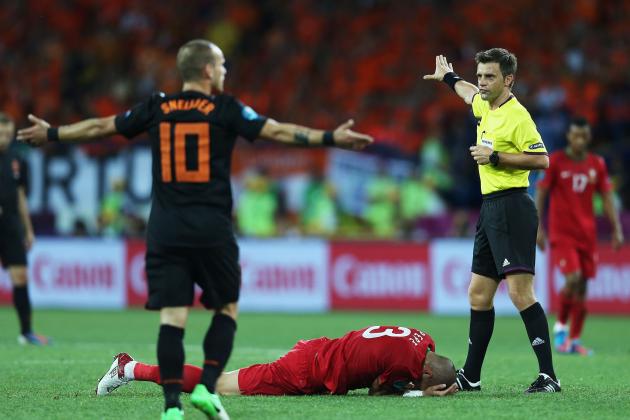 Julian Finney/Getty Images

As talented as the Dutch midfield is, they were largely ineffectual for long spells of the tournament.
Wesley Sneijder had an indifferent season with Inter Milan, due to a series of injuries and loss of form.
Mark van Bommel's continued inclusion at the expense of more creative players, like Rafael van der Vaart and Ibrahim Affelay, caused problems within the ranks.
Arjen Robben, whilst highly talented, still appears to be affected by the penalty he missed in the Champions League Final. He's also one of the most predictable players in Europe.
Arjen will cut in from the right, onto his left foot, and either shoot or create a chance for one of his team-mates. He's a frustrating talent because for someone with so much ability, he rarely performs when it matters most.
For a team full of so many talented players, it's baffling that they were so ineffective.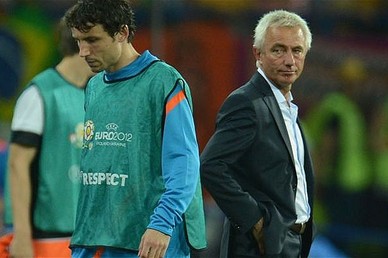 Image courtesy of telegraph.co.uk
The Netherlands' camp during Euro 2012 was a far from happy one.
On 13th June, Paul Smith of The Sun reported that the Dutch squad was in danger of being blown apart because of a series of rows behind the scenes.
Paul went on to report that the problems included, but were not limited to:
Arsenal's Robin van Persie and Manchester City's Nigel de Jong refusing to talk to the press
Klaas Jan Huntelaar being jealous of van Persie for playing ahead of him
Dutch fans bombarding phone lines calling for Van Marwijk's head
Players claiming their under-fire boss is blinded by family loyalty as he refuses to drop son-in-law Mark van Bommel
Whether these problems were true are anyone's guess, but Wesley Sneijder addressed them during the pre-match press conference before the Germany game, saying:
It is time we let these pathetic egos go. If somebody is creating a mess, I will stand up against them now. We don't need a psychologist with the Dutch team, we are grown-up men. The ones who have a problem with other players or the manager should tell them face-to-face. That is the only psychology we need. We have to stop living on little islands. We must all go for the same goal, be united or face the consequences.
Sneijder wasn't the only one to have his say though.
Opinionated Tottenham midfielder Rafael van der Vaart also chipped in with his thoughts, stating:
I have the right to speak out with 97 caps behind my name. If Holland want to win, the coach has to play me in the starting line-up. I am no longer prepared to deny I am finding this role really tough. Do you know how frustrated I feel? I am in the best form of my life and I train so hard but I get the impression the team selection is not going to change in my favour. I don't want to cause a mess that would have a big effect on the others but it does not look like my position is going to change. Hardly any changes have been made to this team since the 2010 World Cup and that is great when you are in the starting line-up but it's crap when you're on the bench. I feel like a young dog that is dying to get out but is caged in. I knew from the first minute how things would go with this Dutch team. My family think I have been crazy for staying silent for so long.
Now, if your squad is as divided as was reported before the Germany game, how could the Dutch have expected to succeed?
To achieve success, you compete as a team. You fight for each other and not your own agenda.
Sadly, the Dutch team that I saw during Euro 2012 was more a collection of individuals than a team unit, and that's a sad, sad thing.