NBA Draft 2012: Ranking the Most NBA-Ready Prospects in the Class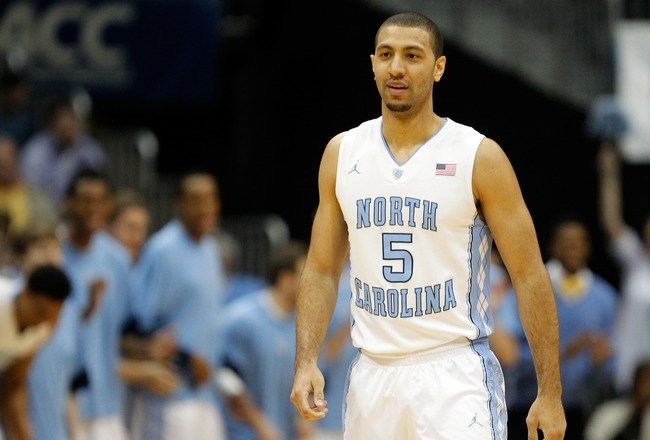 Streeter Lecka/Getty Images
What makes a basketball prospect "NBA-ready" usually depends on a variety of different factors.
Can that player come in and instantly make an impact for his team? Does that player have to make significant improvements to his game before he can be deemed a dynamic NBA talent? Is he being drafted more for the potential of the player he could become or the player he is right now?
With the 2012 NBA Draft merely days away, we still know very little about how the draft will pan out.
Aside from Kentucky's Anthony Davis—who is a lock to be drafted first overall by the New Orleans Hornets—the remainder of the draft is far from set in stone.
Will the Charlotte Bobcats decide to go with the defensively-inclined 18-year-old Michael Kidd-Gilchrist, the boom-or-bust potential of Andre Drummond, the all-around talent of Florida's Bradley Beal or possibly even trade back in the draft?
The draft this year is full of interesting storylines and a lot of deep talent. Here's a list of the most NBA-ready prospects of this year's class.
12. Jeffery Taylor, SF, Vanderbilt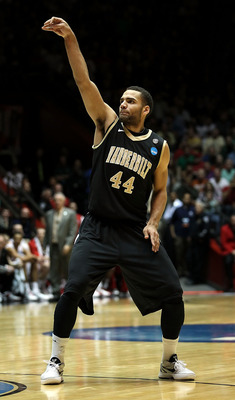 Christian Petersen/Getty Images
Jeffery Taylor is one of the more underrated players in this year's NBA draft. There's even a possibility that Taylor could fall to the second round, because of how deep the talent level appears to be this year.
Nevertheless, I think Taylor is a dark horse candidate to be an instant-impact guy for the NBA team who drafts him.
Taylor is a 6'7", 225-pound small forward who makes a difference both offensively and defensively, and in a lot of categories on the stat sheet.
He handles the ball very well for a bigger guy and is extremely athletic.
He earned All-SEC honors in all four seasons he played at Vanderbilt, and was named an All-SEC defensive selection for three straight years—which speaks volumes about his work ethic on that side of the court.
His offensive game could use some polish, but he's NBA-ready from a defensive standpoint and could certainly raise some eyebrows next year.
He's well-rounded, he scores, he rebounds and he defends. Taylor is my sleeper pick in this year's draft.
11. Moe Harkless, SF, St. John's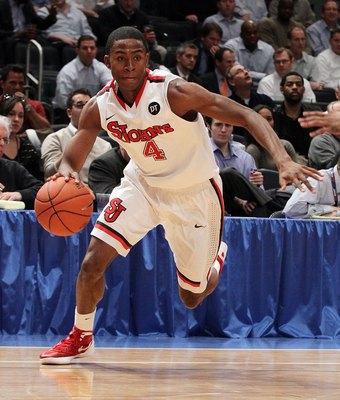 Jim McIsaac/Getty Images
Moe Harkless was not a highly touted prospect coming out of high school, but he still managed to hold his own against stiff competition while playing at St. John's.
As a freshman, the 6'8" Harkless (who has a 7' arm span) averaged 15.3 points and 8.6 rebounds per contest.
This feature story by CBS Sports' college basketball insider Jeff Goodman profiles Harkless's journey to where he is today, and how he's managed to keep his ego in check. He's an unassuming kid who goes about his business on the hardwood.
Harkless certainly passes the eye exam from a physical standpoint, so as he improves his basketball skills he could become a stud at the NBA level. Regardless of his future, Harkless has a chance to come in and make an immediate impact.
He'll have to improve his shooting range, however, considering he shot just 20.2 percent from long range. Additionally, he only shot 67.8 percent from the free throw line, but in his defense most of this year's prospects have been suspect in that regard.
10. Dion Waiters, SG, Syracuse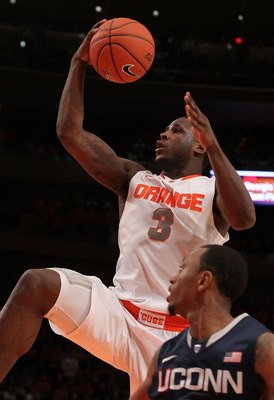 Jim McIsaac/Getty Images
Dion Waiters recently shut down his pre-draft workouts because a team has promised to take him in the first round of the draft. Clearly at least one NBA team is thoroughly impressed.
Rumors insist that the team that promised to take Waiters is the Phoenix Suns, who apparently are enamored with him as a prospect.
Waiters is drawing early comparisons to Dwyane Wade, and although I believe those comparisons to be a bit of a stretch, Waiters has a lot of the same skills.
For example, Waiters is very good at shooting the ball off the dribble as well as shooting on the move—whether that's fading left, right or backward.
In addition to his consistent jump shot, Waiters is a slashing guard who can finish at the basket.
I believe that Waiters has the skill set to come to the NBA and be a dynamic scorer right away, but it's interesting that he's being mocked as high as No. 8 to the Toronto Raptors considering he's not a great rebounder or assist guy. Comparing him to Ben Gordon or Jordan Crawford is probably more accurate at this point.
He may find trouble at the NBA level if he has to go up against taller, longer defenders like Thabo Sefolosha or Martell Webster.
At a stocky 6'4", Waiters doesn't have great size for a shooting guard when you consider that Kobe Bryant is 6'6" and Joe Johnson is 6'7", but he's a sneaky athlete who could score in a multitude of ways.
9. Austin Rivers, SG, Duke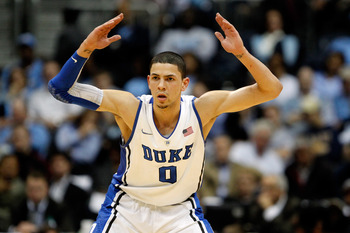 Streeter Lecka/Getty Images
At this point, coming out of Duke University after his freshman year, Austin Rivers has one key attribute that makes him NBA-ready: he can shoot the ball.
As a freshman at Duke last season, Rivers shot 43.3 percent from the field and 36.5 percent from three-point range. He averaged 15.5 points per game.
Additionally, Rivers is extremely well-coached. This is a no-brainer, considering he spent a year under one of the greatest basketball minds on the planet, coach Mike Krzyzewski at Duke (AKA the U.S. Olympic basketball team's head coach).
In addition to Coach K, Rivers' dad is Boston Celtics' head coach Doc Rivers, so it's safe to say he grew up in a coaching environment and has a high basketball IQ to show for that.
Finally, Rivers has a ridiculous amount of swagger and confidence, which will be invaluable at the NBA level. We've seen countless amounts of athletes who shrink into the shadows in the NBA because they don't have the confidence that they can compete.
Rivers is certainly not afraid to take the big shot in clutch moments.
At 6'4", 200-pounds, Rivers could use some additional bulk, but we've seen that having a slender frame doesn't exactly hinder shooters (cases in point: Kevin Durant, Reggie Miller, Stephen Curry, etc.), so it's not a huge concern.
Rivers is a poor free throw shooter at just 65.8 percent, but I have no doubt he'll be able to improve those numbers quickly.
8. Meyers Leonard, C, Illinois
Jonathan Daniel/Getty Images
Centers at 7'1" are rarely as athletic as Meyers Leonard appears to be. At 245 pounds, Leonard will need to pack on some pounds to muscle with other NBA big men, but I think he'll be able to hold his own in a lot of ways next season.
First of all, Leonard has a soft touch around the basket, and is no stranger to shooting higher than 80 percent from the field in a game. What's scary about Leonard and his soft touch is the fact that you can't just foul him and send him to the free throw line. Usually players over seven feet tall struggle at the charity stripe; Leonard, however, shot a respectable 73.2 percent a season ago and will only get better.
Moreover, Leonard doesn't slack off on the defensive end of the court. He recorded four or more blocked shots in five games during the season. His lanky, tall frame allows him the luxury of bothering opponents' shots when they drive to the basket, which is a luxury for teams at the NBA level.
Lastly, Leonard is a tremendous passer for his size. It's a rarity to see forwards like Boris Diaw with great passing ability, but Leonard does it at over seven-feet tall, which is a great skill to have.
Traditional, back-to-the-basket centers are an increasing rarity in today's NBA, but Leonard's hands and poise around the basket give him the potential to impress next season.
7. Jeremy Lamb, SG, UCONN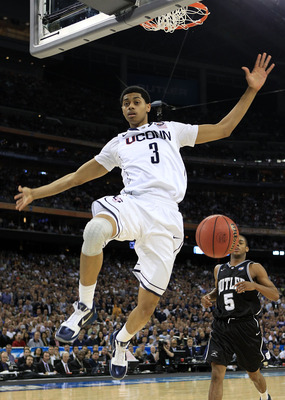 Streeter Lecka/Getty Images
Jeremy Lamb is a long, lean 6'5" shooting guard. His ability to create his own shot and finish strong at the basket will be his biggest assets at the NBA level.
He has great shooting range, can shoot off the dribble (usually after breaking defenders ankles) and scores points in bunches. Lamb usually makes his scoring prowess seem effortless when he's out there on the court.
He averaged 17.7 points and 4.9 rebounds last season at UCONN. In addition, Lamb notched 20 or more points on 10 separate occasions during the year, including a 32-point gem in an overtime win against Villanova.
Lamb has shown that he can consistently put the ball in the basket, and I believe he'll continue to do just that at the next level.
I wouldn't be at all surprised if Lamb emerged as the next Brandon Roy or Rudy Gay (AKA a guy who comes in and scores in bunches right from the get go).
6. Kendall Marshall, PG, North Carolina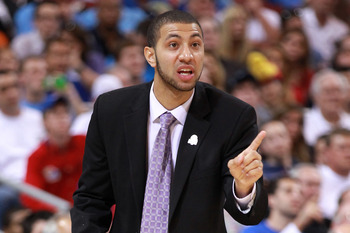 Andy Lyons/Getty Images
Kendall Marshall isn't a coach yet, as his picture would suggest, but the North Carolina Tar Heels' floor general has shown a tremendous amount of poise and maturity out of the point guard spot.
Last season, Marshall averaged 9.8 assists per game for the Tar Heels, good enough for second in the nation behind Iona's Scott Machado. As if that isn't impressive enough at the collegiate level, Marshall recorded 15 or more assists in four games.
Marshall is in his comfort zone when he's dishing the ball off to teammates for scores and making those around him better (Steve Nash, anyone?).
Although Marshall may draw ire for averaging just 8.1 points per game last season, he was still scoring efficiently when he actually looked for his points. He shot 46.7 percent from the field and 35.4 percent from three-point range.
Additionally, Tyler Ingle of nbadraft.net said of Marshall's NBA combine performance, "I watched a lot of ACC basketball this year, yet I'm shocked that Marshall is capable of jumping 37" in the air."
Marshall gets his teammates involved with passes, scores efficiently when he looks for his shot, has sneaky athleticism and even led the nation in assist/turnover ratio.
I think he has a chance at being a special point guard in the NBA.
5. Terrence Jones, SF, Kentucky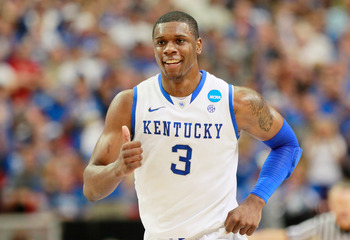 Kevin C. Cox/Getty Images
Terrence Jones is a hyper-athletic, 6'9", 252-pound small forward. If you were to sculpt the perfect body for a small forward at the NBA level, LeBron James would undoubtedly be first, but Jones has to be in the discussion somewhere.
The fact that Jones is also left-handed is an advantage many may overlook. What made Lamar Odom so dangerous in his career to this point is his ability to drive left effectively. Usually defenders forget to shade their man the opposite way when facing a lefty.
This will be especially valuable for a guy like Jones, whose strength is torching defenders to the bucket for powerful dunks.
As a freshman at Kentucky, Jones scored 35 points in one game and notched 27 points and 17 rebounds in another against Notre Dame (who were ranked No. 23 in the nation at the time).
His stats dropped a bit from his freshman year to his sophomore year, but that was likely due to the hoard of talented freshmen on the incoming roster.
If Jones is given a fair amount of minutes or even a starting job as a rookie, I could see him putting up solid numbers.
4. Damian Lillard, PG, Weber St.
Ethan Miller/Getty Images
Damian Lillard is a score-first point guard who has even been compared as a poor-man's Derrick Rose.
He needs to work on his passing and point guard instincts, but his offensive numbers have been crazy consistent.
There are valid questions about Lillard, considering he played his college ball at Weber St. against less than stellar competition, but his stats are eye-popping even when you consider the lackluster opponents.
Lillard has the competitive advantage of having spent four years at Weber St. polishing his game. Last season, Lillard scored 24.5 points per game on 46.7 percent shooting from the field, 40.9 percent from three-point range and 88.7 percent from the free throw line. It's hard to imagine those numbers won't translate well to the NBA.
Moreover, Lillard scored 30 or more points eight times last season, including a 41-point double-overtime performance against San Jose State and a 40-point performance against Portland State.
Again, Lillard didn't play in a very competitive conference, but he put up gigantic numbers.
As a 6'3" point guard, he has ideal size for the position, but he needs to involve his teammates more.
3. Bradley Beal, SG, Florida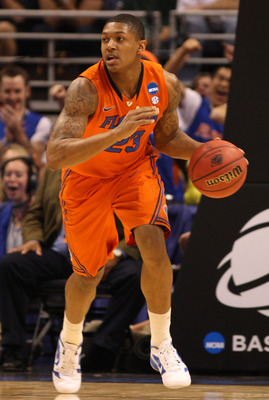 Christian Petersen/Getty Images
Bradley Beal is a stocky shooting guard who reminds me a lot of Eric Gordon.
Beal is arguably one of purest shooters in this draft, with good range and evident confidence.
Since he's being tagged as the best shooting guard in this draft, it should not come as a shock that he's a solid jump shooter. But what really jumps out at me about Beal's game is his intangibles.
He's listed at 6'4.75" according to Draft Express, which isn't huge for a shooting guard, but Beal rebounds incredibly well for his size. Last season, he averaged 6.5 rebounds per game, which is a tribute to his hustle.
Additionally, Beal blocked 31 shots over the course of the season, including three in one game. While those numbers may not continue in the NBA where the players are taller and longer, it's an interesting stat to take note of.
On the flip side, he needs to work on his isolation scoring moving forward.
Barring some shocking development, Beal will be taken in the top five selections, so there's a reason he's one of the most NBA-ready players this year.
2. Harrison Barnes, SF, North Carolina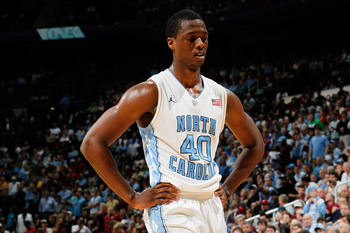 Kevin C. Cox/Getty Images
When I watch Harrison Barnes play, I'm impressed. There's really no better way to put it. He plays the game of basketball with a fluidity you rarely see from players so young. At times it almost appears as if the game unfolds before his eyes in slow motion.
He's great at picking his spots, knocking down mid-range jumpers and he doesn't hesitate when he's given an open look.
Something that really stands out to me, however, is the fact that Barnes rarely gives up on a play. On numerous occasions he would crash the offensive boards for tip-slams and easy put-backs, which I find to be a dying art in the NBA.
Overall, Barnes is a consistent scorer who could very well average 16-17 points per game his rookie year if he finds the right landing spot.
I think that staying in school for his sophomore season was the right call to gain experience. There's a reason he'll be drafted in the top 10.
1. Anthony Davis, PF/C, Kentucky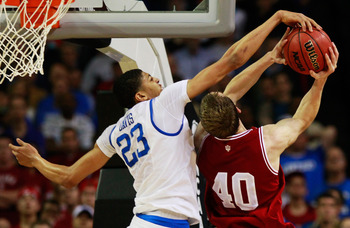 Kevin C. Cox/Getty Images
Anthony Davis is an absolute monster on the defensive end of the floor. At 6'10.5" with a 7'5.5" wing span according to Draft Express, it's no wonder why Davis has near robotic efficiency defensively. In the NCAA tournament, Davis recorded 29 blocked shots in six games.
Davis is drawing early comparisons to Kevin Garnett, and although I think he could be as good as "The Big Ticket" at some point in his career, I don't think he's polished enough yet on offense.
Nevertheless, I think that Davis will put up numbers as a rookie similar to Marcus Camby's top stats during his career (approximately 13 points, 12 rebounds and three blocks per game).
Davis translates as a defensive force who shouldn't have much trouble developing a solid mid-range jump shot a few years down the road.
He's going to be the No. 1 overall pick because he's the most NBA-ready of the bunch. He's likely to cause opposing teams headaches with his defensive prowess.
The Unibrow certainly has no shortage of confidence.
Keep Reading