2012 NBA Mock Draft: Teams That Must Target Elite College Scorers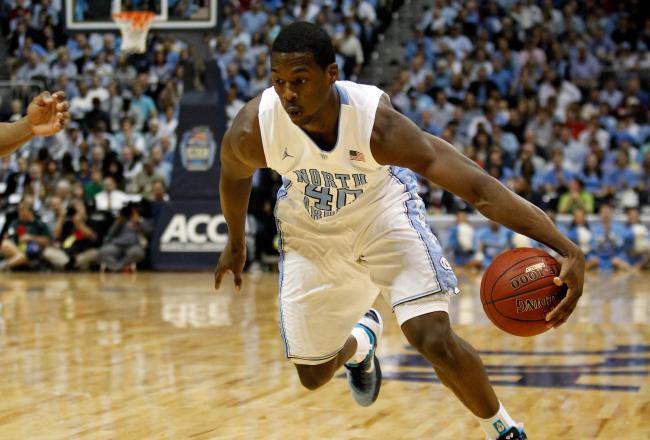 Streeter Lecka/Getty Images
Every team is looking to draft great offensive talent, but in particular, the Charlotte Bobcats, Detroit Pistons and Golden State Warriors need to strike gold with an elite college scorer in the 2012 NBA draft.
The risk that most teams have to take in regards to a great college scorer is determining whether or not he'll be able to transition that scoring prowess into the NBA, where it's essentially a different game. NBA players are bigger, faster and stronger defenders, and just about everybody can put up points, so even elite college scorers struggle to stand out.
The aforementioned teams really need the help though, so they can't afford to miss out.
Here's my first 2012 NBA mock draft with an emphasis on the scorers those three teams need to target:
1. New Orleans Hornets: Anthony Davis, PF, Kentucky
While this is not 100 percent set in stone, it's pretty obvious the Hornets will go with college basketball's best player from last season. He'll be the centerpiece of the rebuild.

2. Charlotte Bobcats: Harrison Barnes, SF, North Carolina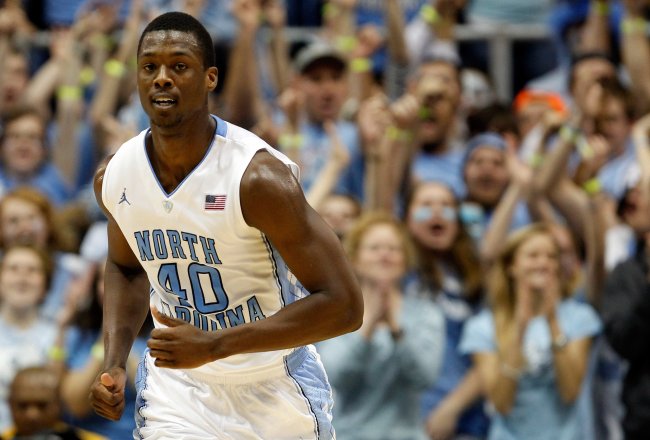 Streeter Lecka/Getty Images
The Bobcats need a ton of help, so they can pretty much go wherever they want with this pick. That said, they need to focus on getting an elite college scorer on their squad.
This is a team that was 30th in the league last season in points per game, only averaging 87, so they need a boost.
Enter Barnes, who averaged 17.4 points per game for the Tar Heels in 2011-12. This is a kid that knows how to find the basket, and he will only improve as a scorer and shooter, which makes him a great pick here.
3. Washington Wizards: Thomas Robinson, PF, Kansas
Robinson is a big body who will help on the boards and with defense right away for the Wizards.

4. Cleveland Cavaliers: Michael Kidd-Gilchrist, SF, Kentucky
Kidd-Gilchrist can be a great player with Kyrie Irving dishing him the ball, so this is a fantastic pickup for the needy Cavs.

5. Sacramento Kings: Perry Jones III, SF, Baylor
Jones can be an offensive powerhouse, and this Sacramento team needs to do what it can to keep developing its young talent. I think they'll stretch a bit here for PJIII.

6. Portland Trail Blazers: Andre Drummond, C, Connecticut
Portland needs a new center, and Drummond is the best player available at this point.

7. Golden State Warriors: Bradley Beal, SG, Florida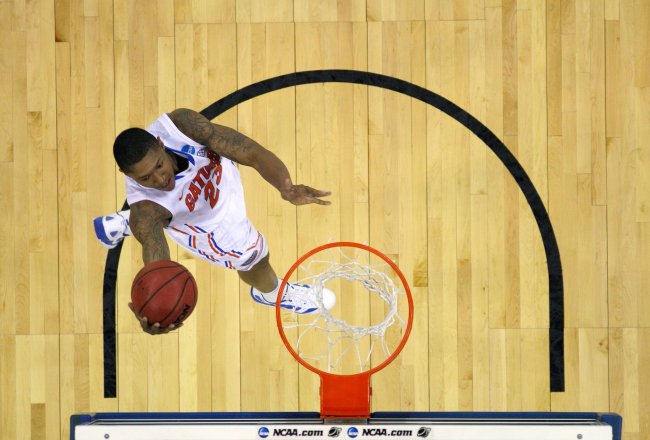 Doug Pensinger/Getty Images
Beal was a scoring machine for the Gators in 2011, notching 14.6 points per game. With changes potentially on the horizon, this team needs to continue working on building an exciting brand of basketball, and Beal can come in and contribute points right away.
Not only that, he'll fill a huge hole in the offense left by Monta Ellis. At 6'4'', 202 pounds, Beal should find the transition to the NBA pretty easy, and if he can keep up his shooting touch, he'll be an absolute steal at No. 7 overall.
8. Toronto Raptors: Terrence Jones, PF, Kentucky
The Raptors really haven't had a star since Chris Bosh left. Jones has the talent to be that guy and is worth the risk.

9. Detroit Pistons: Tyler Zeller, C, North Carolina
The Pistons are on their way to rebuilding a good team, but they need some offensive firepower in the paint to help out Greg Monroe in the inside-scoring department.
Enter in Zeller, who can play next to Monroe at 7'0'', 250 pounds, and he'll be coming off a year that saw him average 16.5 points and 9.3 rebounds for North Carolina.
Zeller will help rebuild the Pistons frontcourt while also providing a much-needed spark.
10. New Orleans Hornets: Kendall Marshall, PG, North Carolina
After snagging the best overall player in the draft, the Hornets will follow that up by drafting the best point guard.

11. Portland Trail Blazers: Dion Waiters, SG Syracuse
Waiters can be a great scorer for the Blazers, and they're getting him for good value here.

12. Milwaukee Bucks: Meyers Leonard, C, Illinois
This team needs a legitimate center, and hopefully, Leonard can be the guy.

13. Phoenix Suns: Damian Lillard, PG, Weber State
Suns are thinking for the future here and getting incredible value in the process.

14. Houston Rockets: Jared Sullinger, PF, Ohio State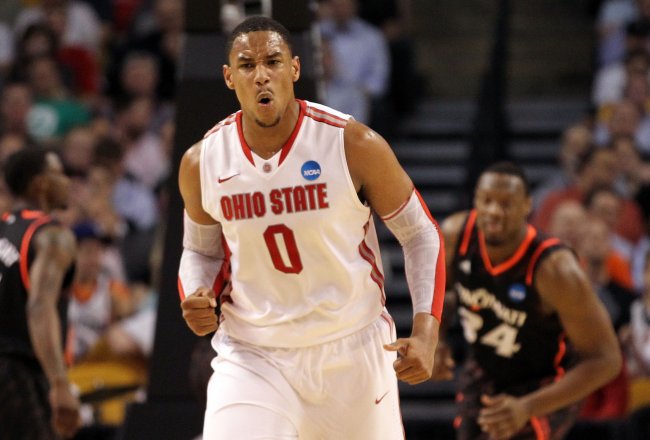 Jim Rogash/Getty Images
Sullinger can be a very good NBA player, so the Rockets will take a shot on him here.

15. Philadelphia 76ers: John Henson, PF, North Carolina
The 76ers need to get younger in the front court, and Henson would fit the bill for that.

16. Houston Rockets: Austin Rivers, SG, Duke
There is no way the Rockets will let Rivers slip, especially after snagging Sullinger with their first pick.

17. Dallas Mavericks: Jeremy Lamb, SG, Connecticut
Lamb is a young scorer that can really thrive on this Mavericks team.

18. Minnesota Timberwolves: Fab Melo, C, Syracuse
Melo may have a chance to become very good playing with Kevin Love and Ricky Rubio.
19. Orlando Magic: Moe Harkless, SF, St. Johns
Harkles scored 15.3 points per game last season and should be a welcome addition to this offense.

20. Denver Nuggets: Festus Ezeli, C, Vanderbilt

The Nuggets need to address the center position, thus the great pickup here.

21. Boston Celtics: John Jenkins, SG, Vanderbilt
The Celtics need to start thinking about the future, and Jenkins is the first step towards doing so.

22. Boston Celtics: Royce White, PF, Iowa State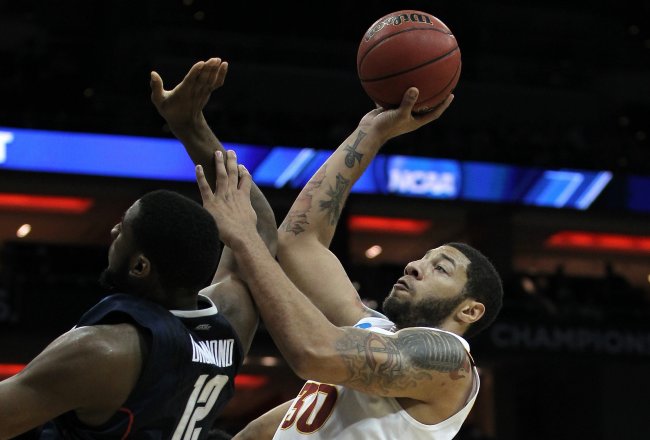 Jonathan Daniel/Getty Images
White can be an absolute steal at No. 22 overall, and he can become very good in this system.

23. Atlanta Hawks: Arnett Moultrie, PF, Mississippi State
15.8 points per game, 10.6 rebounds per game in 2011. Moultrie is a great pick at No. 23.

24. Cleveland Cavaliers: Evan Fournier, SG, France
Good offensive pickup for the Cavaliers, who are starting to look much younger and athletic after this draft.

25. Memphis Grizzlies: Andrew Nicholson, PF, St. Bonaventure
Some young help down low can never hurt the Grizzlies.

26. Indiana Pacers: Doron Lamb, SG, Kentucky
The Pacers may just be one or two explosive bench players away from the title. They'll get that explosive player in Lamb.
27. Miami Heat: Jae Crowder, SG, Marquette
Christian Petersen/Getty Images
The Heat will love Crowder as a scoring threat off the bench.

28. Oklahoma City Thunder: Tony Wroten, PG, Washington
Good depth player that can fill a role with this championship-caliber team.

29. Chicago Bulls: Tyshawn Taylor, PG, Kansas
Having a senior point guard coming out of Kansas to back up Derrick Rose is going to sound real good for the Bulls after this offseason.

30. Golden State Warriors: Jeff Taylor, SF, Vanderbilt
The Warriors have a lot of needs. They can literally go anywhere, but with Taylor, they're getting good value here at 30.
This article is
What is the duplicate article?
Why is this article offensive?
Where is this article plagiarized from?
Why is this article poorly edited?