Denmark vs. Germany: 7 Things We Learned from Euro 2012 Group of Death Decider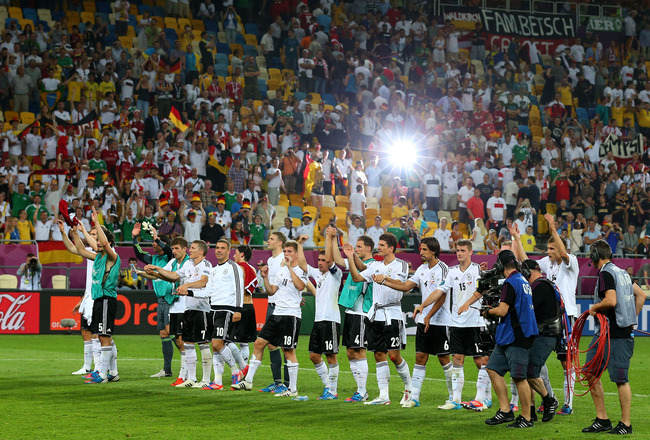 Alex Livesey/Getty Images
The Group of Death is finally, well, dead. All three rounds of matches have been played, and Germany will be joining Portugal in the knockout rounds.
From the moment Denmark scored the opening, and eventually winning, goal vs. the Netherlands, we knew this group was going to be unpredictable. And so it was.
Denmark proved themselves to be much more than "the Group of Death's fourth-best team," and with a bit more luck could've easily found themselves in the quarterfinals.
The Netherlands shocked everyone with how flat-footed they looked for much of the tournament, and Portugal showed their best work very, very late in the group stage. Were it not for Silvestre Varela, they'd be joining the Netherlands in exiting the competition.
Germany, perhaps, were the only team not to truly surprise us. Still, Mario Gomez's performance at the international level was joy to behold, and Germany did break a record by becoming the first incarnation of the German national team to win all three group games at a Euro tournament.
Before we get too far ahead of ourselves and start analyzing Germany and Portugal's quarterfinal fixtures with Group A, let's look at what we learned about Denmark and Germany from their faceoff in the final round of Group B.
Daniel Agger Was a Beast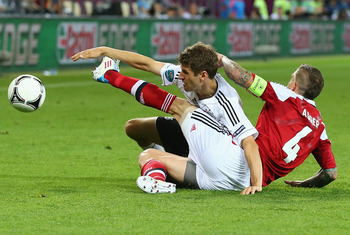 Martin Rose/Getty Images
Before we start applauding the German players for their hard and solid work in this game, let's credit the Danes who put their best foot forward and didn't pull it back all game long.
Like Daniel Agger, for example.
Every time the Danes made a perfectly timed interception on a 1-2 pass from the Germans, it was Agger making the interception. He hustled for 90 minutes, never tired and kept his defense on their toes.
The stat line really speaks for itself: 10 interceptions and eight clearances. That's 18 occasions in which Agger was in the right place at the right time to stop a German attack. No wonder why Liverpool fans rate him so highly.
He left the hard tackles to his team-mates, but he was the ultimate cleaner-upper. Who knows how many of Germany's attacks would've succeeded in his absence.
Michael Krohn-Dehli and Nicklas Bendtner, Take a Bow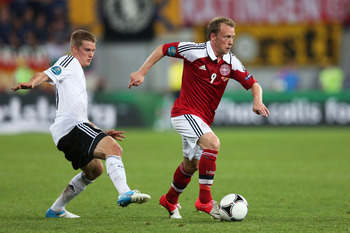 Joern Pollex/Getty Images
Before this tournament, hardly anyone outside of Denmark (or of Danish nationality) knew of Krohn-Dehli. Now, you'll struggle to find a football fan who doesn't know who he is.
Krohn-Dehli scored twice for Denmark, but his contribution to the team was so much more. He gave the team another legitimate offensive threat and made Denmark considerably more dangerous in doing so.
His movement was spectacular and he even added an aerial threat which no one expected. That aerial threat was what gave Denmark life against Germany and almost earned Denmark points vs. Portugal (via his assist to Bendtner).
Nicklas Bendtner was a known footballer before this tournament, but he shut up all the doubters who called him washed up prior to this tournament. He scored twice against Portugal and assisted Krohn-Dehli's goal vs. Germany.
Basically, he showed Robin van Persie and Klaas Jan-Huntelaar how a lone striker is supposed to play internationally.
They'll both be disappointed that their hard work hasn't carried Denmark out of their group, but they should both be proud of the work they produced at Euro 2012.
Christian Eriksen Was Disappointing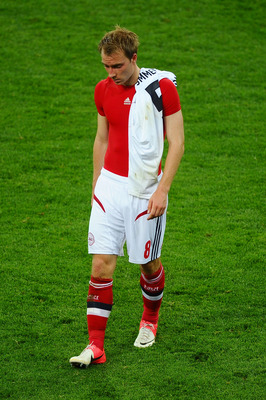 Laurence Griffiths/Getty Images
Lost in all the conversations about Denmark's work ethic and team unity in this tournament has been the underwhelming performances of Christian Eriksen, supposedly the team's biggest star.
Admittedly, Eriksen is only 20 years old, but with 26 caps under his belt and 23 heading into this tournament, you'd have expect a better turnout from Ajax's prodigious talent. Especially after a league season in which he scored seven goals and assisted 19 others.
Against Germany, Eriksen manage only 44 touches, a lesser total than seven other Danish players, including the Danish goalkeeper. Eriksen used those 44 touches to produce 40 passes and failed to produce a single assist, key pass, shot or meaningful dribble.
In other words, he was little more than a passenger in the game.
Denmark were dangerous against Germany, as they were against Holland and Portugal, but it wasn't due to Eriksen. The playmaker let his team down when they needed him and missed the opportunity to become a Danish hero in the process.
Lars Bender: Man of the Match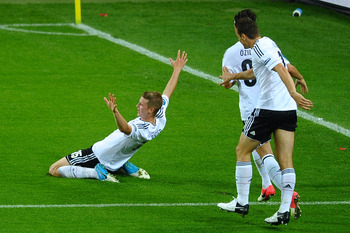 Laurence Griffiths/Getty Images
From time-wasting substitute to hero and man of the match.
That was the transition Bender made today as his finish on Mesut Ozil's cross secured Germany nine out of nine points in the group stage of a Euro tournament for the first time ever.
But beyond his goal, Bender was a terrific right-back. He made excellent runs up and down the pitch, was regularly involved in his team's offense and made 66 passes.
On the defensive end, he put in an excellent shift as well. He recorded a game-high five tackles, team-high three interceptions and topped it off with a pair of clearances. He even won both of his aerial duels.
If I were Joachim Low, I'd strongly consider keeping Bender as the team's starting right-back. Let's face it: Jerome Boateng, a natural centre-back, is never going to produce a performance of the same caliber as the one that Bender put in today.
Much Better from Muller and Podolski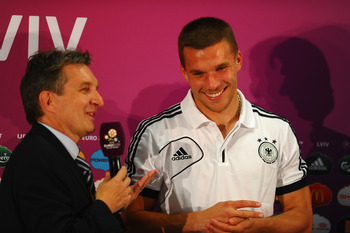 Handout/Getty Images
Going into this match, Thomas Muller and Lukas Podolski hadn't had the most impressive of tournaments.
The breakout stars of World Cup 2010 and 2006 (respectively) had, for the most part, simply been passengers at this Euro tournament, and their poor performances almost even hurt Germany in their first match vs. Portugal.
But against Denmark, the pair were much more effective. Both registered shots on goal, and Podolski even added a key pass into the mix. Both contributed on the defensive end with tackles and interceptions, and both even put in at least one good cross from their respective flanks.
And though Muller received no credit on the stat sheet for this, it was his cross that allowed Gomez to back-heel the ball to Podolski for Germany's first goal.
Neither Podolski or Muller should rest on their laurels just yet—they still have to perform against Greece at least to truly shut up their doubters—but today's performance is a step in the right direction for both players.
Germany Need to Practice Their Set-Piece Defense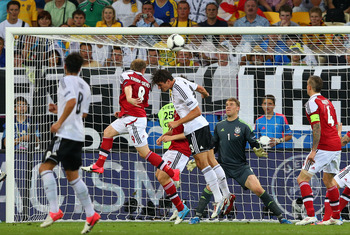 Alex Livesey/Getty Images
Though Denmark fought hard to earn their goal, the goal that Germany conceded was the result of atrocious defending.
And while it's easy to always blame everything on Holger Badstuber, the truth is the goal was the fault of the entire German defense. After all, Nicklas Bendtner had to get the first header on the ball to redirect it back across goal before Krohn-Dehli could score.
That means Germany's defense was at fault on two separate occasions in one play.
What's also perplexing is why Mario Gomez is the closest man to Krohn-Delhi in the box. It's bad enough that Bendtner was hardly marked on the first header, but why not put Mats Hummels on the Danes' biggest, or only threat in front of goal on that particular play.
If there's one thing Low will want to address in his next practice with Germany, it'll be set pieces. Against a team like Spain, a mistake like this one would surely prove more costly.
Germany Can Go All the Way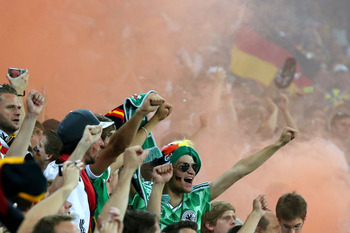 Alex Livesey/Getty Images
Aside from their poor defending on Denmark's goal, Germany hardly put a foot wrong through all three of their Group of Death matches. In fact, thus far, I'd call them easily the most consistently impressive team of the tournament.
In the quarterfinals of the tournament, they'll take on Greece, who will be up there with the Czech Republic as the weakest team in the quarterfinals. In addition, they'll be missing there talisman, captain and best player, Giorgios Karagounis.
From there, Germany will be only two matches away from an elusive Euro 2012 title.
They'll have to beat the best teams of the tournament from there, likely to be two of France, England, Italy and Spain, but they have arguably the best talent pool of any nation in the tournament (possibly aside from Spain), and thus should be up for the task.
One things for sure: Any country wanting to take down this Germany team will need to be on their A-game, and then some. Germany's players are at their best, in their prime and ready to finally win some trophies.
Keep Reading

Germany (National Football): Like this team?