US Open Golf Scores 2012: Beau Hossler Is Father's Day Choice for Fan Favorite
June 17, 2012

Ezra Shaw/Getty Images
It's Father's Day 2012, and 17-year-old Beau Hossler seems to represent everything that's right with the world.
Rather than the world of golf having to focus on the easy "Redemption Story of Tiger Woods" as their headline in the media for the US Open, fans can instead harp on the fact that a high schooler is dominating the tournament. And as the action gets closer and closer to the finish, Hossler still remains toward the top of the leaderboard, within striking distance of the top position and able to close out his share of a championship.
Hossler, of course, is still an amateur in all senses of the word.
But as more and more stories come out about the young sensation, the unifying trait that we've learned about the golfing star is that he boasts a new maturity necessary for success. That maturity has taught him this much: he believes that he can win the U.S. Open in 2012.
"Absolutely," says Hossler. "There's not a doubt in my mind. Got to go out there and do everything right mentally and physically. But it's definitely out there for me."
And he's not alone.
Just ask the agent of Tiger Woods, who went up to Hossler's father late in Saturday's action and gave him the ultimate compliment.
With a shake of the hand, the agent allegedly told Hossler that, "This is unbelievable. He can win this thing."
The agent, of course, is absolutely right. Hossler now shoots only three above par, which is four behind  the lead and one ahead of Tiger Woods. Perhaps his most impressive feat was his resilience, as Hossler was able back up each of his bogeys with a birdie of his own.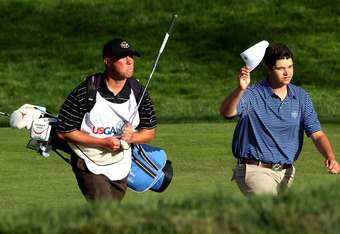 Andrew Redington/Getty Images
That takes guts, determination and skill—qualities acquired over time, not learned in a class. Yet none of this seems to bother Hossler, who closed Saturday with four consecutive pars.
"That was huge," Hossler continues. "But I think the biggest one was on 13 where I got up-and-down for bogey from down in the swale. Double-bogeys really kill you and fortunately I was able to salvage a bogey but it actually felt like a birdie there."
As the tournament began to get more and more serious, and as past winners and players like Luke Donald—considered to be the best in the world—were eliminated, Hossler only found himself to be even more at home.
"I just felt pretty comfortable out there," says Hossler. "Pretty nervous starting the round. Just like any other event I'm normally pretty nervous on the first tee. But once I got through the middle of the round I found out I had the lead."
Hossler is a student of the game, and has been around the sport his entire life. Like many other young athletes, Hossler is an individual who learned from his father. As this passage in the Boston Herald explains:
"He would tag along with his father when he was little, playing a few holes at a time, until he finally got serious about the game around the age of eight. By the time he was 12 he was winning tournaments, and he qualified for the U.S. Amateur at the age of 14. After a growth spurt that helped his driving distance, he qualified for the Open at Congressional, missing the cut after rounds of 76-77."
The father-son relationship is one in golf that has served athletes well for decades. Winning for the man who created you and then taught you the nuances of the sport is a skill that many hope to possess.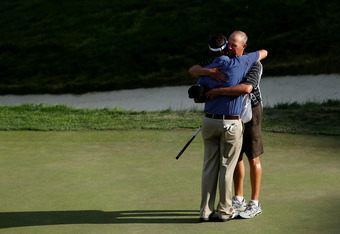 Andrew Redington/Getty Images
"He has the ability, I think, to stay calm in uncalm situations," Hossler's father said of his brace-faced son. "In Little League he was always calm, too. He doesn't get too high or too low, he just rolls with the punches."
The surprise of his success, however, was as cumbersome for Beau as it was for his father.
"I would probably tell them they're nuts," he said.
Hossler is, after all, the youngest player to make two consecutive trips to the U.S. Open since Mason Rudolph did it in the early '50s.
The entire experience has been humbling and enriching for Hossler. Regardless of whether or not he wins the tournament at this point, he will still be considered a fan favorite for years to come. Especially competing as a young athlete on Father's Day, the momentum is in his favor. And so are the fans.
"It's amazing," says Hossler. "I can't tell you how much I appreciate the support out there, not only from my family and friends from home, but all the people in the Bay Area. It's really special."