US Open Golf 2012 Leaderboard: Top Players Who Will Finish Strong
June 17, 2012

Ezra Shaw/Getty Images
The US Open leaderboard is still a jumbled mess entering Sunday's final round of play.
Let's take a look at how the top of the tournament looks so far.
*Leaderboard courtesy of ESPN.com (as of 4:48 p.m. ET).
| | | | |
| --- | --- | --- | --- |
| Position | Player | | Total |
| T1 | Graeme McDowell | | -1 |
| T1  | Jim Furyk | | -1 |
| 3 | Fredrik Jacobson | | +1 |
| T4 | Lee Westwood | | +2 |
| T4 | Ernie Els | | +2 |
| T4 | Blake Adams | | +2 |
| T4 | Nicolas Colsaerts | | +2 |
| T8 | Webb Simpson | | +3 |
| T8 | Kevin Chappell | | +3 |
| T8 | John Senden | | +3 |
| T8 | Beau Hossler | | +3 |
| T8 | Jason Dufner | | +3 |
| T8 | John Peterson | | +3 |
Of these players, some will rise and some will fall. Defined leaders will emerge and the pretenders will be weeded out with every passing hole.
Let's take a look at which top players will finish strong on Sunday.
John Senden
Senden is currently four strokes off the lead, but he's coming off his best round of the tournament.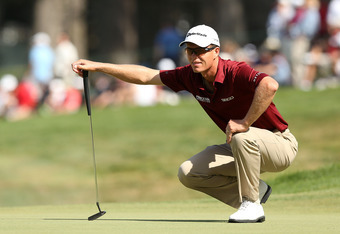 Ezra Shaw/Getty Images
He shot a 68 in Round 3 and birdied two of the course's last five holes. Finishing strong is already a familiar feeling to Senden, and that will bode well for him down the stretch on Sunday. 
On Saturday, Senden only had one bogey. He shot par, or better, on every other hole. That consistent play will pay major dividends in the US Open's final day.
He isn't a household name, but he is one of six players riding a three-over-par performance into Sunday's action.
Look for Senden to rise up the leaderboard.
Webb Simpson
Simpson wasn't as consistent as Senden on Saturday, but he did land five birdies.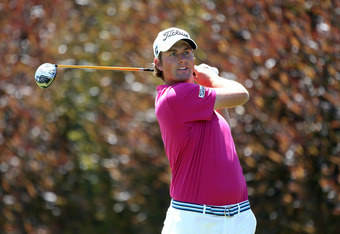 Andrew Redington/Getty Images
Granted, Simpson's three bogeys hurt his score. He played a hot-cold game throughout the day, but it was a major step forward from his performance in the tournament's first two rounds. 
Simpson is still young, and largely unfamiliar of final-round pressures in a major, but he has showed gradual improvement throughout this tournament.
His age and inexperience will actually help him on Sunday. 
No one expects him to win or even finish in the top 10. That leaves the door wide open for an unexpected performance.
Lee Westwood
Westwood will go for his first career major on Sunday. he's currently three strokes behind the leader, but he appears to be gaining steam.
He birdied three holes on Saturday's back nine and two holes before that. He mixed two crucial bogeys in there, but they didn't ruin his favorable position entering Round 4.
Westwood started the US Open with a 73 in Round 1 and a 72 in Round 2. His jump to a 67 in Round 3 points to his adjustments and extensive experience on the PGA Tour.
He's become a fan favorite because of his personality, solid play and major-less career.
Watch Westwood ascend the leaderboard slowly, but surely on Sunday.