Tiger Woods: Golf Legend Will Complete His Collapse in US Open's Final Round
June 17, 2012

Jeff Gross/Getty Images
Tiger Woods' hopes of winning the US Open have been glamorized despite his increasingly poor play and subsequent descent down the leaderboard. 
On Sunday, in the tournament's final frame, Woods will confirm what his play in Round 3 already showed. He isn't "back" now, and he probably never will be.
Don't get me wrong. Woods has played some outstanding golf over the past three days. The 69 in Round 1 and 70 in Round 2 were two of the best rounds he's played in recent memory.
But the Olympic Club course is unforgiving, and he faces an inordinate amount of pressure (even by his standards). 
Woods has never come from behind to win a major. That's right. One of golf's most recognized clutch performers has never climbed the rungs of the leaders' ladder all the way to victory on a major tournament's final day.
That won't start now. If he couldn't do it during his peak, what makes you think he could do it now?
Let's see why Woods does not have enough juice left in the tank to claim victory on Sunday.
Pressure
Pressure can impact even the most iconic figures. Woods is not above those pitfalls. 
All eyes are on his every stroke, club selection and putt. He doesn't leave himself any room for error, and neither does golfing's general public. 
Woods knows the scenario. 
This US Open has been labeled as his biggest comeback opportunity. The playing field is ripe for the picking, and he's managed to win two tournaments this year (two more than in the past three years combined). 
The time has to be now for Woods. If he ever wants to claim his throne on top of the golfing world again, he must deliver the best round of his career on Sunday.
That pressure is simply too much for an athlete to face, even for someone of his stature. 
Declining Play
As I mentioned before, Woods' scores have increased for each round. He shot a 69 in Round 1, a 70 in Round 2 and an atrocious 75 in Round 3.
If he had continued his hot streak from the first two rounds, that would be one thing. But it's hard to see him figuring things out all over again.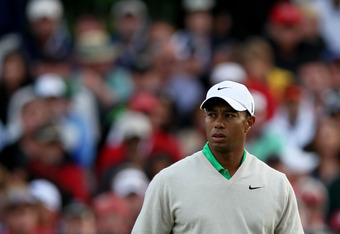 Jeff Gross/Getty Images
Even if he does, so many things have to happen. Ten-plus golfers will need to play poorly, and Woods will have to deliver a nearly-flawless performance on all 18 holes. 
If anyone could pull it off, it's Woods. But not today's Woods. I'm talking about the Woods who dominated for from 1997 to 2007. 
He isn't the player he once was. He showed flashes of brilliance on Thursday and Friday, but those proved to be short-lived. 
After his collapse on Sunday, Woods' demise will be impossible to miss.