Jeff Gross/Getty Images
November 19, 2016
Jared Sullinger scares me more than any other player in the NBA draft. Generally, a player with a high risk has a high reward on the flip-side.
While I acknowledge there is some possible reward for Sullinger, I wouldn't describe it as high.
Athletically, he is what he is. He isn't going to become Shawn Kemp as far as pure run-and-jump athleticism—that fact creates a lower ceiling to begin with.
Sullinger measured at 6'9" in shoes, which isn't a death wish, but coupled with his below-standard athleticism and poor conditioning (he had the highest percentage of body fat of any player at the combine), it's a concern.
Sullinger has a nice touch and good footwork, but his work ethic and lack of athleticism could very well kill any chance he has of being above average. He is the riskiest player in the draft, in my opinion, but he isn't the only risk, of course.
Here is a full mock draft with a concentration on the players who carry the most risk. (Spotlighted players and teams will be Italicized.)
Combine numbers from Draft Express.
1. New Orleans Hornets: Anthony Davis, PF (Kentucky; scouting report here)
The unibrow will be welcomed in New Orleans with open arms. Take a look at this fan-created image in his honor:
This is an NBA2K-centric look at what the Hornets could be in the 2012-2013 season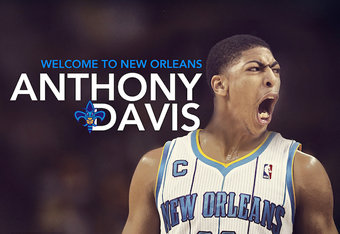 2. Charlotte Bobcats: Thomas Robinson, PF (Kansas; scouting report here)
The Cats have discussed trading this pick, per Sporting News, and that is the smart move. They have lost out on Jerry Sloan per ESPN, so that already is the second loss of the offseason for the Bobcats.
If they keep the pick, then I think they will select Robinson. He's the most NBA-ready.
3. Washington Wizards: Bradley Beal, SG (Florida; scouting report here)
The Wizards would be pairing a shooter with John Wall, which gives him a viable option off his dribble penetration. Beal is a bit small-ish, in my opinion, but conceptually, it makes sense.
4. Cleveland Cavaliers: Michael Kidd-Gilchrist, SF (Kentucky; scouting report here)
The Cavs would have liked a shooter, but MKG is far from a letdown. He will immediately upgrade the Cavs defense, toughness and character.
5. Sacramento Kings: Harrison Barnes, SF (North Carolina; scouting report here)
Barnes helped himself at the combine. He showed elite athleticism and reminded people how productive he was at North Carolina.
I believe the Kings will move Tyreke Evans on draft day or during the offseason. That would create a clear opening for Barnes at the small forward position.
6. Portland Trail Blazers (from Brooklyn Nets): Andre Drummond, C (UConn; scouting report here) 
Drummond has the most risk/reward of any player in the draft.
Physically, he is the most impressive prospect. He is 6'11", 280 pounds and has a 39" vertical. He is a man-child, pure and simple.
However, there are concerns about his motor and desire.
The Blazers have had terrible luck drafting big men in the past—remember they didn't actually draft LaMarcus Aldridge; it was a draft-day trade with Chicago for Tyrus Thomas. (The Blazers clearly got the best of that deal.)
If Drummond pans out, he and Aldridge could be a nasty combination. This tweet and included picture make me think Drummond has impressed Portland in his workout.
It's just a tweet, but it isn't as if it doesn't make sense.
7. Golden State Warriors: Perry Jones III, SF (Baylor; scouting report here)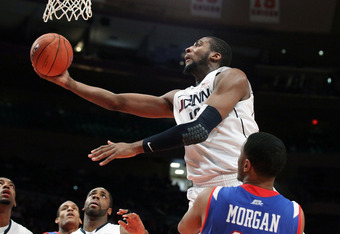 Jim McIsaac/Getty Images
PJ3 is an awesome talent, but he also has questions about his motor. In addition to those concerns, many don't know what position fits him best in the NBA.
In my opinion, it's clearly the small forward spot. You can look at a kid all day and say, "Power forward, power forward," but if that kid doesn't see himself as that, it'll be a struggle.
The Warriors would be a great landing spot for Jones. Along with David Lee and Andrew Bogut, Golden State would have a long and versatile frontcourt.
Playing PJ3 at the right position is the difference between him becoming Brad Sellers or Lamar Odom.
8. Toronto Raptors: Damian Lillard, PG (Weber State; scouting report here)
I placed Lillard here not because of anything he did, but because size tends to win out. The other prospects bumped him because they are bigger, and that is especially the case with Portland at No. 6.
The Raptors need a young point guard, but there could be concerns that Lillard is too similar to Jerryd Bayless.
9. Detroit Pistons: John Henson, PF/C (North Carolina)
The Pistons would be adding a defensive game-changer with Henson. He would be a nice fit alongside Greg Monroe.
10. New Orleans Hornets (from Minnesota): Austin Rivers, SG (Duke; scouting report here)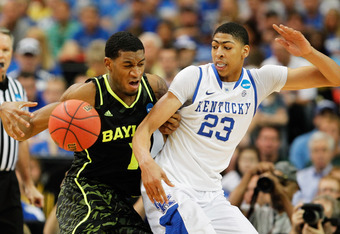 Streeter Lecka/Getty Images
There is some risk involved with selecting Rivers, but I am as confident in his scoring ability as I am in any prospect.
Rivers will be a high-volume scorer in the NBA. When he measured at 6'5" at the combine, that eliminated the final concern I had about him. In my opinion, he is the best shooting guard prospect available and a steal for the Hornets here.
Check out this interview—he is mentally prepared for the NBA challenge: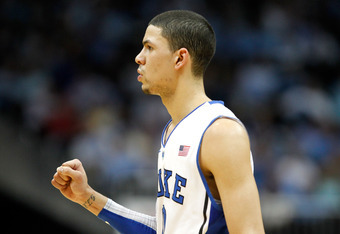 Streeter Lecka/Getty Images
11. Portland Trail Blazers: Kendall Marshall, PG (North Carolina; scouting report here)
The Blazers can still acquire their point guard, even though they passed on the more dynamic Lillard at No. 6. Marshall is a better pure point and a solid fit with the Blazers.
12. Milwaukee Bucks: Meyers Leonard, C (Illinois; scouting report here)
Leonard has some risk, but he is working very hard to eliminate the critics' concerns. He shined at the NBA Combine, measuring a legit 7'1" and some change in shoes, and showing impressive strength and athleticism.
I have changed my tune about him. Leonard isn't the most NBA-ready player, but he has the heart and desire to get what he doesn't have.
This kid wants it; he isn't a superstar, but with his size, he is well worth the No. 12 pick.
13. Phoenix Suns: Dion Waiters, SG (Syracuse; scouting report here)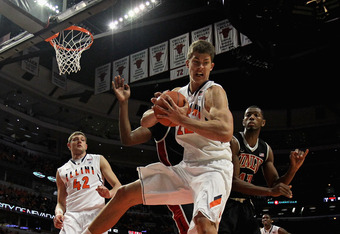 Jonathan Daniel/Getty Images
Waiters has apparently received a lottery promise from an NBA team, according to this report from Gery Woelfel of the Racine Sports Zone, and that team is the Phoenix Suns.
The Suns need just about everything. I expect both of the top point guards to be gone at this time, so they may as well take the player they believe to be the best available.
Waiters has some scoring ability, but he didn't even start for Syracuse last year. He may be a player whose game is better-suited for the NBA, much like Rivers.
14. Houston Rockets: Arnett Moultrie, PF/C (Mississippi State; scouting report here)
Moultrie didn't work out at the NBA Combine, but I think he'll still be a lottery pick. The Rockets need size, and the fact that Moultrie can score is big.
Like the new article format? Send us feedback!