US Open Golf 2012 Leaderboard: Golfers That Will Make Late Sunday Charge
June 17, 2012

Harry How/Getty Images
The first three rounds of the 2012 U.S. Open have been exciting, but the championship is won and lost on Sunday.
Jim Furyk and Graeme McDowell lead the pack going into the tournament's final day. However, the course at Olympic Club has been extremely difficult and a collapse for one or both of these men is not out of the question.
Fortunately, there are a number of talented golfers ready to make a late charge to leave the weekend as the latest Open champion.
Lee Westwood (+2)
Always the bridesmaid and never the bride, Westwood has the record for the most top 10 finishes in major tournaments without a single win. He has 13 such performances in his career and eight since 2008.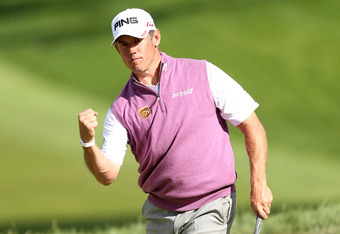 Ezra Shaw/Getty Images
After shooting a 67 in the third round, he might have the momentum to follow it up with another great round on Sunday. Maybe this will be enough to break through as Westwood tries to get his first career major win.
Ernie Els (+2)
The U.S. Open is not about strength, but consistency and experience. Veteran players have been successful so far by keeping focused after bad holes and not losing their composure.
Els knows how to remain calm better than anyone, and the attitude is paying dividends for the Big Easy. After a 75 in Round 1, Els followed it up with two consecutive rounds under par. He has been dominating the back nine in the last two days with no bogeys, two birdies and an eagle.
If he stays in contention early, Els might be able to move to the top of the leaderboard with a great finish.
Tiger Woods (+4)
Remember him? The leader going into the weekend had an awful round on Saturday, and he has fallen almost out of contention. However, he still has the ability to play himself back into contention.
Despite a 75 on Saturday, he was very close to a solid performance. Unfortunately, Woods could not keep his focus. He had a number of birdie puts, but continually misread the greens and would end up with pars and bogeys.
The former champ needs to fix his putting to contend, but a few good breaks could put the fan favorite back on top.
Andrew Redington/Getty Images
Beau Hossler (+3)
It is a long shot for the 17-year-old amateur to leave this weekend as the U.S. Open champion, but it is not impossible. Anyone who watched the youngster perform during the past three rounds should see a golfer playing with enough confidence to handle the pressure that will come on Sunday.
Hossler has a great ability to save himself from danger, and he has the composure to shake off bad holes immediately. On Saturday, he followed each of his four bogeys with birdies on the following hole. 
The high school junior is ready to have a great finish if he does not let the situation get the best of him.
Leaderboard going into Round 4 courtesy of USOpen.com:
| | | | | | | | | | |
| --- | --- | --- | --- | --- | --- | --- | --- | --- | --- |
| POS | PLAYER | TODAY | | TOTAL | RD 1 | RD 2 | RD 3 | | TOTAL |
| | | | | | | | | | |
| --- | --- | --- | --- | --- | --- | --- | --- | --- | --- |
| T1 | J. Furyk | 3:10 PM |   | -1 | 70 | 69 | 70 |   | 209 |
| T1 | G. McDowell | 3:10 PM |   | -1 | 69 | 72 | 68 |   | 209 |
| 3 | F. Jacobson | 3:00 PM |   | +1 | 72 | 71 | 68 |   | 211 |
| T4 | L. Westwood | 3:00 PM |   | +2 | 73 | 72 | 67 |   | 212 |
| T4 | B. Adams | 2:50 PM |   | +2 | 72 | 70 | 70 |   | 212 |
| T4 | E. Els | 2:50 PM |   | +2 | 75 | 69 | 68 |   | 212 |
| T4 | N. Colsaerts | 2:40 PM |   | +2 | 72 | 69 | 71 |   | 212 |
| T8 | W. Simpson | 2:40 PM |   | +3 | 72 | 73 | 68 |   | 213 |
| T8 | J. Senden | 2:30 PM |   | +3 | 72 | 73 | 68 |   | 213 |
| T8 | K. Chappell | 2:30 PM |   | +3 | 74 | 71 | 68 |   | 213 |
| T8 | J. Dufner | 2:20 PM |   | +3 | 72 | 71 | 70 |   | 213 |
| T8 | B. Hossler | 2:20 PM |   | +3 | 70 | 73 | 70 |   | 213 |
| T8 | J. Peterson | 2:10 PM |   | +3 | 71 | 70 | 72 |   | 213 |
| T14 | R. Goosen | 2:10 PM |   | +4 | 75 | 70 | 69 |   | 214 |
| T14 | M. Kuchar | 2:00 PM |   | +4 | 70 | 73 | 71 |   | 214 |
| T14 | M. Kaymer | 2:00 PM |   | +4 | 74 | 71 | 69 |   | 214 |
| T14 | T. Woods | 1:50 PM |   | +4 | 69 | 70 | 75 |   | 214 |