San Francisco 49ers: Who Will Be This Year's Surprise Stars?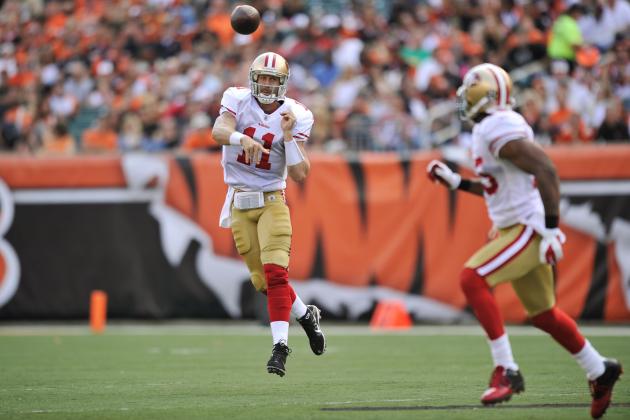 Jamie Sabau/Getty Images

After being led by eight Pro Bowlers to the NFC Championship game in 2011, the 49ers now move to the 2012 season with much higher expectations.
There were many "stars" for the 49ers last season, which is expected of Super Bowl contenders. Now, after a busy offseason, the 49ers' deeper receiving core and strengthened defense will again look to contend for the Lombardi Trophy.
To return to the NFC championship game, though, they will need to be better in 2012 than they were in 2011, meaning stars must emerge to push this team over the edge.
Here are two guys who could break out and be embraced as "stars" by 49er fans if they can help lead the 49ers back to the playoffs.
Begin Slideshow

»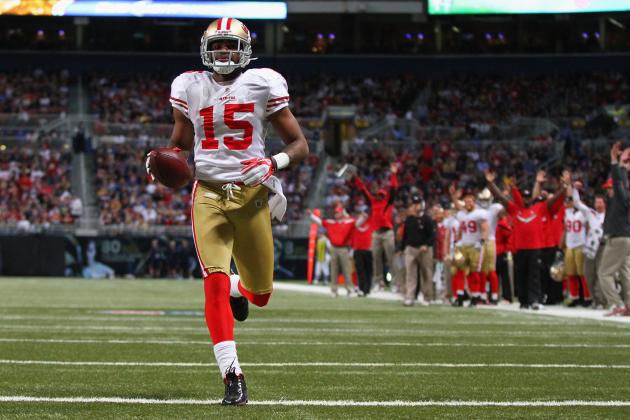 Dilip Vishwanat/Getty Images

Personally, I thought 2011 was going to be the season where Crabtree shined and became one of the league's top receivers.
While there were the limitations of a lockout-shortened offseason and introduction of a new playbook, he was entering his third season after a strong 2010 campaign that saw him catch six touchdowns.
Ten-plus touchdowns in 2011 therefore seemed reasonable—a natural progression for a young receiver who isn't physically imposing.
Instead, Crabtree hauled in four touchdowns despite gaining more yards over the year.
Looking towards 2012, Crabtree has zero excuses for not producing, and frankly, he might not play if he isn't scoring touchdowns. With a much deeper receiving core, Crabtree will have to fight for quarterback Alex Smith's attention.
If Crabtree can catch some touchdowns early in the year and get his swagger going, then maybe 49ers fans will see the Texas Tech version of Crabtree that dominated college football. While the numbers will be impossible to replicate, the confidence Crabtree had helped lead those Red Raiders and could provide the 49ers with a similar boost.
For Crabtree to improve and reach his potential in 2012, though, he will also need the guy who is throwing him the ball to have a big year.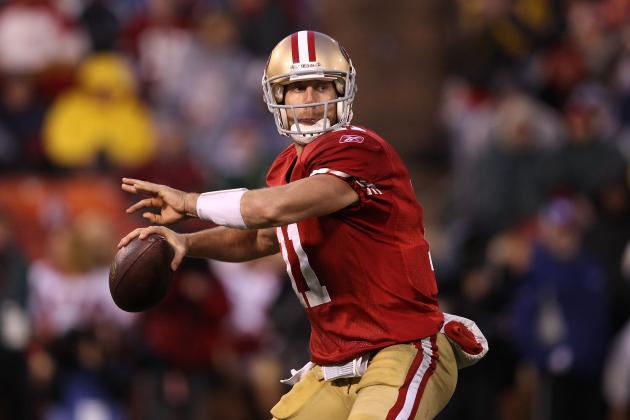 Ezra Shaw/Getty Images

Smith has never been a star of the 49ers.
In fact, one year ago, some 49ers faithful may have hoped that the 49ers didn't re-sign Smith. It always seemed that Alex Smith and the 49ers were doomed. Three head coaches, along with numerous changes at offensive coordinator, likely left Smith as the most confused seventh-year quarterback ever.
So while natural comparison Aaron Rodgers was celebrating his first Super Bowl last summer, Smith was preparing to start anew with Jim Harbaugh.
Harbaugh finally generated success out of Smith, though, and now, the hope is that Smith can take another positive step forward and build off of 2011.
Now, by no means am I predicting that Smith throw for 35 touchdowns and 3,500 yards in 2012. I don't think he ever will. He isn't that type of quarterback, and Harbaugh's system doesn't allow for that big of a season statistically.
I do believe he could move into star territory with the 49ers faithful though, as the pieces have been assembled for him to provide an encore to a strong 2011 season. Smith has five reliable pass-catchers and a re-energized backfield.
If the duo of Crabtree and Smith does help carry the 49ers back to the playoffs, they will be considered stars of 2012.