2012 NBA Mock Draft: Frontcourt Gems Who Will Shape the 1st Round
Ronald Martinez/Getty Images
The 2012 NBA Draft will be a very interesting one since there are so many quality big men available in the first round, but some of them are risky picks.
Will teams use a first-round pick in a very deep draft on a risky big man when there are safer picks on the board, or will they take a chance and hope that the player reaches his potential?
Let's look at a fresh first-round mock draft.
1. New Orleans Hornets: Anthony Davis, PF (Kentucky)
Anthony Davis will shoulder the burden of having to be the face of a franchise right out of college, but judging by the way he handled himself at Kentucky, he's more than ready for the challenge.

2. Charlotte Bobcats: Andre Drummond, C (UConn)
The Bobcats drafted center Bismack Biyombo last year, but unless they trade this pick, expect them to select UConn star Andre Drummond as the best player available.
3. Washington Wizards: Michael Kidd-Gilchrist, SF (Kentucky)
Michael Kidd-Gilchrist could fall as far as No. 8, but I cannot see the Washington Wizards passing on him since they need immediate help. He is one of the surest picks in his draft.
4. Cleveland Cavaliers: Thomas Robinson, PF (Kansas)
Thomas Robinson could go as high as No. 2, but if he's sitting at No. 4 for the Cleveland Cavaliers, expect them to take the star forward from Kansas.
5. Sacramento Kings: Harrison Barnes, SF (North Carolina)

Harrison Barnes seems to be falling down many people's draft boards, but he is still one of the best offensive players in this draft because he can shoot from the outside and score in the post against smaller, weaker defenders.
6. Portland Trail Blazers: Damian Lillard, PG (Weber State)
This is the highest I've had Lillard on any of my mock drafts. Expect the Blazers to address their weaknesses at point guard and center with their first-round picks, and since Drummond won't be here at No. 6, they will take Lillard.
7. Golden State Warriors: Bradley Beal, SG (Florida)
Now that Monta Ellis is no longer with Golden State, the team will need to replace him with another talented shooter. Bradley Beal would be the perfect fit.
8. Toronto Raptors: Jared Sullinger, PF (Ohio State)
Don't expect the Raptors to pass on a big man. They need a solid power forward who can perform well at both ends of the floor.

9. Detroit Pistons: Perry Jones III, PF (Baylor)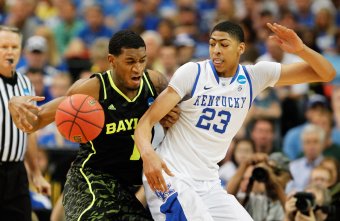 Streeter Lecka/Getty Images
The Pistons will take a risk on Perry Jones and hope that his full potential is realized in the NBA. He could possibly be the biggest bust of this draft because of his laziness and lack of aggressiveness at times.
However, Jones' offensive skills and ability to score the ball in a variety of ways are really impressive.

10. New Orleans Hornets: Kendall Marshall, PG (North Carolina)
The Hornets could certainly trade this pick for more value, but if they keep it, point guard Kendall Marshall has to be taken.
11. Portland Trail Blazers: Meyers Leonard, C (Illinois)
The Blazers need a center badly, and Meyers Leonard's stock is rising fast right now. He could turn out to be one of the best big men to come from this draft.
12. Milwaukee Bucks: Jeremy Lamb, SG (UConn)

If the Bucks envision Brandon Jennings not having a long-term future at the club, then Jeremy Lamb would be a solid replacement.
13. Phoenix Suns: John Henson, PF (North Carolina)

Andy Lyons/Getty Images
The Suns will need a point guard very soon, but they cannot pass on a player like John Henson, who could easily be Defensive Player of the Year at some point in his career.
Phoenix's defense in the paint last year was poor since the Suns have no intimidating presence in the paint. In a Western Conference that's full of quality big men, the Suns need to get tougher inside, and Henson would address this goal in a big way.
14. Houston Rockets: Terrence Ross, SG (Washington)
The Rockets have more important needs than at shooting guard, but it would be foolish to pass on the scoring talent of Washington Huskies star Terrence Ross.
15. Philadelphia 76ers: Arnett Moultrie, PF (Mississippi State)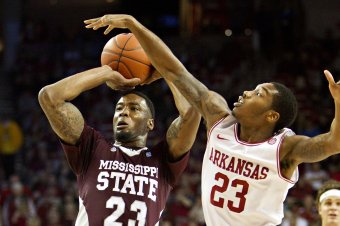 Wesley Hitt/Getty Images
Arnett Moultrie would be the perfect big man for the Philadelphia 76ers going forward.
Elton Brand cannot be the power forward if the team wants to take the next step and become a real championship contender. The 76ers are full of youth and talent in the backcourt, so drafting a big man with NBA-ready skills has to be the goal for the team either in the draft or through free agency.
The additions that the 76ers make to their frontcourt this offseason will determine their future as a contender in the Eastern Conference.
16. Houston Rockets: Terrence Jones, PF (Kentucky)
Terrence Jones is a risky prospect, but the Houston Rockets need a superstar player, and the Kentucky forward has this potential.
17. Dallas Mavericks: Austin Rivers, SG (Duke)
Drafting Duke guard Austin Rivers at No. 17 would be a steal for the Dallas Mavericks, who need to add some youth to their backcourt.
18. Minnesota Timberwolves: Tyler Zeller, C (North Carolina)

The Timberwolves are a quality center like Tyler Zeller away from being a playoff team next season.
19. Orlando Magic: Fab Melo, C (Syracuse)
The Magic might be inclined to take a scorer with this pick, but losing Dwight Howard and not having a capable replacement would be a terrible situation for Orlando.
20. Denver Nuggets: Royce White, SF (Iowa State)
The Nuggets would surprise me if they took a guard with this pick because they need more rebounding after the trade that sent their center, Nene, to the Washington Wizards.
21. Boston Celtics: John Jenkins, SG (Vanderbilt)

John Jenkins is a reliable shooter and can play defense, which are two things the Celtics are looking for in the first round.
22. Boston Celtics: Tony Wroten Jr., PG (Washington)
Since Avery Bradley is better as a shooting guard, the Celtics would be wise to draft a pure point guard with one of their first-round picks.
23. Atlanta Hawks: Quincy Miller, SF (Baylor)
Miller is a safe pick, and he is a player who can defend and score consistently in the low post.
24. Cleveland Cavaliers: Jeffery Taylor, SF (Vanderbilt)
The Cavaliers need a forward who can start, which means they must draft one in the first round. Jeffery Taylor will be the best small forward available at this point of the draft.
25. Memphis Grizzlies: Dion Waiters, PG/SG (Syracuse)
Dion Waiters is one of the most risky players in this draft class, but he does have real star potential as an incredible scoring talent.
26. Indiana Pacers: Moe Harkless, SF (St. John's)
The Pacers must continue to build a strong frontcourt, and if a player as talented as Moe Harkless is available at No. 26, Indiana must take him.
27. Miami Heat: Evan Fournier, SG (France)
French guard Even Fournier could be the reliable outside shooter that the Heat need to add to their bench over the offseason, whether they win the championship or not.
28. Oklahoma City Thunder: Doron Lamb, SG (Kentucky)

If the Thunder ever think about trading James Harden when his contract is nearly complete, then drafting a shooting guard in this draft must happen.
29. Chicago Bulls: Andrew Nicholson, PF (St. Bonaventure)
The Bulls will want to address their guard weaknesses in free agency so they can bring in a veteran for that role; look for them to draft a quality big man who can back up Carlos Boozer at power forward.
30. Golden State Warriors: Marquis Teague, PG (Kentucky)
The Warriors have Stephen Curry at point guard, and he is a fantastic player.
However, given Curry's injury history, drafting a point guard like Teague in the first round would be a smart decision.
This article is
What is the duplicate article?
Why is this article offensive?
Where is this article plagiarized from?
Why is this article poorly edited?