US Open Golf 2012 Leaderboard: Predicting Which Players Will Finish in Top 3
June 17, 2012

Jeff Gross/Getty Images
The top story coming into the U.S. Open was Tiger Woods. The story after the first round of play was the shockingly poor rounds by Bubba Watson and Phil Mickelson. Consistently, the course difficulty at the Olympic Club has been a factor.
Now, all of the side stories are a moot point. On Sunday, the only story worth watching is who will win the tournament.
With 15 players within five strokes of the leaders and a tie atop the leaderboard between Jim Furyk and Graeme McDowell, anything can happen on Sunday.
But I've identified three golfers I think will rise above the pack and round out the tournament's top three finishers, along with a full leaderboard after three rounds of play.
3. Ernie Els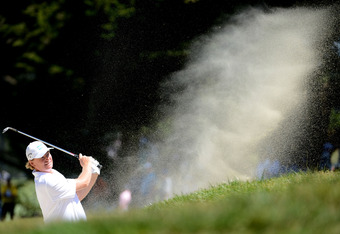 Harry How/Getty Images
After digging himself a hole with a Thursday 75, no player has been as good as Ernie Els was on Friday and Saturday, shooting a 69 and 68 to get down to two-over par for the tournament and within striking distance of the leaders at three strokes out. 
Els hasn't won a major since the 2002 British Open, but he does have two U.S. Open wins under his belt. I wouldn't count him out.
If Els can play at par on the early holes and make his move late, he might win a third U.S. Open. I don't think he'll pull it off, but I fully expect he'll be a contender and finish third at the Olympic Club.
2. Lee Westwood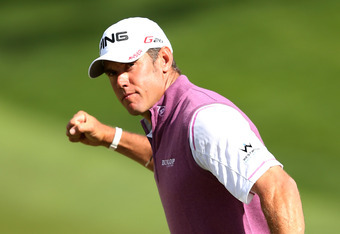 Ezra Shaw/Getty Images
Lee Westwood is one of only two players to shoot a round of 67 at this tournament (Casey Wittenberg was the other). The fact that Westwood did it on Saturday and has improved his score every rounds indicates he comes into the final day with a ton of momentum on his side.
We know that Westwood is capable of sticking atop the leaderboard. He has seven top-three finishes in major tournaments, after all.
He just hasn't won one yet. Unfortunately, I think that trend will continue today. Westwood will finish strongly, but he won't be able to quite catch up with a consistent player that comes into play on Sunday atop the leaderboard.
1. Jim Furyk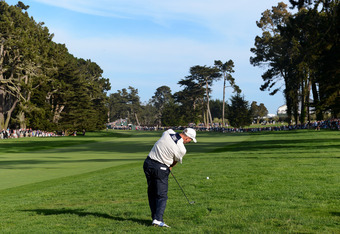 Harry How/Getty Images
Consistency, thy name is Jim Furyk. He's shot 70, 69 and 70 in the first three rounds and has been by far this demanding course's most steady performer.
The Olympic Club has proven to be an unforgiving course where playing it safe and picking your spots has been key. Furyk has consistently done so for three rounds, and simply shooting par may be enough for him to take the championship today.
My prediction is he'll shoot a final-round 69 and beat Westwood by a strokes and Els by two. It's going to be a fun night at the U.S. Open for sure.
Here's your leaderboard after three rounds:
| | | |
| --- | --- | --- |
| Player | Score | Place |
| Graeme McDowell | 209 (-1) | T1 |
| Jim Furyk | 209 (-1) | T1 |
| Fredrik Jacobson | 211 (+1) | 3 |
| Lee Westwood | 212 (+2) | T4 |
| Ernie Els | 212 (+2) | T4 |
| Blake Adams | 212 (+2) | T4 |
| Nicolas Colsaerts | 212 (+2) | T4 |
| Webb Simpson | 213 (+3) | T8 |
| Kevin Chappell | 213 (+3) | T8 |
| John Senden | 213 (+3) | T8 |
| Beau Hossler | 213 (+3) | T8 |
| Jason Dufner | 213 (+3) | T8 |
| John Peterson | 213 (+3) | T8 |
| Retief Goosen | 214 (+4) | T14 |
| Martin Kaymer | 214 (+4) | T14 |
| Matt Kuchar | 214 (+4) | T14 |
| Tiger Woods | 214 (+4) | T14 |
Hit me up on Twitter—my tweets have more style than a Russell Westbrook press conference.