Why There Is No Need for the Chicago Bulls to Get Antsy This Offseason
June 17, 2012

Jonathan Daniel/Getty Images
The ending to the 2012 season for the Chicago Bulls could not have been more sour. Derrick Rose's torn ACL in the opening game of the playoffs dramatically altered not only the Bulls' playoff run, but also the outlook of the NBA playoffs.
If Rose had never been injured, there's serious reason to believe Chicago would be playing in the NBA Finals against the Oklahoma City Thunder. The Bulls held the No. 1 overall seed and appeared to have all the intangibles of a team poised to win a championship.
But Rose did get hurt and Bulls fans have been collectively groaning ever since.
Amidst all of these groans, there have been incessant trade rumors and suggestions of where the Bulls should go from here. Many have lobbied for the Bulls to acquire a better big man than Carlos Boozer, to replace Rip Hamilton with a younger shooting guard and to land a more efficient point guard than C.J. Watson.
In all of this, there is a sense of urgency that the Bulls must do something. There don't seem to be many (if any) who are in favor of the Bulls standing pat this offseason.
While I'm not here to argue the Bulls shouldn't make any moves (I do believe they should at least make some minor ones), I am here to argue that the Bulls shouldn't get antsy and rush into something senseless.
For instance, Pau Gasol to the Bulls rumors have been rampant, but it's inconceivable to think the Lakers will pull the trigger on this unless Luol Deng or Taj Gibson (likely both) are involved. Despite what many Bulls fans wish, the Lakers are not going to give up Gasol for Carlos Boozer and C.J. Watson. 
Therefore, it's foolish of the Bulls to consider parting ways with a package including Deng and/or Gibson to land Gasol. This wouldn't make the Bulls a better team. While Gasol is an upgrade from Boozer, he's aging and doesn't appear to look like the All-Star he once was.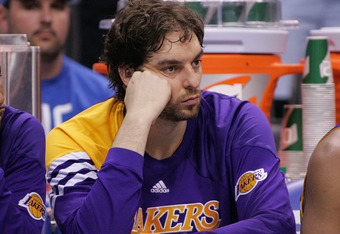 Brett Deering/Getty Images
There are surely other scenarios that would be questionable as well. Adding a player like shooting guard Tyreke Evans would be helpful for the Bulls, but is a player like Evans, who possesses a questionable work ethic, worth acquiring if it costs Joakim Noah, who's become Chicago's top energy player and a likely All-Star in the near future? 
Such a deal for Evans is something to speculate, but the Bulls would be wise to demand more than just Evans from Sacramento.
In all of this, the fear is that the Bulls will make a move to just make a move. What could easily happen is they overlook the fact that they're still a championship-caliber team with their current core. Since Rose's injury, Bulls fans have been in panic mode and are seeking anything to cheer their spirits.
What's more, fans have been quick to over-amplify the struggles of Boozer (who, despite his struggles late in the series against Philly, actually had a good season) and Hamilton (who would've very likely been the Bulls' playoff X-factor if Rose had remained healthy).
Now, hear me. If the Bulls can find the right deal—such as a reasonable offer for Evans, a multi-team deal for Utah's Al Jefferson or a sensible blockbuster move for Dwight Howard (this, however, is a long shot)—then they should pull the trigger.
But they must guard against allowing the current panic mode to rush them into a move that actually weakens their current roster and disrupts their chemistry and overall camaraderie.
Assuming Rose returns to form once healed, there are still plenty of reasons for Bulls fans to be excited. They still possess a quality core, a superb head coach and other intangibles (such as a future Charlotte Bobcats first-round pick and the rights to Nikola Mirotic—who's one of the best power forwards in European basketball). 
All these positives should not be compromised for the sake of quickly making a move that ends up being more of a regret.