Liverpool Transfer Rumors: Clint Dempsey Isn't Enough to Claim Premier Crown
June 17, 2012

J. Meric/Getty Images
Liverpool isn't one player away from a Premier League title.
Two, though, would boost them into contention. Clint Dempsey has been on Anfield's radar since the start of the transfer window, but they must add more talent than the American to compete with the juggernauts that are Manchester United and Manchester City.
Dempsey is a skilled footballer and signing him would be a huge transaction. But he isn't a superstar and at 29-years old, he won't ever get to that point. And for a team that went just 14-10-14 last season, bringing in one more solid player isn't good enough.
According to the Daily Mail, though, Dempsey wasn't the only player on Brendan Rodgers's wish list when he took over Liverpool. After joining the club, the manager expressed his interest in Gylfi Sigurdsson. Rodgers said:
I said when I had the chat with Swansea chairman Huw Jenkins, when I told him that I was going to Liverpool, that Gylfi came to Swansea because I was there as manager. I felt after six months that we needed a goal-scoring midfield player. His record is fantastic and I said to him, "I think this is the club for you".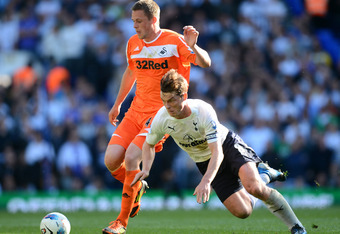 Mike Hewitt/Getty Images
Sigurdsson is a player that is capable of putting Liverpool over the top if he continues to progress.
He's only 22-years-old and was voted his team's player of the season two straight years. His skill set is outstanding and he possesses a cannon for a leg.
Rodgers continued (via Daily Mail):
I pushed the club to make an agreement and they've done that in terms of the fee and the salary. I said to Huw, "I'm not going to do anything untoward—this is the guy you want." But ultimately, it's down to Gylfi. My only thing is that, if he comes on to the market, I will have to be interested.
David Maddock of Mirror reported, though, that Sigurdsson will transfer to Liverpool after he meets with Swansea's new manager.
If Sigurdsson does indeed follow Rodgers to Anfield and Dempsey hops on board as well, Liverpool will be a force next season.
David Daniels is a featured columnist at Bleacher Report and a syndicated writer.