US Open Golf 2012: Players in Position to Steal the Win
June 17, 2012

Andrew Redington/Getty Images
Jim Furyk and Graeme McDowell stand atop the 2012 US Open leaderboard at one below par each as we enter the final round.
To that end, Furyk and McDowell have to keep their A-games afloat because contenders such as Webb Simpson are lurking behind and in position to steal the title.
So, we'll get into Simpson a bit later but first, let's see who else is vying for the 2012 US Open championship at the Olympic Club.
Full view of 2012 US Open leaderboard.
Fredrik Jacobson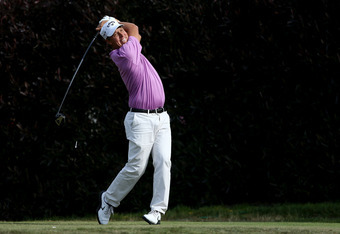 Andrew Redington/Getty Images
Improving through each round, Fredrik Jacobson hit a 72 in Round 1, a 71 in Round 2 and a 68 in Round 3 and enters the final round two strokes back in third place.
Watch for him on holes six through 10 as he's done no worse than par (six birdies coming from these holes) during this tournament. Holes No. 5, 12 and 16 have been Jacobson's Achilles' Heel with two bogeys on each.
If Jacobson can manage to hit par on those three, maintain his dominance on six through 10 and keep playing well on 17 and 18 (two birdies, four pars), he has a great opportunity to get a 65 or lower in Round 4.
Blake Adams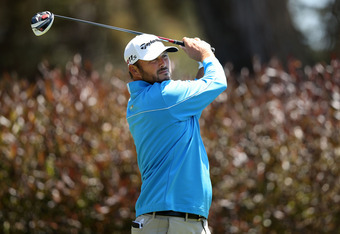 Ezra Shaw/Getty Images
Despite getting a double-bogey on hole one in Round 1 and another on hole two in Round 3, Blake Adams is still tied for fourth place entering the final round at the Olympic Club.
Excluding the two double-bogeys, Adams has played exceptionally well otherwise. From hole three through 15 he has hit nine birdies, 26 pars and only four bogeys through three rounds.
Hole 16 has been the back-nine menace as Adams has bogeyed it the first two rounds and was plus-four between holes one, two and three in the third round. We can expect the middle to be a great showing and if Adams overcomes his woes in holes one, two, and three from the last round he'll be in contention toward the end of Round 4.
Webb Simpson
Tied for eighth place entering the final round, Webb Simpson has just one double-bogey but not many birdies to counter-balance his performance. With many pars and 10 bogeys thus far, Simpson has to one-up his Round 3 numbers.
Albeit impressive as Simpson did receive five birdies last round (more than first two combined), dodging those pesky bogeys must happen for a polished finish. Shooting 68 and sitting four strokes back, Simpson can easily make up the difference with one more birdie and two more pars.
Perhaps the most intriguing part of his 2012 US Open was the hole one double-bogey in Round 2 that was turned into a birdie in Round 3. Provided that Simpson starts off Round 4 as he did Round 3, a historic finish will be in the making.
John Rozum on Twitter.