Denmark vs. Germany: As It Happened
Euro 2012, Group C decider—Arena Lviv, Lviv, Ukraine
Denmark 1 Germany 2 (Full Time)
Goals:
Podolski 19' (GER), Krohn-Delhi 24' (DEN), Bender 80' (GER)
Lineups:
Germany: Neuer, Bender, Badstuber, Hummels, Lahm, Khedira, Schweinsteiger, Muller (Kroos 84'), Ozil, Podolski (Schurrle 64'), Gomez (Klose 74')
Denmark: Andersen, Jacobsen, Agger, Kjaer, S. Poulsen, Zimling (C. Poulsen 79'), Kvist, J. Poulsen (Mikkelsen 82'), Eriksen, Krohn-Dehli, Bendtner
For Portugal vs. Netherlands, click the link.
For the curious, it was Ozil whose cross was converted by Bender. That's his first assist after creating and participating in numerous attacking plays for Germany.
That's it from me, your commentator, Mohamed Al-Hendy. I'll have post-match analysis for this game up later today, so check back at my profile, and hit me up on Twitter with your thoughts on the game.
Thanks for following, and we'll see you next time!
AND THAT'S THE GAME!
Germany win all three games in the Group of Death, and all three of their wins are deserved. Denmark are out, but they should really be proud of their work.
90'—Just looks like a game of keep-away now, but Ozil wins a free kick outside of the box. Must say, his fitness has improved markedly in his time with Madrid.
Nothing comes of it though, it rebounds off the wall back out and we're back to keep-away.
86'—Even though they're almost definitely out now, credit must be given to the Danes for a terrific show in the group of death. Scored against every team, and would almost surely been through if Portugal hadn't found that miracle winner through Varela in the duo's game.
80'—BENDER WITH THE SECOND!
Surely that's it! On the counter, Germany break quickly, and a cross into the box misses Gomez but is finished by the excellent Bender! Perfect ending to a near-perfect performance from the emergency right back, and the Germans are surely home and dry now.
SUBSTITUTION
Niki Zimling is taken off for Christian Poulsen, the Danish captain. What change does this bring?
UPDATE
Ronaldo scores a second, which is bad news for Denmark. Now the only way they can qualify is to beat Germany, and eliminate them in the process. They only have around 15 minutes to do that though, and Germany have been in control for much of this second half. Can they spring an upset?
SUBSTITUTION
Gomez is taken off for Klose. Just the usual end of the game minutes here for Klose; we'll see if these minutes go any different than they have in the previous two games for him.
70'—Denmark get a corner off a decent shot from Zimling, but Denmark curiously play the ball short, and Eriksen's ball over the top goes out of bounds.
Curious decision by Denmark, considering how good they've been this tournament from corners. Once again, more reasons to criticize Eriksen.
67'—GOOD SHOT FROM SCHURRLE!
Schurrle makes a run on goal, and takes a shot from the left flank. It drifts across goal before being cleared.
Not too dangerous, but good effort from the sub, and a good sign of life from the Germans.
SUBSTITUTION
Andre Schurrle comes on for Lukas Podolski. Good move by Jogi Low; like-for-like, but Schurrle is more creative and younger. Let's see what he brings.
62'—Good passing movement by the Germans, but Khedira's ball is cut out for a corner kick. Anderson comes out for the punch and gets it, but it's back to the Germans.
It's looking like the Germans are starting to take control of this game, at least possession wise. The Danes are looking increasingly reliant on a goal from the Netherlands to qualify for the knockout rounds.
58'—At the moment, it's just pretty passing from both teams; mainly Germany. Both teams need a bit of incision to win this game.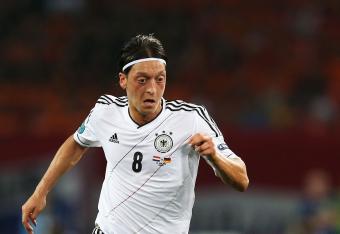 54'—Ozil tries to be clever with a pass from Gomez, but he slips just as he tries to fake a shot.
53'—And that's interception #184 from Daniel Agger. What a beast in the Danish defense. Germany still in possession though.
51'—BRILLIANT CHANCE FOR POULSEN!
Some great passing play is punctuated by a shot by Poulsen off a pass from Bendtner. It only barely misses, skidding the outside of the post before passing beyond the goal.
49'—First shot of the second half from Mario Gomez. It goes wide.
And we're back! The second half is underway.
UPDATE
Seems Gomez has been assisted with the assist on Podolski's goal, as he did back-heel the ball to Podolski for the goal. Muller still deserves credit for that cross though.
HALF-TIME!
And that's the break. After an exciting, fairly even first half, we go off even at 1-1. Portugal and the Netherlands are also even at 1-1.
We'll have more after the break. See you then!
45'—Christian Eriksen takes the corner, but bounces around before being cleared. Denmark almost had a chance on goal, but it seemed as though their midfielder in the box reacted too slow to get a clean shot in.
I didn't even notice Eriksen prior to the corner kick. I have to say, for all the hype he's had going into this tournament, he's been disappointing. Not really contributed much to Denmark's success in my opinion.
43'—Germany continue to play beautiful 1-2s, but the Danish defense continues to react right in time.
Gomez almost works through the defense though...Kjaer's last ditch tackle just puts his touch off enough for Andersen to clean up the ball before Gomez can get to it.
41'—HORRID MISTAKE BY KVIST!
On a through-ball, Kvist makes a horrible touch on the ball that leaves Khedira with a beautiful chance inside the box. Almost taken by surprise, Khedira's hit is rather time and hit directly outside the box.
40'—To confirm, if results hold, it will be Portugal, not Denmark, who move on to the knockout rounds, courtesy of their superior head-to-head record.
Still plenty of excitement left in both games though.
38'—The free kick from Podolski comes to nothing. Germany decide to roll it before blasting it, and it goes far too high.
This article is
What is the duplicate article?
Why is this article offensive?
Where is this article plagiarized from?
Why is this article poorly edited?