Contrary to popular belief, the NFL is not littered with elite, impact defensive players. There's only so many out there that can provide consistent performance on a play-by-play basis. They are viewed as the best the league can offer on Sundays because they can impact the game on any given down.
These players include the likes of Jason Pierre-Paul, an up-and-coming pass rusher, and Darrelle Revis, arguably the best cornerback to set foot on the field in years, but there's one other that has oddly enough, been underrated or perhaps forgotten by some, and he is DeMarcus Ware.
Ware is quietly the league's most dynamic defender, a game changer that is consistently wreaking havoc in offensive backfields and making game preparation a living nightmare for not only offensive coordinators, but linemen and quarterbacks too, as New England Patriots quarterback Tom Brady explained prior to a meeting between his team and Ware's last season:
"They're unique players. If we had someone like that on our team — there're just not many guys like that in the league. When you play a guy like that, you've just got to… the tackles and tight ends know they're up for a challenge. You try to give them help at times but at other times they're on their own, they've just got to stop them. As a quarterback you don't just drop back there and hold it and see how long you can hold it all day because eventually they're going to get there. You've got to make sure your making the right reads and that my passes and the timing of my passes are coordinated with our protection."
Despite being nearly the age of 30 and overshadowed by a slew of young talent at the position, Ware is just as effective as he's always been. As a matter of fact, since 2008, he's been the most effective pass rusher in the NFL in terms of sacks and overall disruptions as my colleague Brad Gagnon stated.
Furthermore, Ware's been consistent since he came into the league in 2005, when he notched 8 sacks in his debut season, and has only gotten better since then. In six of his seven seasons, he's had double digit sacks, three times eclipsing 15 sacks including two season of 19 or more.
Is Ware the league's best defensive player?
He can get after quarterbacks from both sides of the formation (which not every rusher can do) as well as from the interior, as seen this past season.
He's also been a quality run defender, grading positively under the charting of Pro Football Focus, and has shown he can drop in coverage in zonal assignments as seen when the Dallas Cowboys go to their pressure packages. He's been in the Pro Bowl every year since 2006 and voted First Team All-Pro every year since 2007.
Talk about dominance.
But what makes Ware that damn good? What is it that makes him so consistent? It's not just his work ethic or his durability, its his knowledge of the game, his natural ability off the edge that enables him to beat blockers at the point of attack en route to defending the run or blowing past them and bending the edge in order to reach quarterbacks.
It's also his variety of pass rush moves, as Brady stated in the same press conference alluded to earlier:
"He [Ware] can get after a quarterback as good as anyone we play," Brady said. "He's powerful, he's fast off the edge, he's got a bunch of different moves. It's not like you just set on the speed-rush and he'll speed-rush you and then he'll power you right into the quarterback. The first play of the season he sacked [Mark] Sanchez when they were playing the Jets and kind of had an up-and-under move. If he gets going early he's going to be a problem all day, so we've got to make sure we really account for him on every play."
The first sack of the season that Brady talks about is a great example of Ware's ability. He lined up on what would become the weak-side of the formation after Jets receiver Santonio Holmes motioned from right to left, changing the Jets receiver set from Trips (three receivers to one side) to Twins (two to one side).
Ware was lined up on the outside shoulder of right offensive tackle Wayne Hunter, a player not known for his hand and foot quickness which the Cowboys edge rusher took advantage of. After the motion by Holmes, quarterback Mark Sanchez put the ball into play and Ware was off to the races.

He came toward Hunter with great quickness and planted his outside foot as if he was going for a speed rush that would see him bend the edge and get around Hunter. However, this was a misleading step, as he looked to set up the Jets blocker by forcing him to the outside, consequently leaving an inside path to the quarterback open, which is what happened.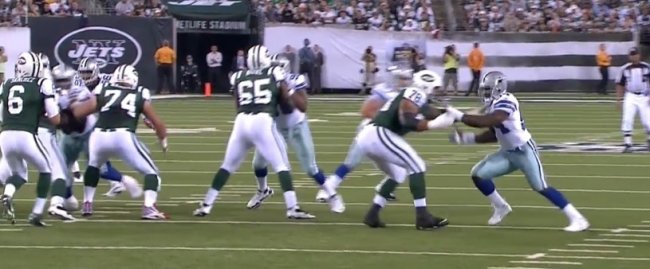 Hunter slid wide to account for the speed rush and had poor footwork to go along with bending at the waist (something you shouldn't do as a blocker), which could potentially leave him off-balance.
As soon as Ware saw that Hunter had slid too far to the outside, he converted speed to power and took advantage by clubbing him over the left arm, knocking him off-balance, and cutting past him with a rip move.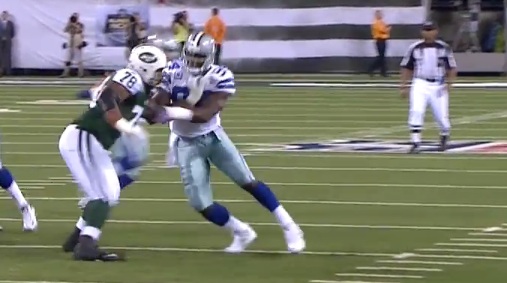 So that's what Brady was talking about.
The next quarter, Ware got his hands on the Jets signal caller once again with a nasty sack that illustrated his versatility and power.
He was away from his traditional alignment, instead moving around before the snap in Rob Ryan's "Amoeba" package on second down and one yard to go.
The Jets offensive players, particularly the blockers and Sanchez, were unsure who was coming and who was dropping in coverage. They knew that Ware could do either and do it well. Unfortunately for them, Ware came downhill and came down hard.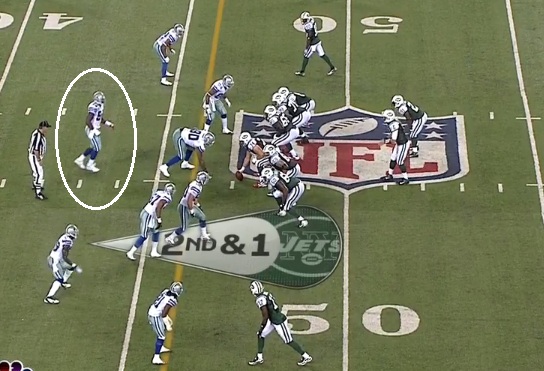 At the snap, Ware came charging for Sanchez, and he had taken the most difficult path: straight ahead at All-Pro center Nick Mangold.
Mangold is arguably the league's best center and an exceptional blocker, but that didn't matter to Ware; he was going after Sanchez and taking down anyone who got in his way.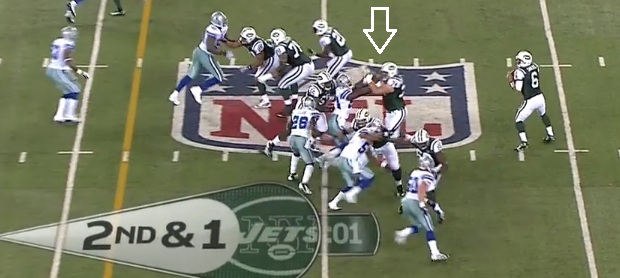 He administered a powerful bull-rush on Mangold, dropping his pads, locking out his arms and sinking his hips that led to him pushing the center back on his heels and into the confines of the pocket where Mark Sanchez stood.
Ware quickly got to Sanchez, wrapping his long arms around him and bringing him down for the sack.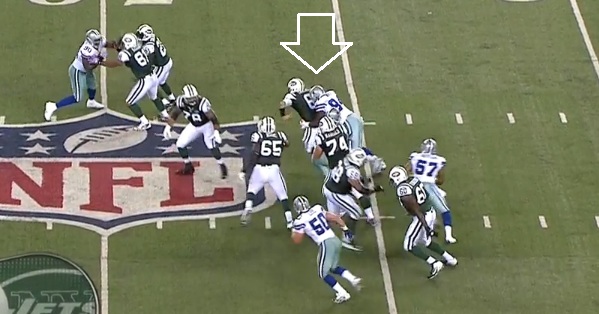 These two plays are just a couple examples of the ability of Ware, who has a full arsenal and great natural talent that enables him to disrupt the timing of offenses with consistency.
It's his constant pressures and sacks that also help improve the play of defensive backs (although if you watched Dallas last year, you might debate that) because it forces the quarterback to get rid of the ball early and potentially leading him to turn it over.
This is a big reason why Ware is the NFL's most dynamic defender as well as because he is quality in all facets of the game, such as playing the run and dropping in coverage to go along with the obvious pass rush ability, and is versatile to do anything that's asked of him as seen in the still-shots against the week one match-up against the New York Jets.