WWE No Way Out 2012: Everything You Need to Know Before Tonight's Event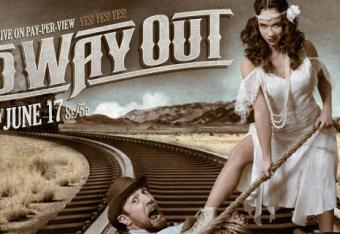 All photos courtesy of WWE.com

Tonight at IZOD Center in the New Jersey Meadowlands, there will be No Way Out for the WWE superstars.
A gigantic dancing man will face a Harvard-educated superstar who may have a different job after tonight. A ring announcer and a champion do battle...in tuxedos.
Four championship matches will be decided tonight.
A frustrated former queen of the Divas division looks for her throne back. A longtime intercontinental champion tries to regain the title he was making relevant again. A Show Off gets a golden opportunity to become a world champion. A reigning champion must fend off two great contenders while also watching his back for the manipulative woman who seems to be in his corner...for now.
In the main event, someone will be fired as the boss sits at ringside.
Will it be the face of WWE, who leaves if he cannot defeat a giant? Will it be the authority of WWE, who gets terminated if his heavy investment doesn't pan out in this match?
There's a lot of information to try and follow for No Way Out. Among rumors, speculation and forged tweets, there's a lot of stuff that needs to be sorted out.
Consider this your cheat sheet.
Each match will be previewed, predicted and accompanied with another article analyzing another aspect of the match.
This is everything you need to know about No Way Out 2012.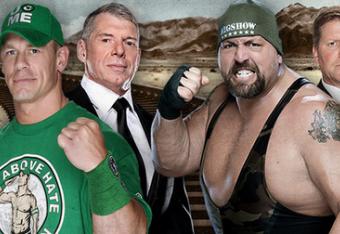 This is the John Cena main event match where someone will be fired. If that seems unique to you, then you need to catch up. Cena was a referee at Survivor Series who was fired for not having Wade Barrett win the title. Cena was going to be fired for not defeating CM Punk at Money in the Bank last year. Now, John Cena can be fired if he does not defeat Big Show.
John Laurinaitis is also on the chopping block, which he was on at WrestleMania, at Extreme Rules, and on RAW this past Monday night. Well, one of these men will be fired and it probably isn't Laurinaitis. The firing of Cena will not be permanent, but the impact of it will make Laurinaitis and Big Show incredibly unpopular with younger fans. Cena will get his personal life back together, while Big Show continues his massive heel rampage. His ironclad contract tells me one thing: Cena is coming back and will get him fired from losing a match.
Winner: Big Show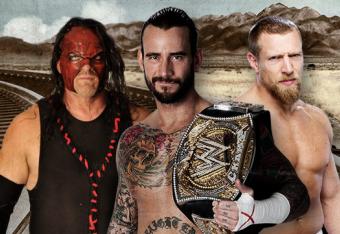 Three men and a crazy chick will decide who leaves No Way Out as WWE Champion. This storyline has been intriguing, but very confusing. AJ is as crazy as ever, CM Punk is as popular as ever, Kane is as relevant as ever and Daniel Bryan is… well, at least Daniel Bryan is in a storyline with substance.
Let's not make this match more than it is: a showcase of talent between this trio. It is also the match where we have to imagine that AJ will dictate who wins it. A sneaking suspicion is that Bryan may simply have planned this entire thing for AJ to screw both men out of the title in the long run.
Punk's title reign has been going steady for a while. It may be a chance to get him to chase the title again leading up to him donning the WWE '13 cover. TLC is a few weeks away, which was the event that both Bryan and Punk walked out of as world champions. It could just mean that Punk keeps the title and the idea of Punk and Bryan having a clear winner one way or another remains a mystery still. If anyone is taking the pinfall in this match, it will probably be Kane. Then again, I may just be watching AJ the entire match. Those crazy chicks…
Winner: CM Punk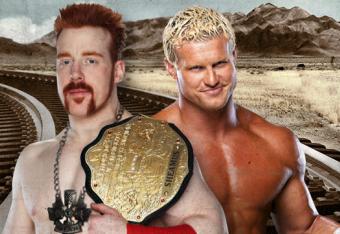 Sheamus faces Bachelor number four in his quest to defend his World Heavyweight Championship at No Way Out. In all seriousness, it has been a chore to fill this spot. Sheamus defended in a Fatal 4-Way match at the last pay-per-view and none of those three men are available. Alberto Del Rio suffered a concussion and was pulled, while Chris Jericho and Randy Orton are both serving suspensions. Jericho returns in about a week, so according to the countdown on his Twitter account. This was a one-time chance for whoever got the spot.
The spot went to Dolph Ziggler, but that is where the luck ends for The Show-Off. Many want to believe he can win, but he just won't. Eventually, it has to turn around and his talent has to bring him closer to a consistent spot in the main event. It just isn't right now. This match will be special and maybe Ziggler's performance will bring on better opportunities in the future. I wouldn't say that Ziggler's only chance to make an impact comes in this match, but it would be nice to get the job done when nobody expects it. Sheamus sure knows how that feels.
Winner: Sheamus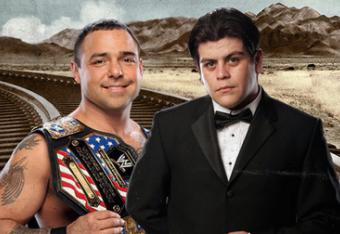 This is a tuxedo match that was announced earlier this week. Then again, if this went in as an unannounced match and simply appeared on pay-per-view, would anyone really mind? Santino is still United States Champion, but this is not a title match. It would be hard to justify having a ring announcer get a chance at a championship, I suppose.
Rodriguez is a great guy to have with spots like these. He can take punishment and he can really sell something like this. It isn't a Bret Hart/Shawn Michaels-type match by any means, but that's just fine here. It's entertainment, it's a buffer between matches and it is Santino in a tuxedo. This is a match for Santino to win, mainly because it wouldn't make sense to have a champion lose here to a non-wrestler.
Winner: Santino Marella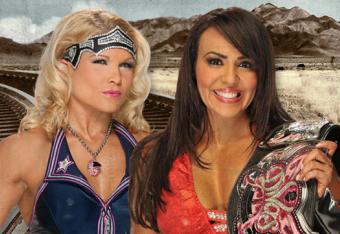 I'm being told that this idea of having women wrestling in WWE is not a brand new concept. It sure feels like it given the booking of shows in recent weeks. It's been hard to even see Divas Champion Layla in recent weeks on television, which just tells you what dire straits the division has been in. A lack of good competition and good contenders makes this match more important than the others at No Way Out.
Women's wrestling divisions have disappeared before from WWE, so there's nothing preventing that from happening again. The important thing is to keep going out there and try to dazzle audiences.
This is Phoenix's chance to begin her reign with the championship once again, but Layla has looked great since returning. If you need to ramp up the attention on the division, especially with RAW going to three hours permanently in a few weeks, it may be best to have Layla get some more time to rehab and get stronger. It's hard to not pick Phoenix, but she did lose a few of these matches to Kelly Kelly last year.
I'm picking Layla until I can be proven wrong about the way that Beth Phoenix is being booked on pay-per-view. Also keep in mind that a title change at the 1,000th RAW is likely, so that may be where this title changes hands.
Winner: Layla
This is an Intercontinental Championship match that has a build, a good story, great superstars involved and people talking about it with excitement. Pinch me. I must obviously be dreaming.
This is a great match to begin the night with. Both of these guys can steal the show and can get this crowd warm rather quickly. Rhodes is really coming into his own without the title, which is a nice sight to see. Some people with long title reigns begin to flounder once they lose their title (you know what I mean, MVP?).
Christian is doing good work right now and keeping him on the championship while using up Rhodes' rematch clause is a nice way to bide time for Cody. Even in defeat, a man like Sheamus with his world championship and few contenders around right now makes for an interesting dynamic. Does the loser of this match actually benefit from being in the running for a world title match?
Still, there's no escaping that this is supposed to be a great match. It's certainly becoming the sexy pick for Match of the Night. It may just deliver on that idea.
Winner: Christian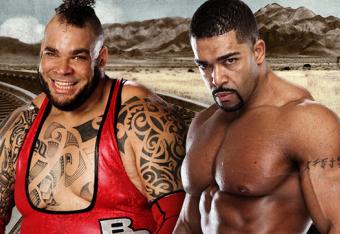 The YouTube pre-show match features the often-entertaining Brodus Clay against the always-ridiculed David Otunga. Otunga's night can definitely be looking differently based on the results of a few different matches that will be taking place. The first one that should be of utmost importance to Otunga is his own match with Brodus Clay.
Clay is undefeated since becoming The Funkasaurus and an upset by Otunga would go a long way to legitimizing Otunga as more than just a lapdog for Laurinaitis. Depending upon the result of the main event, the in-ring ability of Otunga could prove to be very important. Clay still seems different from his altercation with Big Show a few weeks ago.
Big Show will be in the house, but don't expect him to make a run-in just to give Otunga a victory, especially on a show being seen on YouTube. Clay got a little banged up by Otunga in an ambush that hyped this match (yes, they hyped a pre-show bout), so it will be closer than usual. Still, Clay finds a way and gets funky in the IZOD Center.
Winner: Brodus Clay