Worst WWE Catchphrases of All Time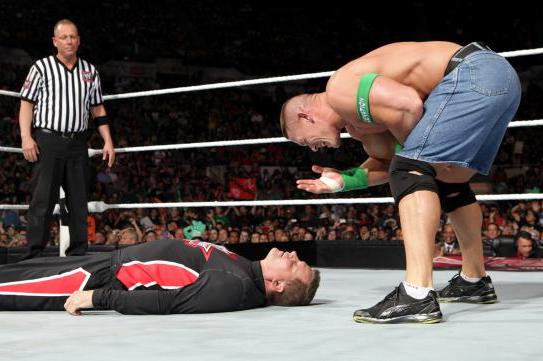 Photo courtesy of WWE
There have been some great catch phrases in the history of the WWE. The Rock, for example, has had several.
Foley's "Have a Nice Day" is another one that fans tend to love.
There have also been some really bad ones. It's always hard though to figure out which ones are bad, regardless of just how popular they are.
Some people may think Hulk Hogan's catch phrase is a staple of the WWE, while others may hate it all together.
Here are just some of the worst/annoying catch phrases ever uttered in the WWE.
Of course there are always more, and that's where you come in! Please, comment and let us know what catch phrases you hate.
Begin Slideshow

»
Let's start this list off with a doozy.
What's wrong with it: Not only does it sound stupid, it is stupid. Who would be scared of a bunch of renegade rookies? Was anyone supposed to be scared if people didn't join the Nexus?
What it lacks: Clearly Wade Barrett and his group of cronies needed to be more creative than this. I guess the whole world was against Barrett and his little group.
Popularity: I can't remember anyone chanting for the Nexus, or chanting this obnoxious catch phrase
Here's a thought before moving on, how many Nexus members are actually having success now?
Somebody needs to help R-Truth out with his grammar.
What's wrong with it: This catch phrase was brutal enough when Truth was playing a heel role. At least though he was pretending (I hope) to be crazy. Now that he is a crowd favorite, it makes him seem slow, stupid, or both.
What it lacks: Common sense. What does it even mean to get got? The Miz got got when Truth beat him up, but he also ended up becoming a jobber, and going from a champion to a nobody.
Maybe getting got is some type of evil curse that ruins your career.
Or maybe R-Truth is trying to show us just how thug he is, by purposely not using correct grammar.
Whatever it is, Truth needs to start working on something better before he gets got.
Popularity: This catch phrase has taken off enough to be put on a shirt. Not only can you sound ridiculous saying it, now you can look ridiculous as well.
I'm a huge fan of Zack Ryder. Not only do I respect what he did with the Internet, and how he used it to boost his popularity, but I also hail from Long Island, so I have to cheer the hometown boy.
That doesn't mean his catch phrase is annoying, and makes no sense.
What's wrong with it: Should I be offended by his catch phrase because it might arguably stereotype everyone from Long Island?
Yes, we are better than the Jersey Shore, in case you were wondering.
What it lacks: The "woo woo woo" part is clearly a chant of some kind.
But I'm still trying to figure out what I know. Apparently though, according to Mr. Ryder, I know it. Could he be referring to the hairy creature from the Adams family? Or is it something more?
Regardless, there is no arguing that Ryder's catch phrase is pretty bad.
Popularity: Yes this catch phrase is annoying and makes no sense. Whats even worse is how popular it is. Ryder's popularity is never a bad thing, but all across America kids and adults everywhere are chanting along with the "Woo Woo Woo Kid."
You know it.
MVP's Ballin' is almost as bad as Cena's catch phrase.
What's wrong with it: Air ball, really MVP? Are we five years old? If MVP was so ballin', why did he end up going nowhere? Add that with the fact that MVP's catch phrase made it cool for everyone say ballin' as well. And we all know how cool it is to see a group of 40-year-old guys yell ballin'.
What it lacks: MVP ended up coming up with an unoriginal catch phrase that only caught on because it was a phrase that had already been made popular by the media.
Popularity: MVP's catch phrase was decently popular. Enough for the crowd to say it right before he hit his move.
In short, MVP's catch phrase was unoriginal, and MVP himself was far from ballin'.
I get it, Vickie comes out and always does her "excuse me" bit to get heat. I think we all get that. That doesn't mean it's not a horrible catch phrase.
What's wrong with it: I used to be able to handle Vickie Guerrero and her Excuse Me catch phrase. Now I tend to cringe every time she does it. Enough is enough. Clearly I'm not the only one who thinks so either, just check out Punk's face in the video.
It does get her heat, I guess that's good, but Vickie and her catch phrase have become so annoying now that it's just overkill.
What it lacks: That's a tough question to answer when it comes to this catch phrase. Yes it does what every annoying catch phrase should do. At this point though it's so overkill that it's lost its purpose. People would still probably boo Vickie just as much even if she came out and didn't say anything.
Popularity: Every now and then you see a "excuse me" sign. It seems decently popular among annoying catch phrases.
Still, that doesn't mean there isn't a huge group of us who downright hate it.
Michael Cole makes my eyes and ears hurt. What's even worse is that he has his own catch phrase.
What's wrong with it: Vintage this, vintage that, Cole isn't afraid to drop vintage bombs all over every wrestler that gets in the ring. Cole over uses the statement and kills the meaning of the word.
Here are some definitions of the word vintage:
1. Representing the high quality of a past time
2. Old-fashioned or obsolete
3. Being the best of its kind
Now I'm assuming Cole means the first definition, and I guess it makes sense when we saw Shawn Michaels do one of his classic moves.
What it lacks: What about the younger wrestlers who haven't been in the WWE for anywhere nearly as long as Michaels? Are their moves now vintage as well?
Popularity: I don't really know how popular Cole's phrase really is. I can't see too many people repeating what that man says. Though sometimes the vintage bombs will overtake The King as well, and he will start calling things vintage, too.
This one kills me to put on the list.
I was a huge X-Pac fan when I was younger, I still am.
But after stumbling across this promo, I have to say that his catch phrase was one of the worst.
What's wrong with it: Why would you want to smoke your opponent's butt? While it might have sounded cool when I was much younger, I see this now and wonder what X-Pac was thinking when he decided to use this as his catch phrase.
A reference to marijuana and asses doesn't make a wrestler seem cool to 12-year-olds, but as we got older it was clear to see not only how absurd this saying was, but how bad it actually sounds.
What it lacks: Not only is it not original, but it doesn't make X-Pac sound tough, like he might have thought it did. It basically lacks common sense. He probably should have thought about what he was going to say before he said it.
Popularity: This phrase has been said by many people before X-Pac, and will probably be said by many people after.
Smoke that.
Hey, Heath Slater, how's that jobber career? What, you haven't been doing too much since Nexus broke up? Sorry about that.
No matter how bad Heath Slater might be, he might not be as bad as his catch phrase.
What's wrong with it: What exactly does being a one man band have to do with wrestling? Did I miss that memo? And when have you put on your one man band show? This week? Was that it?
As far as Slater goes, he only claims to be a one man band. We heard his lovely singing, what else can he do?
So not only does his catch phrase have nothing to wrestling, it's also a complete lie.
What it lacks: Simply put, this catch phrase lacks everything. Not only is it unoriginal, it just doesn't fit in with wrestling. Time for Slater to find a new catch phrase.
Popularity: absolutely none. Help us all if crowds start chanting one man band today.
Slater might want to work on that career along with his catch phrase.
Let's continue the trend of superstars who are going nowhere and have catch phrases to match it.
The Miz used to be WWE champion at one point.
Now he will be lucky to even win a match. While he has had more than one catch phrase, his current one (really?) is plain horrible.
What's wrong with it: Not only is it annoying, but how long did it take The Miz to come up with that? Five seconds? Did he have to think back to when he was in the third grade?
Or was he watching a SNL skit and decided to try and steal from it?
Saying "really?" over and over again won't make people change their answer.
What it lacks: Originality. The Miz clearly didn't come up with this catch phrase on his own and because it's so simple, it's harder for people to get behind it.
Popularity: I guess this is extremely popular. People say really every day. I don't think The Miz has anything to do with it though.
It also won't help The Miz re-launch his career (ouch).
The Miz ends up on this list once again. It seems he just can't come up with a decent catch phrase.
What's wrong with it: Calling himself awesome made him sound like a fourth-grader.
While the Miz may have arguably been awesome in one point of his career, when he was WWE Champion, he is far from it now.
Maybe that's why we don't hear him say his horrible catch phrase anymore.
Or maybe he realized he sounded like a fourth-grader.
What it lacks: Proof and common sense are what this awesome catch phrase lack. If The Miz is so awesome, where is he now?
Popularity: People were finishing the Miz's sentence while he was using his awesome catch phrase. It was better than his "really" one, fan wise, but that doesn't mean it was just as childish.
What's wrong with it: Alberto Del Rio's destiny catch phrase could have made sense. He was given a pretty big push, still can't figure out why, but he has fallen short. It's also a catch phrase that's hard to get behind because without being pushed so far, Del Rio has done nothing impressive in the WWE.
What is lacks: Proof. Del Rio as of late has come up relatively short when it comes to his destiny. Getting injured and not being able to play any role in WrestleMania 28 is no way to live out your so-called destiny. Then when given a title shot opportunity he injured himself again before No Way Out.
His destiny is running out of time.
Unless his destiny is to constantly get injured, then hey, great job.
Popularity: I don't know too many people who like Del Rio's catch phrase, or for that matter, Del Rio himself.
Listen I'm a huge Edgehead.
That doesn't mean his "spear" catch phrase that he would constantly repeat when going up against Jericho at WrestleMania 26 wasn't annoying.
What's wrong with it: It felt very forced, and let's be honest, the spear never really fit Edge as a finisher. The spear always looked better when a big wrestler was doing it, Edge was just a little too small for the spear.
Turning the move into a catch phrase, and then forcing it in almost every promo didn't make the move look any more dangerous.
What it lacks: Usually the best catch phrases just take off. Look at pretty much everything The Rock says. In the case of the spear catch phrase, Edge had to force it out every week for it to even begin to take off.
Popularity: People will always chant spear when a wrestlers finishing move is the spear. Edge didn't really add popularity to the chant, it just become something people chanted once Edge was associated with the spear finisher.
Having two last names is pretty cool.
Two last names that are exactly the same are a little silly. Of course Mr. Kennedy wasn't really known as Kennedy Kennedy, but he still said it on the mic regardless.
What's wrong with it: We all know Kennedy had a booming voice. However, his catch phrase left something to be desired. What was with the Mr. Kennedy...Kennedy thing anyway? Was he trying to remind us what his name was in case we had forgotten it within the five second span of saying Kennedy?
What it lacks: Just about everything. It's not really original to come to the ring and announce yourself. We all know who you are.
Popularity: Kennedy's catch phrase was decently popular; it always did get a crowd reaction, no matter how silly it was to repeat your last name.
Yes we always knew you were Mr. Kennedy, we didn't need the emphasis on Kennedy. It's not like we forgot your name 10 seconds after you said it.
What's wrong with it: Remember when R-Truth first debuted as a face wrestler? Remember that annoying song he used to sing every time he came down to the ring? Oh you've blocked it out of your memory, have you?
Well allow me to show you a sample:
People over there what's up
Feel me, stand up and say what's up
What's up
You can get with this.
Or you can get with that
You better get with this
'Cuz this is where it's at
What's up
Yes, it was stupid, and every week we had to deal with Truth asking everyone what was up.
What it Lacks: Originality. A simple greeting that one friend would ask another doesn't qualify as a good catch phrase.
Popularity: Popular enough for people to yell back what's up to R Truth when he would come out and do his song and dance.
What's up with that?
Ah yes, the catch phrase of the face of the company.
What's wrong with it: The Rock does it the best, when he asks if we're supposed to be playing peek a boo. But seriously, Cena is a pretty big man, we all can see him. That's where his saying falls apart. Maybe his opponents can't see him if he knocked them out, but most seem conscious when he drops that hand in the middle of the ring
What it lacks: While Cena's catch phrase might be lame, it's hard to find what it lacks. In the end some of us may not want to see him as much as we do, but we all see him. His catch phrase is just as lame as he is.
Wasn't this "you can't see me" part of Cena's thug image? Maybe he should have dropped it when he started to change his image. The problem with that, though, is how popular his catch phrase is.
Popularity: What makes this catch phrase even worse is how it seems to be so popular among the Cena fans. It's bad enough he has to say it all the time, it's even worse when his 12-year-old fans say it with him.
We all see you.