WWE No Way Out 2012 Results: Live Reaction and Review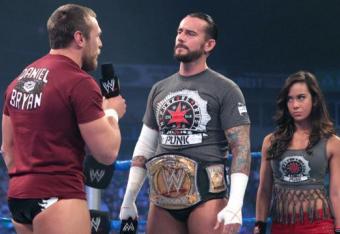 Tonight (June 17, 2012) WWE No Way Out 2012 goes live from the IZOD Center in East Rutherford, N.J. Join us here for the live blog for results, reaction and analysis of the pay-per-view, as well as community discussion in the comment section.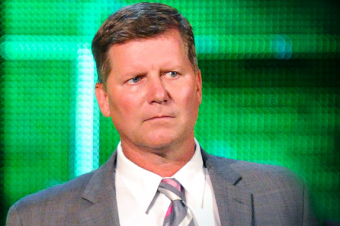 John Cena vs. Big Show in a Steel Cage Match:
Minutes into the match and if you've seen one Big Show steel cage match, you've seen this one...well...mostly. Big Show is getting a lot of spots to show off his athleticism, climbing the top rope, walking to the middle of the rope, and lifting John Cena to the top rope with one hand.
Things pick up when John Laurinaitis gets involved. He shuts the door on Cena, but is thrown to the side by Vince McMahon. Vince opens the door again, but Laurinaitis pushes him, and Vince slams the door on Cena's head.
Back in the ring, Big Show lays out the referee with a WMD, missing Cena. He then finds his target, laying Cena out. Big Show celebrates, then heads to the door, but Brodus Clay shows up with a steel chair, and keeps Big Show from exiting.
Santino and Alex Riley run out and scale the cage, but are knocked down. Zack Ryder as well. Big Show starts to climb, and Kofi Kingston runs out to climb now. Big Show deals with him, and returns to the ring.
Attitude Adjustment by Cena, followed by Cena climbing the cage while Big Show crawls to the door. Laurinaitis tries to keep Cena from exiting, but Brodus grabs him, allowing Cena to escape.
John Cena def. Big Show via Escape.
Cena lefts Laurinaitis up for an Attitude Adjustment, and Vince McMahon fires him. Cena puts Big Johnny through the announce table with the AA. Cena celebrates, and that's a wrap. Not too impressed with the main event, but the WWE Championship match was absolutely great.
Typical B-level WWE pay-per-view, falls just short of being worth the price tag.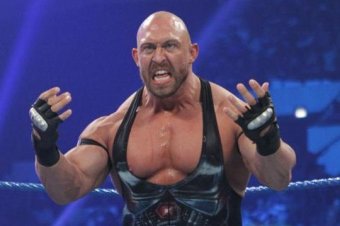 Ryback vs. Two Jobbers:
Again? Ugh. Oh, he falls off the second rope, some sort of meatbag splash.
He finishes them just like all the rest. Waste of time. Let's move on.
Ryback def. Two Jobbers via Same Old Same Old.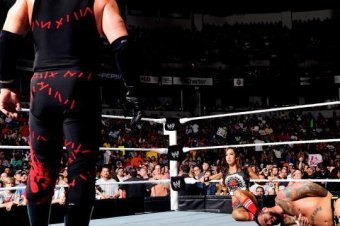 CM Punk (c) vs. Daniel Bryan vs. Kane for the WWE Championship:
Great action to get us started, with quite a bit taking place at ringside. Kane looks strong against both CM Punk and Daniel Bryan.
CM Punk is taking a thrashing at the hands of Kane, and now Bryan jumps in to get his own offense in on Punk. Punk fights to the top rope, looking to superplex Bryan, but is jerked down by Kane, revealing a little more of Punk's backside than we're accustomed to seeing.
Daniel Bryan hits Punk and Kane with a missile drop kick, a foot for each man. Nice!
There's a nod to LOD as Kane lifts Daniel Bryan on his shoulders, and Punk takes out Bryan with his springboard clothesline.
This is one of the best Triple Threat matches in recent memory. Kane avoids Punk's diving elbow, then Daniel Bryan hits Punk with a diving headbutt. Boy, what a ride we're being taken on.
Bryan lays out Punk with a kick to the skull, and then puts Punk in the Yes Lock. Punk counters into a pin, but Bryan kicks out. Go to Sleep to Bryan!
Kane drags Bryan out of the ring, now Punk has to deal with the Big Red Monster. Punk avoids the choke-slam and hits the elbow drop. Punk tries for the GTS, but Kane avoids, then puts down Punk with a big boot.
Choke-slam by Kane, but Punk kicks out at two! Kane can't believe it, but he does the throat slit, and lifts Punk up for the tombstone piledriver. Punk avoids and pushes Kane into AJ, who just showed up and was standing on the apron! AJ is down, Punk kicks Kane in the head, then hits the GTS!
Punk gets the pin! Daniel Bryan was out of commission for a while after the GTS.
CM Punk def. Kane via Pinfall.
After the match, Kane checked on AJ, and carried her backstage. AJ peered at Punk over Kane's shoulder, with a huge smile on her face. Is there a question who's corner she's in? Or...wants us to believe she's in?
AJ is great. Took just minutes of screen time, and barely any action at all, and absolutely owned it.
Gallo Images/Getty Images
Sin Cara vs. Hunico:
The only moderately dramatic match Sin Cara can have in the WWE is with Hunico because of a past feud that most WWE fans have no clue about. The future sure is bright for this masked wonder...
Sin Cara takes a beating for most of the match, not much flash from him either, but he wraps it up with his finisher. Hunico didn't look so bad really.
Sin Cara def. Hunico via Pinfall.
Crowd is dead, there were Ryder chants during the match. We'll see what's next.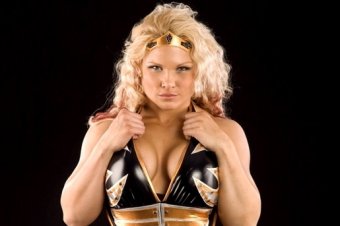 Layla (c) vs. Beth Phoenix:
Layla looks strong early, teasing Beth, but it's a matter of time before Beth ties her up and starts to overpower her.
This match is brutal compared to their prior meetings, the botches and pace killing lulls piling up fast. Beth lifts Layla up for a press slam, but Layla counters with a DDT.
Neckbreaker from Layla ends it. That left a lot to be desired.
Layla def. Beth Phoenix via Pinfall.
Backstage AJ finds Kane, and wishes him luck, and kisses his cheek. Kane doesn't let her leave, and plants a kiss right on her lips before walking off. Crazy dudes dig crazy chicks too.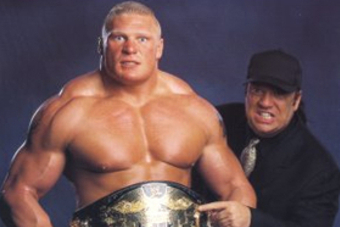 Triple H comes out to address the Brock Lesnar situation. Let's see wehre this promo takes us. His arm looks better.
Triple H says that for the past five weeks, he's been dealing with a lot of stuff. Legal stuff, lawyers, he hates it. He's not a corporate kind of guy. He's a fighter. Oh that sounds familiar!
He goes on to say that his arm is feeling a lot better since Brock Lesnar attacked him, and in a few weeks, he'll be feeling like he's ready to fight. Summertime, he says.
He wants to get rid of the paperwork, the lawyers, Paul Heyman, and fight Brock Lesnar at SummerSlam. He's putting heavy emphasis on the word "fight". Here comes another shoot style match.
Triple H ends by saying Lesnar can be a quitter again if he wants, and that's it for that promo. Not bad, I want to see it happen.
Backstage, AJ approaches Daniel Bryan, who is warming up. She wants to tell him that even after everything, there's a part of her that still cares. She wishes him good luck and kisses his cheek.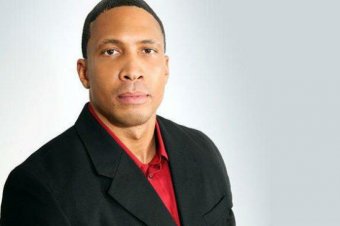 Epico & Primo vs. The Usos vs. Justin Gabriel & Tyson Kidd vs. Primetime Players:
This match will determine the new number one contenders for the tag team titles. The teams are all in matching attire, and utilizing team maneuvers. Tag teams will be crucial to filling time on three hour Raw's, so let's hope this is a positive sign, not a flash in the pan.
This feels like a bit of a showcase for Epico & Primo, and Kidd & Gabriel. Kidd gets hit with a Backstabber that looks beautiful as he bounces off Primo's knees and crashes to the mat.
Tyson Kidd hits a hurricanrana off the top rope, slinging Epico into every participant, who were fighting at ringside. Titus O'neil is the legal man, and in the ring. AW throws in the legal man Primo or Epico, they've lost me in the mix up.
O'neil hits his finisher, and AW prevents Epico (or Primo) from making the save! It's over! That was a shocking betrayal.
Primetime Players become the new #1 Contenders for the Tag Team Championship.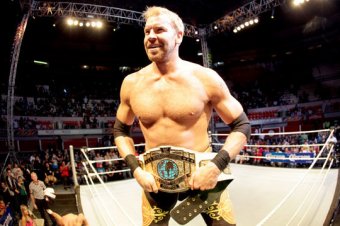 Christian (c) vs. Cody Rhodes for the Intercontinental Championship:
Very good match early on, these two are on fire. After an action packed start, Christian hit the Killswitch out of nowhere but Rhodes kicked out.
Christian climbed the top rope, and avoided Rhodes attempt to take him out, putting him down and attempting a frogsplash, but Rhodes got his knees up! Two missed Disaster Kicks for Rhodes, and after the second, he ate a vicious Spear from Christian, bringing this match to an end. More of that please!
Christian def. Cody Rhodes via Pinfall.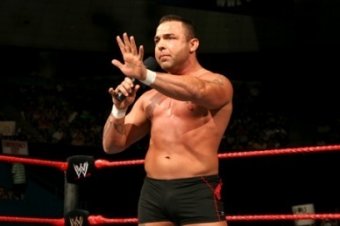 Backstage, John Laurinaitis approached Vince McMahon, apologizing for Big Show knocking him out on Raw. He then tries to convince McMahon that maybe he shouldn't go out to the ring for Big Show vs. John Cena due to his concussion.
Vince blows him off.
Josh Mathews attempts to interview Laurinaitis afterwards, but Laurinaitis just tore into him, calling him a failed wrestler and announcer.
Santino vs. Ricardo Rodriguez in a Tuxedo Match:
Both men come out wearing a Tuxedo, and this is definitely my least anticipated match of the night. After some pandering to the crowd, they begin to rip each other's clothes. Santino has the obvious advantage here...nothing particularly humorous.
The crowd chants "boring" as Ricardo is stripped out of his shirt. As Ricardo starts to make some progress, he rips off Santino's sock, revealing a cobra on Santino's foot. After a swift kick to the chin, Santino stripped Ricardo down to his tightie whities, which had Alberto Del Rio's face printed on them.
Santino def. Ricardo Rodriguez via Embarrassment.
CM Punk is interviewed backstage, saying he doesn't have a relationship with AJ, and that he's more focused on his opponents than anything. AJ strides up, and wishes Punk luck with a kiss on the cheek. Luck is for losers, Punk says.
Christian and Cody Rhodes are coming up.
Sheamus (c) vs. Dolph Ziggler for the World Heavyweight Championship:
The match starts with Dolph pulling a Daniel Bryan, getting a good luck kiss from Vickie Guerrero. Ziggler dodged the Brogue Kick, and ran from the fight before finally tangling with the Great White.
Ziggler brought his typical show-off antics to the championship party, but Sheamus' tenacity proved to be more than a match for everything Ziggler threw at him.
Sheamus turned up the heat when he countered a sleeper hold from Ziggler with White Noise, then followed up with the Brogue Kick. That was a wrap.
Sheamus def. Dolph Ziggler via Pinfall.
The match lacked the kind of tension I'd like to see in a championship match, as it has been obvious that Ziggler was brought in to lose. It wasn't a bad match by any means, but there's obviously a reason they were the first match of the night.
The crowd was into it, hopefully a sign of things to come.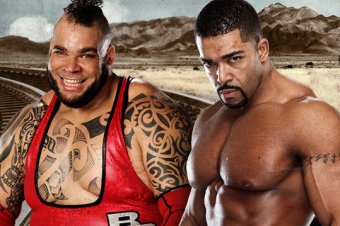 The pre-show saw Brodus Clay defeat David Otunga by count-out when Otunga simply chose to not return to the ring.
It was announced that a 4-Way Tag Team match would determine the next #1 Contender for the Tag Team Championship, the match to air on the pay-per-view.
John Cena cut a promo where he claimed that no matter what, the face of the WWE would change tonight.
Oh, and there were a ton of video packages. That shouldn't come as a surprise.
Now, No Way Out goes live! Coverage of the opening segment is coming up next.
This article is
What is the duplicate article?
Why is this article offensive?
Where is this article plagiarized from?
Why is this article poorly edited?