Washington Nationals: Bold Moves Skyrocket Team on Direct Course to Playoffs
June 30, 2012
Kevin C. Cox/Getty Images
Washington Nationals manager Davey Johnson's leadership, Bryce Harper's rising stock, and Stephen Strasburg's arm appear to have the Nats on a fast moving ride to the 2012 Major League Baseball Playoffs. The team made some strategic and painful decisions, but it's paying off. Barring any unforeseen events, the players are built for a run in the postseason.
Lets start with Bryce, Bryce, Baby. Harper is batting a shade under .300 and is a clear All-Star this year. There's no debate there if he's judged on the first half of the season.  He has 50 hits and counting. You have undoubtedly heard that the kid is 19 years old. It looks like he has the complete package.
Harper is more mature as a baseball player than most teenagers his age. He proved that when he told the reporter, "That's a clown question bro'." He didn't step into the trap the reporter may or may not have been setting on drinking at a younger age in other countries. He handled it well, and for that he deserves recognition.
I'll be honest. I'm on the bandwagon. If it isn't his team, it will be soon. Forget about the age. he possesses the attitude of the great Pete Rose. Assertive and aggressive is a good thing if you're a hot-shot major league baseball star. And yes, I said it!  Bryce Harper is a baseball star.
He clearly has the talent. He has a rough edge, when needed, and that's a good thing. Many major league teams are looking for a Bryce Harper. The Nats were in the right place at the right time.
Harper reminds me of Pete Rose. They have a similar body type, an NFL cornerback mold. He's medium height, with stocky shoulders, and rough. If you kids don't know about Rose and Cleveland Indians catcher Ray Fosse during a 1970's era All-Star game, look it up. That's what I mean by rough.
The Kid also has the confidence of a young Rose. He's never intimidated. It doesn't matter if it's an opposing player, the media, or his own bat! He'll keep coming at you at 100 miles per hour. Like Rose, he knows no other way: all-or-nothing. That's usually the attitude of a winner. Which brings me to manager Davey Johnson.
I'll admit, I didn't like the way he came into the picture. Former manager Jim Riggleman was kicked to the curb. It smelled bad and looked even worse. But it's the reality if everyone has moved on, and that's a good thing. Johnson has definitely moved on and in a big way!
Johnson has the team looking like it's playoff quality, and that says a lot given where they've come from over the past few years. Teams losing 100 games a year usually don't turn it around like the Nats have, but that's exactly what General Manager Mike Rizzo has done. He ignored the haters out there, and it paid off. And boy were there haters. If you lose 100 games in a season, the haters are part of the territory, unfortunately.
Johnson is one of the most respected baseball minds in history. He's has the playing career to back it up. Those 1970's Baltimore Orioles teams were some of the best in MLB history, and Johnson was the starting second baseman. He's been there, and some.
The 1970's Orioles had several 20-game winners, a Hall of Fame third baseman in Brooks Robinson, a fiery manager, and World Series accomplishment. Johnson knows how to win and that's contagious with a young team like the Nat's. The kids like rings. They like winning. They like championships. This group looks special.
Too bad it didn't work out for Johnson as manger of the O's. He got them into the playoffs in the late 90's, but it wasn't enough for Owner Peter Angelos. Johnson left, and the O's went into a steep decline and only recently began climbing out of the cellar. I suspect Angelos feels he made a mistake.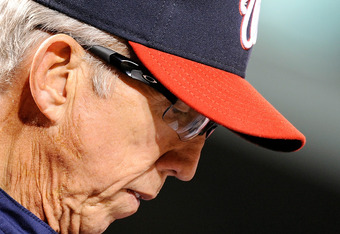 Patrick McDermott/Getty Images
Davey can pull out the World Series ring and show the kids what it looks like; what it feels like. That's a lot. Many managers can't do that, at least not yet. Pat Riley pulls out his Lakers Championship rings if he has to make a point. It is quite effective.
In the eyes of many, Strasburg may be the best pitcher in baseball, if not in the top 3. His commanding pitching style is something we don't see that often in this league. They come around every now and then. He has "it." Every team needs an ace, Strasburg is all that and a helluva lot more.
He throws in the mid-to-high 90's and appears untouchable at times. The velocity is hard to contend with if you're a hitter. How can anyone hit that? It seems almost impossible. Occasionally, he'll have a rough outing, but very few teams have been able to hit his pitching with any consistency.
If you're going to make it to the playoffs, you'll need pitching. Strasburg and Gio Gonzalez are winning games. They're on a roll and moving fast. With two solid signal callers and a couple of role players on the pitching staff, they look good to go.
Desmond, LaRoche, and the boys are red hot. it looks like a new team. Perhaps it was a matter of the team coming together, finally, with new, solid dugout leadership. It could be the continued development of a young dominating pitcher. Maybe it is the infusion of a young aggressive teenager into the outfield.
Perhaps it'll be a combination of all of the above that has Washington D.C. fans gearing up for the playoffs in the Nation's Capital.