Tiger Woods: Grades for Round 3 Performance
June 17, 2012

Jeff Gross/Getty Images
Tiger Woods took a major step in the wrong direction in Round 3 of the 2012 U.S. Open, shooting a round of 75—five over par. 
Woods' performance was even more disappointing when you consider that most of the leaders shot rounds under par. He'll need to play a heck of a lot better tomorrow if he has any hope of winning major championship No. 15., as Woods is now tied for 14th place heading into Sunday's round.
Nothing worked on Saturday for Woods.
Off the Tee
After leading the tournament in driving accuracy for the first two rounds, he struggled to even get the ball into the fairway at times with his driver during his third round. 
His cut shot, which had served him so well during the first two rounds, failed him down the back stretch and caused him to miss five fairways in the last 10 holes. He was visibly frustrated with his swing, and who can blame him after he had been playing so well?
Grade: D+
Into the Greens
Another reason for Woods' early-round success is that he was hitting greens on a regular basis, using excellent distance-control to his advantage.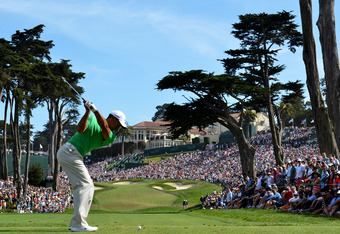 Stuart Franklin/Getty Images
He was atrocious in this category on Saturday, missing six greens in regulation and mishitting many more that did land on the green—leaving himself with a ton of long putts. His distance control was non-existant for the most part, as he struggled to give himself any chance at making birdies.
Grade: D+
Short Game
Woods struggled with his short game, as well. He hit mediocre-to-horrible shots from around the green on seven holes: No. 1, No. 3, No. 6, No. 7, No. 16, No. 17 an No. 18. In many of these cases, he had excellent chances to make something happen with these shots, but Woods never managed to take advantage of his opportunities.
He chunked some of them and blasted others well past the hole. In short, Woods' short game was his worst enemy on Saturday.
Grade: D
Putting
Woods couldn't make a putt on Saturday. Well, that's not entirely true. He did sink a fantastic birdie putt on hole No. 9—his lone birdie of the day. Besides that gem, though, Woods' putter was a rebellious child.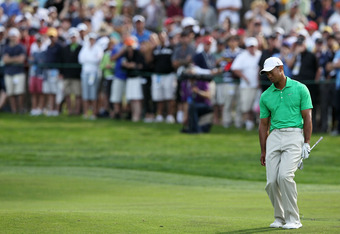 Jeff Gross/Getty Images
By my count, Woods took 34 strokes with the old flatstick. That isn't going to cut it.
The biggest thing that caused Woods to stumble in this department was that he never adjusted the speed of the greens. They played much slower on Saturday than they did in the first two rounds, and Woods wasn't able to make the change.
Grade: D
Emotions/Mental Game
Woods surprised me by keeping his temper in check on Saturday. As bad as his golf game was, he somehow kept his mental focus throughout the entire round. 
He will need to stay in the same mindset tomorrow if he wants to make an epic comeback to win his 15th major.
Grade: A