NBA Rumors: 3 Burning Questions for the Philadelphia 76ers This Offseason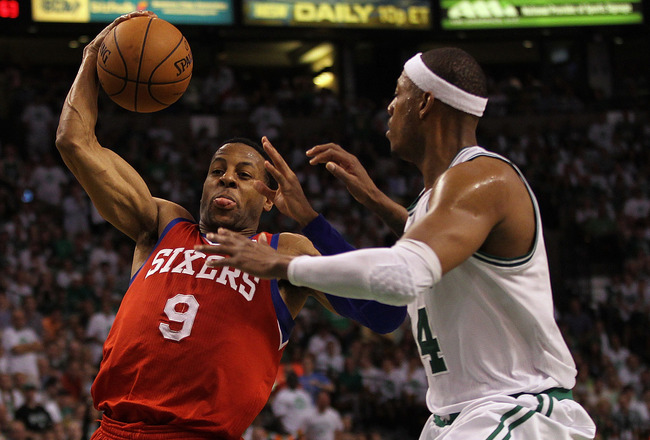 Andre Iguodala drives to the hoop in Philadelphia's Game 7 loss to Boston.
Jim Rogash/Getty Images
The Philadelphia 76ers had a successful 2011-12 campaign. However, there are a lot of question marks going into this offseason.
Free agency and draft day are coming up, and the Sixers need to make a splash. Right now, Philadelphia owns the 15th pick in the draft, and they have a good amount of cap space.
Philadelphia needs a big man and would benefit from a shooting guard. Philadelphia may trade small forward Andre Iguodala, and if they do, Evan Turner would move to small forward—creating a void at shooting guard.
The answers to these problems? The draft, trades and free agency.
Here are three burning questions for the Sixers this offseason.
Who Will the Sixers Draft with the 15th Pick?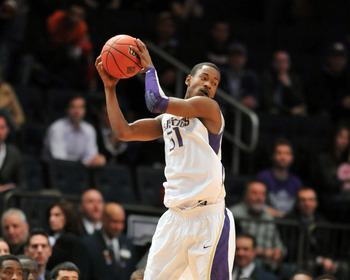 Terrence Ross catches a pass in Washington's NIT semifinal loss to Minnesota.
Jason Szenes/Getty Images
Here is a pick that could make or break Philadelphia's future.
In all honesty, this pick depends on a certain trade the Sixers may or may not make (I will show the trade later in the slideshow). Iguodala is being shopped, and if he was traded, a void would be created at small forward.
Evan Turner—who can play point guard, shooting guard or small forward—would take over at small forward. Turner is a great perimeter defender and an aggressive offensive player who can get to the hoop. He is also a great rebounder.
I think Turner would play best as a small forward. Therefore, a void would be created that could be filled via the draft. Since the Sixers will be looking for a big man in free agency (or if they traded up), the Sixers would likely look for a shooting guard with their pick.
Terrence Ross would be a great fit. Ross is an underrated defender, and he is a great shooter who knows how to create his own shots. Ross should be able to get minutes immediately, and he could contribute as a shooting and defensive specialist. Though Ross may need to initially sharpen up his defensive skills, his offensive game is fine.
Philadelphia may go after big man Arnett Moultrie, who is a good all-around player—averaging 16+ points and 10+ boards per game—or center Tyler Zeller, who has a high shooting percentage and is a good all-around player.
However, if I were making this selection for the Sixers, I would take Terrence Ross.
Answer: Terrence Ross
Will Philadelphia Trade Andre Iguodala for a Proven Veteran?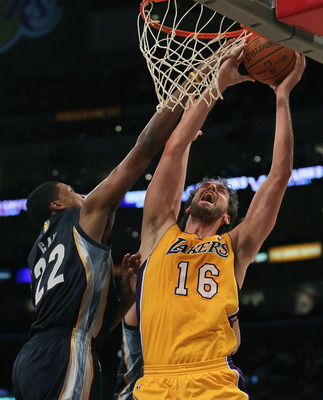 Rudy Gay tries to block a shot by Pau Gasol in Memphis' game against the Lakers.
Jeff Gross/Getty Images
Here's the deal: Andre Iguodala may be traded, and the Sixers could trade him for just one proven veteran.
Alex Kennedy of HOOPSWORLD had this to say on May 24 about a possible trade for Pau Gasol:
"The Lakers, who are looking to shake their roster up this offseason, are expected to once again emerge as a potential suitor for Iguodala. The 28-year-old would be an excellent fit for Los Angeles and solve their problem at small forward. Sources close to the situation say that Kobe Bryant would welcome the move since he has wanted the Lakers to acquire an athletic, versatile small forward for several years."
Philadelphia could go for Gasol because they need a big man, and Gasol is a guy who can get rebounds on both the offensive and defensive glass. Furthermore, Gasol can score, and he would be a good target down low for Jrue Holiday and possibly Evan Turner in the backcourt.
I think this trade could help the Sixers, but then again they are looking for young, defensive talent. I don't think Philadelphia would trade for another veteran, although they could help the team by doing so.
While a veteran could help the team, trading Iguodala straight-up for a veteran won't work for the Sixers.
Answer: Doubtful
Will Philadelphia Trade Andre Iguodala for Draft Picks and Role Players?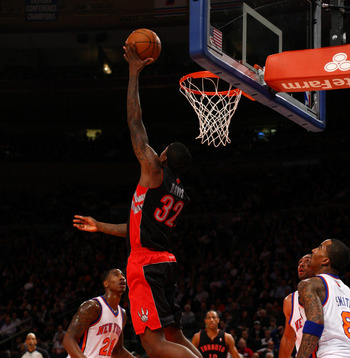 Ed Davis tries to complete a crazy dunk in Toronto's March 20 game against the New York Knicks.
Chris Chambers/Getty Images
Here's the trade I was talking about earlier:
On June 6, Marc Stein and Chad Ford reported that the Raptors could be interested in trading for an athletic wing man. According to the report, Iguodala and Memphis small forward Rudy Gay could be trade targets.
Toronto would be willing to give up Ed Davis, Jose Calderon, and the eighth overall pick for Iguodala. If Philadelphia did this, they would be much better and much deeper.
Iguodala is a great defender; but Evan Turner, now entering his third year, is ready to take over Iguodala's place on defense at small forward. Philly could draft Terrence Ross or another shooting guard with the 15th pick, and they could draft a center with the eighth one.
Andre Drummond could fall to eighth, as most are expecting him to get picked outside of the top five. If Portland passes on him with the sixth pick, the Warriors would be up. Golden State may trade up or down, and if they don't, they will likely pass on Drummond, as they have David Lee and Andrew Bogut down low.
Philadelphia worked out Drummond and would pick him eighth if he fell there, since he is an athletic center who rebounds very well. If they can't get Drummond, they could take John Henson.
Henson is an athletic big man who can play center—which the Sixers need. He is a great post defender and rebounder, and he is polishing his offensive game. He would fit in very well with the Sixers, and he would add to Philly's depth down low.
Calderon may have no place in Philadelphia, but Ed Davis could help. The Sixers currently have Lavoy Allen at PF, and he won't be able to play a whole game there. Davis is a good rebounder who could be a great role player in Philadelphia.
This deal would be great, and I'm hoping the Sixers' front office is considering this. I don't know if this deal would happen, but Sixers fans should be pulling for the deal to go through.
Answer: Hopefully
Keep Reading

Philadelphia 76ers: Like this team?