The 25 Biggest WTF Sports Fan Tattoos Ever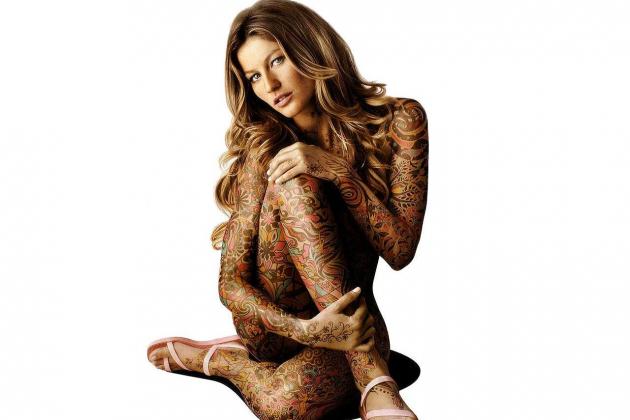 Image via blirk.net
Showing your support for your favorite team has been a part of sports since the days of the Middle Ages. People use to wear the colors of their favorite knight to show their love.
Sports have changed but fans have not. They have just found more exciting ways to show their team support. Tattoos are a great way to prove you mean business and will forever love your team. There is no doubting a person with a Yankees logo tattooed to his face.
But what happens when these fans decide to take it to a whole new level? What happens when those fans take a good idea and destroy it from the beginning to the end?
This is a list of the 25 Biggest WTF Sports Fans Tattoos ever. Enjoy.
Begin Slideshow

»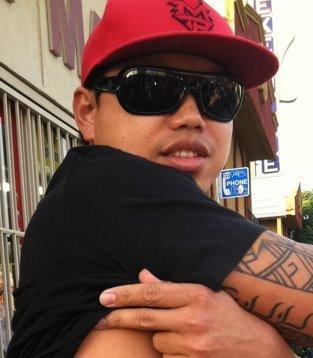 Image via terezowens.com
It's not that I don't like Manny Pacquiao, because I do. In fact, I think he is the best boxer alive today. That is not why we are here today.
Putting a tattoo of Manny Pacquiao on your body is not cool unless you plan on fighting him in the ring.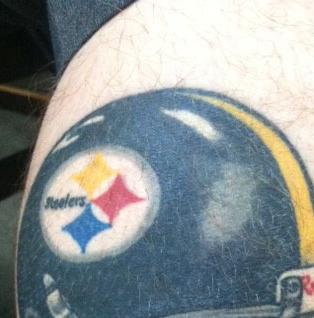 Image via sportsillustrated.cnn.com
If your leg isn't big enough to fit a full size replica Pittsburgh Steelers helmet, then why would you ever try and squeeze a tattoo on it?
This doesn't look dumb, it looks stupid. It is stupid because I imagine the tattoo artist saying that it won't fit but the Steelers fan drunkenly replying to do it anyway.
Sorry but I am assuming most people were drunk in the making of all these tattoos.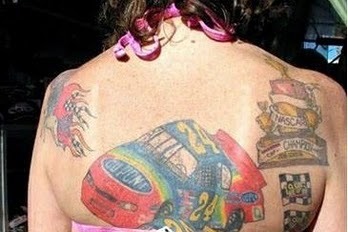 Image via ugliesttattoos.net
Are you wondering the same thing I am?
Was that first Jeff Gordon race car originally shaped like a car and, after years of aging, it began to sink?
It might be gross but true.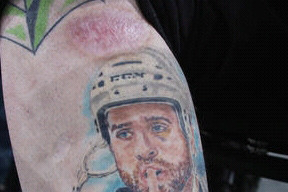 Image via clutch.mtv.com
Look, I don't watch hockey, and I never pretend that I do.
But this is Maxime Talbot and this tattoo is in honor of the moment when Pittsburgh Penguin players realized it was time to beat the Philadelphia Flyers in Game 6 of the 2009 Eastern Conference quarterfinals. They trailed 3-0 in the second period before a fight between Maxime and Daniel Carcillo was followed with Maxime hushing the crowd and the comeback ensued.
Like I said, I don't know anything about hockey, but I guess this isn't as bad as it looks once you get the story.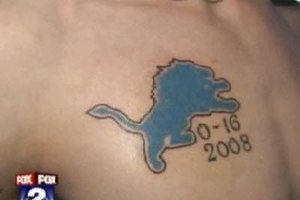 Image via businessinsider.com
In 2008, the Detroit Lions did not win a single game and had an average loss of 15 points a game. They ended the season with 18 players on the disabled list and ended up firing their head coach and half his staff. It was not a thing any Detroit fan wants to remember.
Except, of course, for this guy.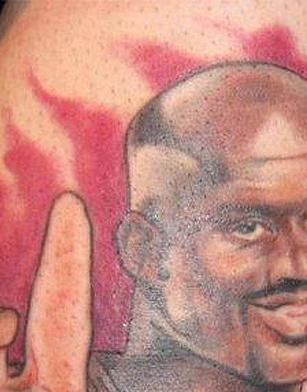 Image via blogs.thescore.com
It wasn't that Kazaam was a bad movie. It wasn't. It was a terrible tragedy of cinematic film.
That movie was so horrible it made people actually hate Shaq for a few years. The fact that Shaq was paid seven million bucks to do it was more than astonishing, it was shocking.
So naturally you should get the tattoo of it on your arm, right? Why not? It's not like your buddies won't try and make fun of it every chance they get.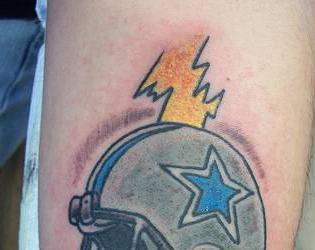 Image via tattoos99.com
If you are a Dallas Cowboys fan, good for you.
I am not.
So can someone explain the lighting bolt behind the helmet? What does that signify? That they are on fire?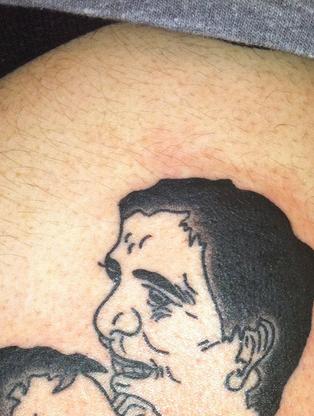 Image via theawesomeboston.com
If Eli and Peyton Manning saw this tattoo of Eli giving Peyton a noogie, I think they would be very upset.
Then again, I would be surprised if they could find the time to get away from counting their Super Bowl rings and paychecks to care.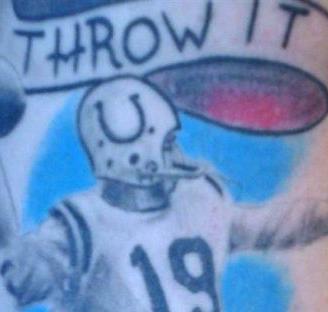 Image via coltmonday.wordpress.com
Every group of guys has a fall guy. That one guy in each group that everyone rips. He is the guy you can always count on to say something dumb or do something stupid to entertain everyone else.
I am thinking this guy is the fall guy and this is the tattoo they all convinced him would be cool to get.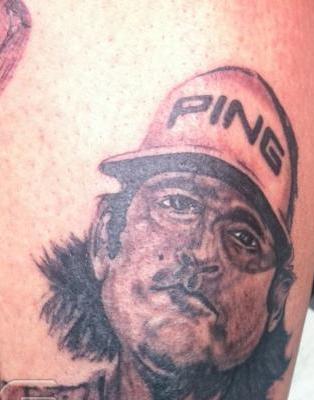 Image via torontogolfnuts.com
As I have said before, I am not a fan of tattooing the face of an athlete on your body. So you can easily figure out that I think this is the worst tattoo of the past 70 years.
Why would you tattoo the face of a professional golfer?
You know, not all bets need to go all the way through. You could have just took the beating instead.
Image via forums.bodybuilding.com
There is nothing intimidating about this tattoo, and someone needs to tell this guy that.
It is a Jacksonville Jaguar. They haven't been intimidating since Mark Brunell in 1998. And even then, they were a bit on the cushy side.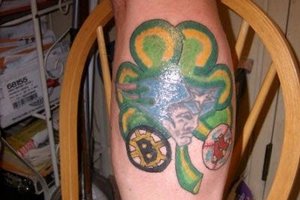 Image via businessinsider.com
I appreciate the attempt to make Boston more cool by including every professional sports team from Boston in one four leaf clover on your arm. I give you respect for trying.
The result, however, was horrific. Is that the New England Patriots logo or just a mad guy with a colonial hat on?
But that is nothing compared to the cluster of confusion this thing portrays. Why would you do that? Why?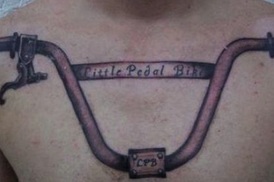 Image via totalprosports.com
Uh, was this because you lost your fantasy football league? Is this how the bet was suppose to go down?
Handlebars are only cool when you are Lance Armstrong. Sorry buddy, that is a fail of epic proportions.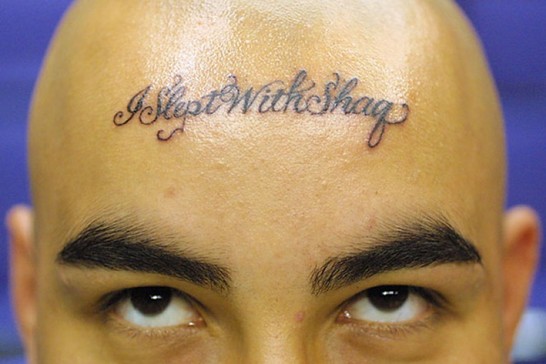 Image via totalprosports.com
There is definitely a story behind this tattoo. This guy decided to tattoo his forehead to get tickets to a Lakers game.
On a scale of 1-10, with 10 being the absolute dumbest a human being can achieve, this guy comes in at an 18.
Unless the seats were between Jessica Biel and Adriana Lima, it wasn't worth it.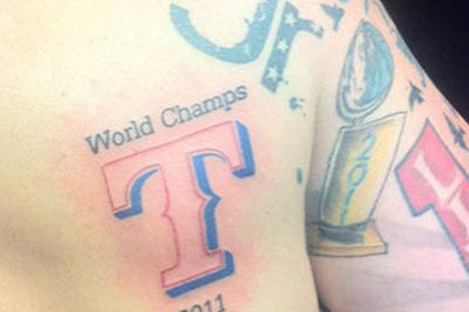 Image via buzzfeed.com
This guy must really love his sports. He was so excited that the Texas Rangers made it to the World Series in 2011, he got a tattoo in honor of them winning the championship.
The only problem is, they never won.
Maybe it is just a Rangers thing.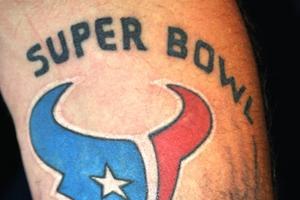 Image via blacksportsonline.com
Nope, it is a Texas thing.
I would hate to be the guy who has to tell him that they didn't make it. Nope, I would love to be the guy to tell him.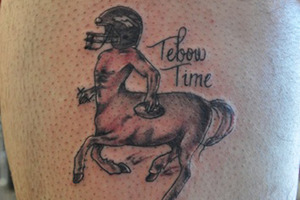 Image via articles.businessinsider.com
As if words could describe just how WTF this tattoo is.
I would be better off just allowing you this chance to find this person yourself and ask them in person. I wonder how you can turn a Denver Broncos helmet into a New York Jets one.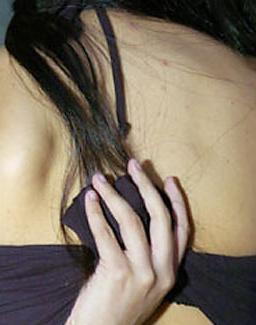 Image via itsalwayssunnyindetroit.com
You didn't think I could go a whole slideshow without a little sexiness, right?
She might not have been a real Oakland Raiders dancer but at least you will think she is.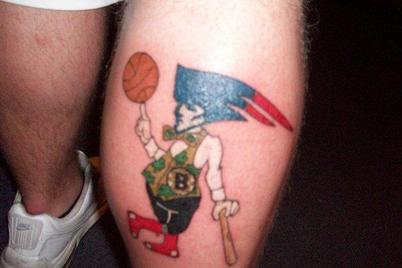 Image via tsbmag.com
The idea was brilliant. One day, in his house, this guy was sitting with a few buddies trying to figure out an awesome way to pay tribute to the Boston professional sports teams. This was the result.
Failure? On so many levels.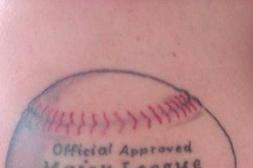 Image via tattoos99.com
OK, who is the tattoo artist that can't draw a perfect circle? Shouldn't there be a template somewhere?
The idea was great. The tattoo was just plain awful. It looks more like a rugby ball than a baseball.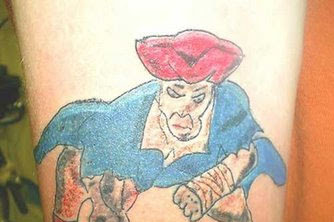 Image via johnnybighead.blogspot.com
I remember when I made my first tattoo.
This is such a horrible depiction of the classic New England Patriots logo that it isn't even funny. It is sad.
Was this done by a child?
Image via ugliesttattoos.failblog.org
Sometimes people hate other teams so much, they have to get a tattoo depicting that hate. This guy did just that.
The only problem was that he didn't realize the Lakers logo would be an L?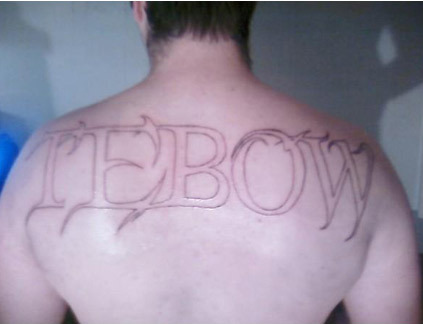 Image via jeremyjojola.com
Say it ain't so.
Tim Tebow, in any font, is not cool to have tattooed on your back. Not at all. Ever.
Image via kegsneggsblog.com
If this was a chick, I wouldn't mind it.
But it is a dude. That is just plain wrong.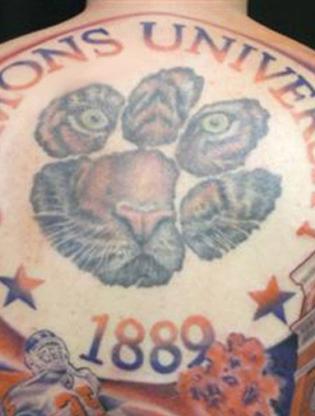 Image via buzzfeed.com
This is such a magnificent tattoo.
They made sure to give homage to everything that makes Clemson University one of the best in America. They included the year it was established, Howard's Rock, the tiger paw, the clock tower known best as Tillman Hall and the name of the Univer...
Does that say Clemons?
That's OK, we can just go back and do it over, right? Wait, this is permanent?