Euro 2012 Results: Shocking Results That Stunned Heavy Favorites
June 17, 2012

Michael Steele/Getty Images
Euro 2012 is on the verge of elimination play. Group stage has seen its share of exciting duels and lopsided victories. 
Some of these results were utterly shocking to the players involved and the fans watching at home.
Let's take a look at which games entertained unexpected conclusions in the group stage of this year's Euro tournament.
Denmark Defeats Netherlands
The "Group of Death" kicked off in the tournament's second day of action.
No one expected Denmark to upset an early favorite, but they did. 
Michael Krohn-Delhi notched a goal in the 24th minute, and Denmark scored an upset over one of this year's international titans.
The result was even more shocking once you peer inside the match's stats.
Denmark was outshot 28-8, faced a deficit in time of possession and had four corners as opposed to Holland's 11. They were outplayed in every facet of the game, except the one that matters most. 
Krohn-Delhi's goal solidified his breakout status. It gave Denmark an astounding victory in Group B's opening frame.
Russia Upends the Czech Republic
Two goals from Alan Dzagoev propelled Russia to their unlikely victory over the Czech Republic in Euro 2012's opening day.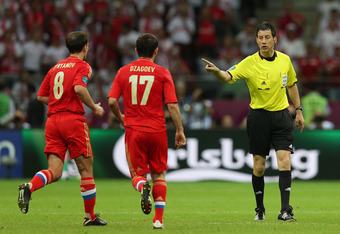 Alex Grimm/Getty Images
Russia's victory over Michael Bilek's squad was surprising, without a doubt. The Czech Republic is more talented and used to loftier expectations on the international scene.
Their performance was only trumped by the performance of this match's best player. The 21-year-old Dzagoev became the second-youngest player  to ever score a brace.at the Euros—Wayne Rooney was 18 years old.
Russia's victory vaulted them to the forefront of Group A. This gave them the inside track toward quarterfinal play. 
They held that position until my next match.
Greece Fells Russia
Russia would have advanced automatically with a victory over Greece on Saturday. Instead, Russia lost to Greece, despite utter domination up and down the pitch.
Greece was outshot 25-5, held a 22 percent possession disadvantage and had seven fewer corners than Russia.
Still, they found a way to win.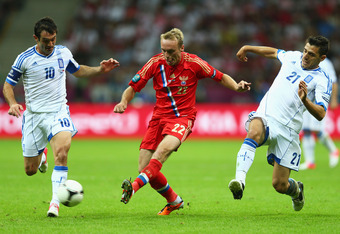 Michael Steele/Getty Images
Given Russia's dynamic play prior to this game, this came as quite a shock to international football fans. Giorgio Karagounis' goal in the 45th minute gave Greece the only necessary edge over the talented Russian side.
I would assume most people had Russia advancing to the quarterfinals with a victory over Greece. I know I did.
Greece's victory doesn't inspire optimism in their club's future, but it is major shot in the arm. They were outplayed in every major facet, but used their hearts to steal victory from the hearts of the Russian squad.