Euro 2012 TV Schedule: Netherlands' Desperation Will Make for Thrilling Match
June 17, 2012

The feared Dutch attack has been lackluster for all of the European Championships so far, but the team must score goals to stay alive, and this will make for an extremely entertaining match against Portugal.
Both Group B matches will start at 2:45 p.m. ET. According to ESPN.com, Portugal vs. Netherlands will be broadcast on ESPN, and Denmark vs. Germany will be shown on ESPN2.
In the earlier games at Euro 2012, many teams opted to play conservatively, and this made for many boring matches. Now, in the final round of group play, teams like the Netherlands have their backs against the wall and must produce positive results. 
No team is under more pressure than Holland. They must beat a strong Portuguese side by two goals or more in order to have a chance at advancing. As ESPN.com notes, no team has ever reached the quarterfinals of the tournament after losing its first two matches.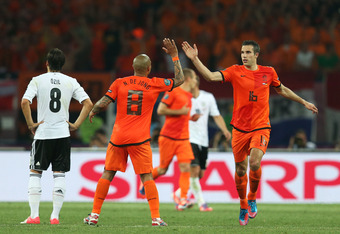 Joern Pollex/Getty Images
Failing to make it out of the group stage would make the Dutch the most disappointing side of the tournament.
These factors will ensure that the Netherlands come out aggressively against the Portuguese.
Portugal's back line looked extremely suspect when it allowed two goals against Denmark in its last match, although the defense was solid against the Germans in the opener.
It is difficult to predict how the side will look against the Dutch, but there will be plenty of motivation for Portugal to attack, as the team needs a win to guarantee a place in the next round. 
This will be an open game, and if the Dutch attackers can finally figure out a way to play together, the Portuguese defense does not stand a chance.
There is an incredible amount of individual talent on the Dutch team. Robin van Persie, Wesley Sneijder, Arjen Robben, Rafael van der Vaart, Klaas-Jan Huntelaar and Ibrahim Afellay are all top-class attackers.
Unfortunately, there is not enough space on the pitch for all of these players, and the ones left off have tended to turn sour. 
But now, feelings of resentment will have to be put aside if the team is to make history and survive the Group of Death. Holland will not leave the Ukraine quietly, and the desperate situation will force these stars to work together.
The team will finally combine to form a cohesive attack, just as they did in the 2010 World Cup. It may be too little, too late for this side, but fans will finally see the team's talent displayed on the pitch.