US Open Golf 2012: Breaking Down All the Day 3 Action
June 16, 2012

Jeff Gross/Getty Images
They say "slow and steady wins the race." Saturday afternoon, Jim Furyk embodied that quote to a tee. 
With all comers around him birdying then bogeying with few pars in between, Furyk stayed mostly steady. Yes, he found his way as low plus-one on the day. However, his time over par was short-lived as he quickly made his way back to under par for the tournament.
The 42-year-old American did exactly what he needed to do on Saturday at the U.S. Open to take the lead to Sunday. 
Sure, John Peterson made a hole-in-one on the 13th, temporarily getting him back into the top 10. Michael Thompson made an incredible eagle from 150 yards out. 
Lee Westwood shot a Saturday-best 67 to get to plus-two on the day. Nicolas Colsaerts, Graeme McDowell and Frederick Jacobsen took turns approaching and tying Furyk for the tournament lead, but none were able to overcome the wily veteran headed for the Golf Hall of Fame. Eventually, all faded off the lead and ended the day looking up at the old man. 
Beau Hossler—a 17-year-old amateur from Mission Viejo, California—played like a man almost twice his age.
And the old man Ernie Els finished with a beautiful chip-in for eagle on 17 to get himself to plus-two and a tie with Westwood to get in the clubhouse early.
Then there was Tiger Woods. The most popular player in golf was just was not on his game Saturday. He missed putts he and golf fans everywhere expect him to make. Many believed this was the tournament he'd make his mark and get back to his major-winning ways.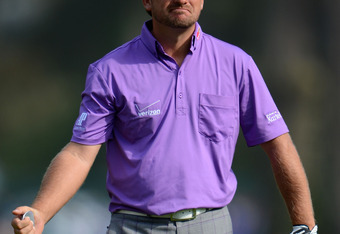 Stuart Franklin/Getty Images
No player could figure out the increasingly difficult Olympic Golf Club. Many tried, all failed, but one: Furyk. 
His two-shot lead going into Sunday doesn't seem like much. However, with a course tougher than a frozen piece of steak, a two-shot lead might as well be 10 in any other tournament. 
It's Furyk's tournament to lose now. No pressure Jim. 
At least that's how it all looked until McDowell's final two great holes, and Furyk's all too sudden mini collapse. Nonetheless, Furyk remains tied with McDowell. The two will play the final round together on Father's Day. 
So, Graeme and Jim, no pressure.