WWE: 5 Reasons Ryback Is WWE's Most Boring Gimmick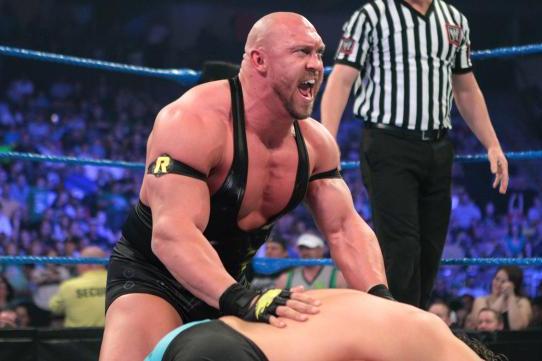 Photo Courtesy of WWE
Ryback could be something good. He could be a real wrestler—and actually entertaining.
At this point though, Ryback is nothing short of boring.
How many times will we see him come to the ring and literally have the same match every night on SmackDown and Monday Night RAW? Yes, we know Ryback can lift two wrestlers whose combined weight together probably equals that of Sheamus of Cena, but it's getting old real fast.
Every time his music hits, you know exactly what is going to happen. Ryback wanting to be fed, and the victims end up pinned within five minutes.
We know that Ryback is strong, but what about his squash matches actually makes him interesting?
Sadly, the simple answer is "nothing."
Here are five reasons why Ryback puts us to sleep instead of making sit on the edges of our seats.
Begin Slideshow

»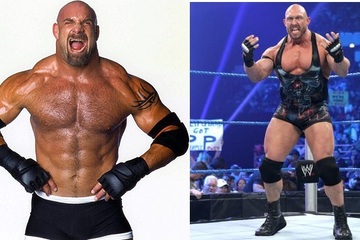 Ryback is a clone. Not in the literal sense, but in the sense that his gimmick has been done before.
Why else do people chant "Goldberg" every time Ryback comes out?
One of the reasons why Ryback is boring is because his gimmick is just a copy of other wrestlers before him.
Goldberg, Batista and Ultimate Warrior are just some of the examples that have used the same gimmick that Ryback has. All three of those wrestlers have already set the bar.
Did people chant "Goldberg" when Batista was in evolution?
With the bar already set, if Ryback is going to use his strength to his benefit when wrestling, he has to do it in a unique way.
How many times have we seen a wrestler like Ryback come and go?
Mason Ryan comes to mind as a recent big-man wrestler who didn't pan out. What's going to make Ryback and different?
It's going to be hard for him to get anywhere with the fans, especially when he reminds us of Goldberg. How can Ryback be something different if he never shakes this Goldberg image?
Looking like Goldberg doesn't help.
Having the same gimmick as a wrestler who was known for having a 177-match win streak won't make Ryback interesting.
It only makes him look stale and boring.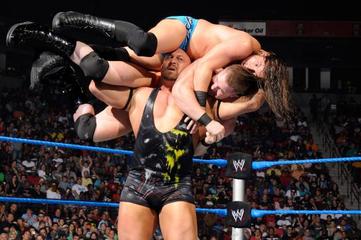 Photo Courtesy of WWE
Another issue with Ryback is how he is not part of any storyline.
It's great that he can come out and lift two unknown wrestlers on his shoulders and pin both at the same time.
The problem is that it does nothing for him story wise.
How many times as fans can we enjoy seeing him come out and repeatedly beat two unknown wrestlers?
It gets extremely old fast, and it leaves the fans wanting more.
Why not put Ryback in a story with other squash match expert Brodus Clay? We could at least see another side of Ryback—one that involves using something else besides his strength.
Part of the reason why a wrestler like Batista had such success was because of the storyline in which he was placed.
The Evolution angle undoubtedly helped him become a better wrestler, and it would also help make him a star.
Ryback just beats up wrestlers half his size. It's not really that impressive.
Why not throw him in a heel stable? With his size, he could make an excellent bodyguard for a wrestler like Cody Rhodes, or someone else of Rhodes size.
If the WWE is willing to show Ryback on both SmackDown and RAW, they need to also put him in some type of story.
Not giving Ryback any real type of angle and having him wrestle unknown wrestlers who are half his size makes Ryback uninteresting.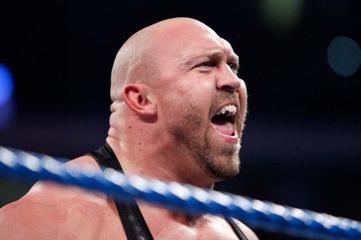 Photo Courtesy of WWE
Part of Ryback's lack of appeal is that he debuted at the wrong time.
Ryback debuted on SmackDown on April 6th. Tensai debuted on RAW that week as well, on April 2nd.
Months before both wrestlers, Brodus Clay made his reappearance on RAW, on January 9th.
When Ryback made his debut, it was the wrong time. We already had two big wrestlers who were doing the whole squash match thing, so why add another?
At one point we were seeing three squash matches a week between these wrestlers.
Debuting as another big wrestler and only being booked against jobber-type wrestlers easily took away a big part of Ryback's appeal, especially when two other wrestlers were doing the same thing.
It is always hard enough for a big man wrestler to keep the fans entertained with squash matches. Having to compete to stand out against two other wrestlers who were breezing through opponents made it much more difficult for Ryback to stand out.
Why not hold Ryback's debut until Tensai and Clay were both wrestling real opponents? Tensai has begun to lose to bigger wrestlers recently, and Clay even took a beating from Big Show.
If Ryback had debuted sometime this month, his big man gimmick could have stuck out a lot more.
Instead, setting up Ryback to start squashing local wrestlers while both Tensai and Clay were also squashing opponents watered down Ryback's debut and his gimmick.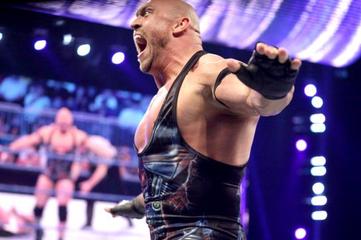 Photo Courtesy of WWE
When compared to the other two wrestlers who were squashing opponents at the time Ryback debuted, it's clear to see that Ryback lacked something both Tensai and Clay had.
Ryback lacks personality.
Brodus Clay has his Funkasaurus gimmick. He brings kids into the ring and does his dance routine. He is pretty solid on the mic and has some of the fans behind him. He has a personality.
Even Tensai has more of a personality than Ryback. With Tensai, it was clear from the beginning that he was going to be a heel. He has come across as ruthless, especially after what he did to his assist Sakamoto this past Monday on RAW.
With Ryback though, it's different. Is he supposed to be a heel or a face wrestler? What type of personality does he have?
Sadly, he simply lacks one. He comes out to the ring and only asks to be fed more. Sure, he seems to scream it, but that's not enough to determine if he has a personality or not.
While Tensai says relatively nothing, the fact that he does what John Laurinaitis wants him to do helps build him up as a heel.
The only thing Ryback's in-ring action tells us is that he can beat up small wrestlers.
With ring work that displays no real character, and with Ryback lacking mic work, he comes across as robotic in character.
How can someone who lacks personality not be boring?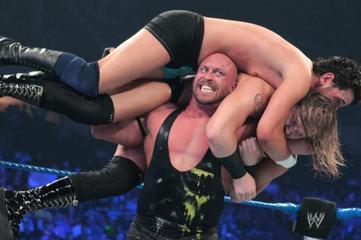 Photo Courtesy of WWE
In the end, when you put everything together, one of the biggest reasons why Ryback has become boring is that he isn't moving forward.
Tensai has moved forward, facing off against wrestlers like Sheamus and Cena.
Brodus Clay has even move forward, taking a beating from Big Show a couple weeks back.
However, Ryback is stagnant. He isn't moving forward in his matches, or in any type of story.
Every time Ryback's music hits, we already know what's going to happen, and how it's going to end.
Of course, you could say he moved forward in his squash matches, first putting down wrestlers like Heath Slater, then going against a single random opponent, and lastly taking on two unknown opponents.
Regardless, those matches all went the exact same way.
Ryback could have no personality, no real story, but if he moved forward with his matches and went up against real opponents, we could see what he was all about.
How would Ryback handle an opponent that actually puts up a fight? We have no idea, but because he hasn't moved forward in any aspects, we see the same routine night after night.
And that, ladies and gentlemen, is extremely boring.