7 Ways the Detroit Lions Offense Can Still Improve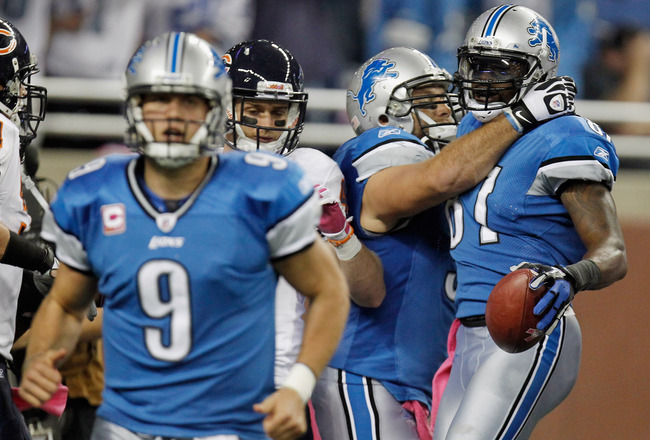 Gregory Shamus/Getty Images
In 2011, the Detroit Lions offense set handfuls of both franchise and league records.
Matthew Stafford is already the most successful Lions quarterback of the modern era, Calvin Johnson is primed to wipe the great Herman Moore off every franchise receiving record imaginable and Jahvid Best has all the value of a bigger and faster Darren Sproles.
And yet there is still work to be done. The 2011 Lions assaulted the franchise record books and passed their way into the playoffs for the first time this century, and yet only Calvin Johnson actually led the league in a major stat category.
The Lions ranked fourth in total scoring and passing yardage gained and fifth in total offensive yardage in 2011. By definition, as good as the Lions were, there were at least three teams better than them, even in the things they did really well.
Stats may not tell the whole story, but they do tell us that the Lions offense has room to improve, both in areas of weakness and areas of strength.
How?
I'm glad you asked. I have some ideas, many of which may surprise you.
For example...
Take the Ball out of Calvin Johnson's Hands (a Little)
Jonathan Daniel/Getty Images
Hey, don't take my word for it. Listen to what the man himself has to say.
Obviously, the Lions need Johnson to continue to be the greatest weapon in the NFL, and there's no tangible reason to believe he won't. But Johnson has been so good, it's often tempting to think of him as the Lions' only weapon, not just their most dangerous.
And sure, the Lions need to run it more. But they also need to spread the ball around more in the passing game. Nobody on the team had even half as many receiving yards or touchdowns as Johnson did in 2011.
That has a lot to do with just how good Johnson was, but half of his stats would have amounted to about 840 yards and eight touchdowns. Those are certainly good numbers, especially for a No. 2 receiver, but not at all unreasonable, especially considering the kind of coverage Johnson commands on the field.
The Lions have some guys that are on the cusp, but none of the ball carriers have really broken out as a consistent star other than Johnson.
My answer to this? Simple...
Feed Titus Young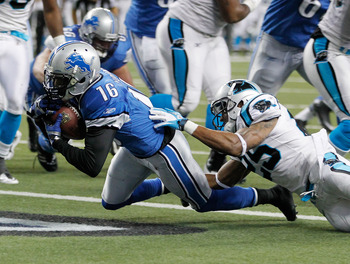 Gregory Shamus/Getty Images
If I had to pick a breakout star for next season, taking injuries, past performance and the minicamps/workouts thus far into account, it would be Titus Young almost without question.
And yes, that's with Jahvid Best eligible.
I've put some thought into this, and I think that Lions' need for a true secondary threat at wide receiver trumps even their need for a stable running game.
I mean, even if Best and Mikel Leshoure are healthy and capable, it's not like the Lions are suddenly going to transform into a ground-and-pound team. They're a passing team with a young All-Pro-caliber quarterback and dangerous weapons at receiver and tight end.
But at the end of the day, opponents are still focused on stopping the Stafford-to-Johnson connection. What the Lions need is a way to make them pay when Johnson is shaded with triple coverage. And I'm not talking about an eight-yard tight end crossing pattern, I'm talking about big plays down the field.
That's what Young brings to the team, and while he had some inconsistent success last season, all signs point to him being greatly improved in his first NFL offseason program.
Now, I'll be the first to admit that it's difficult to get anything concrete out of football players running around in shorts with their teammates, but with that said, good news on this front is certainly better than bad news.
Health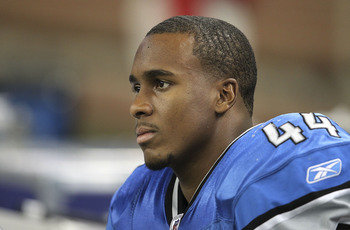 Leon Halip/Getty Images
This isn't exactly something you can practice for, especially in the case of a concussion or freak accident Achilles tear.
But staying healthy is certainly something the Lions could do to improve their offense.
When I talk about staying healthy, everybody is going to be tempted to point to Best and Leshoure, and that's fair.
But remember that the Lions' 2011 offense took off primarily because Matthew Stafford went a full 16-game season mostly healthy. He also needs to keep himself on the field.
Titus Young started the 2011 season nursing a hamstring injury. He'll need to keep himself healthy if he's to do what I described on the last slide.
Kevin Smith is going to have to play the part of Mikel Leshoure while he serves his two-game suspension, but he hasn't had a healthy season since he was a rookie.
It seems like a given that the Lions need to stay healthy in 2012 to build on their 2011 success, but it's anything but a given that they will.
Get the Intermediate Passing Game Going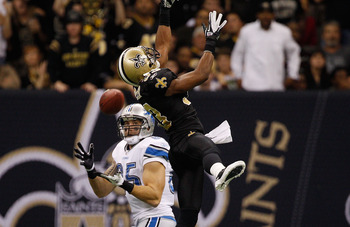 Chris Graythen/Getty Images
First things first, check out this picture.
Matthew Stafford is really, really good.
OK, now that that's out of the way, I have to point out that he had basically two settings in 2011: dump it off to a RB or TE or launch it 20-plus yards down the field.
This is the biggest difference between Stafford and the most elite quarterbacks in the league right now: the ability to use a variety of throws to keep the offense moving.
Notice I didn't say the ability to make a variety of throws. I no longer have any doubt as to Stafford's arm. He can make any throw, anywhere, anytime, period. Even his decision-making improved visibly as the season wore on.
But Stafford never reached that machine-like efficiency, the uncanny ability to pick up 10-15 yards on every play by simply taking what the defense gave him.
Of course, that's not all on Stafford. He throws the ball to whoever is open, so if nobody is open over the middle, nobody is getting the ball over the middle. Simple equation.
Between the Lions' focus on tight ends and their willingness to continue drafting wide receivers, it's obvious they know this is an issue and still need to fix it. Now the pieces are in place, so it's just a matter of everybody executing and developing chemistry.
More Efficiency on 3rd Downs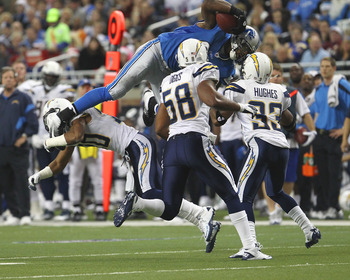 Dave Reginek/Getty Images
Perhaps the most striking illustration of the Lions' need to improve on offense is their pedestrian average on third downs.
Despite having a 5,000-yard passer in at quarterback, the Lions converted just under 36 percent of their third downs in 2011, good for 20th in the league.
Sure, it's not as bad as the more anemic offenses like St. Louis (28 percent), San Francisco (29 percent) and Denver (31 percent), but it's not good. New Orleans converted 57 percent of their third downs, because that's what elite quarterbacks do.
Of course, this isn't all on Stafford. Much of the Lions' inability to convert on third-down stems from a lack of a power running game and a commitment to continue trying it in short-yardage situations.
At times, 3rd-and-8 seemed more convertible than 3rd-and-2, but at no point was it a sure thing from any distance. A little more chemistry, balance and cohesiveness will fix that in 2012.
A Better Situational Running Game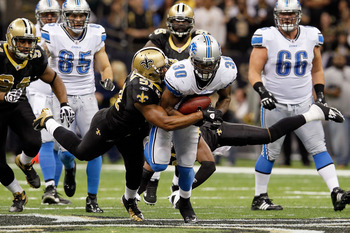 Kevin C. Cox/Getty Images
Notice I did not say "run the ball more."
The idea that the Lions need to adhere to a 50/50 balance of run/pass is a relic of a bygone era. In the modern-day game, the pass is harder for defenses to stop and yields bigger rewards.
On top of that, the Lions are simply better at passing the ball than running it, and they have better personnel in that area.
With all of that in mind, why wouldn't the Lions pass the ball a ton?
All that being said, there are times when the Lions need to match strength against strength and gain four yards on the ground with the defense expecting it. When the Lions are running a four-minute drill with the lead late in the game, it should not fall to Matthew Stafford to convert a 3rd-and-8.
Likewise, when it's 4th-and-1, passing the ball should not yield the greatest chance of successful conversion.
In other words, while passing the ball is more important to the offense in general, there are times when team needs to know it can run the ball effectively. Last season, they couldn't.
Much of the Lions' inability to get the power running game going comes down the the offensive line, not the running backs. If they can't create push or a gap in the defense, there's nowhere for the back to go, no matter how talented he is.
Of course, it's one thing for the back to get stacked up on 4th-and-1, with eight or nine defenders crowding five or six blockers.
It's another entirely when the back runs into a wall on 1st-and-10. This is another situation in which the Lions need to improve because much of the team's inefficiency on third down stems from the team's inability to chip away on first and second downs.
Even if all that means is working from 2nd-and-5 instead of 2nd-and-9, the Lions will take it. That opens up the playbook a little more, and the more options the Lions have on offense, the better.
The ground game will not and should not be more dangerous or prevalent than the passing game, but it has a role to play. And like any good role player, getting contributions from it will make the whole team that much more dangerous.
Just Growing Up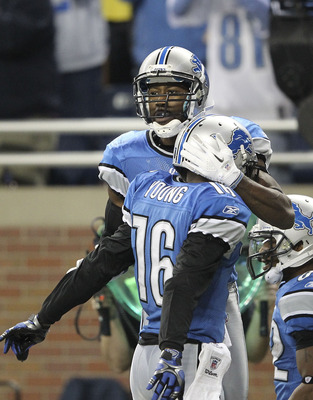 Leon Halip/Getty Images
What two things do Titus Young, Ryan Broyles, Jahvid Best, Mikel Leshoure and Matthew Stafford have in common?
1) They're all skill position players in the Lions offense expected to have a huge impact in 2012.
2) They're all under the age of 25.
With the exception of the not-quite-geriatric offensive line, the Detroit Lions offense is ridiculously young. The only guys on the offense over the age of 30 are Shaun Hill (32), Nate Burleson (32) and Will Heller (31), and two of those guys aren't even likely to play more than a handful of snaps in 2012.
If Titus Young ends up starting in place of Burleson this season, the Lions' starting offensive lineup will have an average of approximately 2.5 seasons of NFL experience per player. And that's including time missed due to injury and not including rookie receiver Ryan Broyles (who is highly unlikely to start at any point this season).
Not one of the Lions' offensive skill players, with the likely exception of Calvin Johnson, is in his prime right now. Most of them are still knocking off rookie issues and learning how to play in the NFL.
In fact, Johnson is the veteran of the group with five seasons of NFL experience, two more than anyone else in the bunch.
Consequently, the Lions offense is likely to get better simply because the players in it are getting better, both individually and as teammates. If the Lions get this kind of improvement from committed young players (who stay out of trouble), most of the rest of the things in this list will fall right into place.
Keep Reading

Detroit Lions: Like this team?