Adamek vs. Chambers: Goral's Will Is Too Strong for Scarred Opponent
June 16, 2012

Al Bello/Getty Images
Tomasz Adamek's fighting spirit will be prove that Eddie Chambers' career may be over. The two smallish heavyweights meet tonight in Newark, N.J., in a battle to return to the heavyweight title picture. 
Both fighters were soundly defeated by a Klitschko brother, (Adamek by Vitali and Chambers by Wladimir), but it seems obvious that Chambers has hard the toughest time dealing with defeat. Perhaps that's because he was the one that was knocked out.
Adamek was stopped by the judgment of the referee, Chambers by the sheer force of a Wladimir right hand.
Being knocked out is no small impediment to overcome, even for a boxer. That's especially the case when the boxer isn't exactly the quintessential boxing type.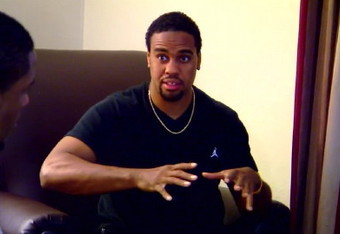 Chambers is talented, he has fast hands and solid foot-work, but he is small at 6' and he weighs just over 200 pounds. To look at him you'd think he was in some other line of work. He even admits that he had doubts about being a fighter, this per Mitch Abramson of Boxing Scene.
Chambers is quoted in the article:
"Physically I was over it in a week," "That's just the sort of thing that happens," he went on. "But mentally, the scarring lasts much longer and there's still certain things- I wish I could go back and do this, I wish I could go back and do that- but it's just not going to happen. You just have to turn the page."
Those doubts about the sport may have gotten stronger after being stopped by Klitchsko. Chambers took almost a year off before fighting again. He defeated Derrick Rossy by unanimous decision in February of last year, and this will be his first fight since.
Adamek was mentally up for the fight with Vitali, but physically overmatched. He bounced back in less than six months to decision Nagy Aguilera in March, and now he's ready to take on Chambers.
Those facts paint an accurate picture of the type of fight I believe we'll see. Adamek will never stop pressuring, especially not when he's in the ring with a short opponent with moderate power. This is essentially like going back to Adamek's light heavyweight and cruiserweight roots.
He was a combined 39-1 in those divisions and known for his relentless and bruising style. As this fight gets intense, I believe he will simply want it more than Chambers.
Physically, Chambers has a chance, but mentally, he isn't as locked in as he needs to be to beat Adamek.
Adamek will win this fight by unanimous decision, or a late stoppage.
Follow Brian Mazique and Franchiseplay.net for reactions, analysis and news from the world of sports and sports Video Games