Euro 2012: Lofty Expectations Weigh Down Portugal's Cristiano Ronaldo
June 16, 2012

Alex Livesey/Getty Images
The frightening speed, dazzling footwork and fabulous overall soccer skills of Portugal's Cristiano Ronaldo earned him the nickname "Magic Feet."
However, the magical football boots of the Portuguese National Team captain have yet to show any stardust at Euro 2012 this week, as they appear tethered to the pitch by overwhelming expectations. 
The fleet-footed, majestically-gifted Portuguese striker has flourished as a forward for Real Madrid since signing a staggering transfer deal in 2009. Ronaldo's play, since arriving from Manchester United, has reached a dizzying new level of brilliance in Spain by scoring 112 goals in 101 Real Madrid appearances.
Argentine legend Diego Maradona surprisingly overlooked his fellow countryman Lionel Messi when calling Ronaldo the best soccer player on the planet (via Goal.com). 
Off the pitch, Ronaldo's magical feet have ushered him into a surreal orbit of popularity.
With an estimated net worth of $160 million, the 27-year-old has amassed an astonishing 45 million Facebook fans and 11 million Twitter followers, while regularly being linked to a bevy of beautiful supermodels.
However, Ronaldo's La Liga magic with Real Madrid and his soaring celebrity have not guaranteed his success on the pitch for his native country.
Ronaldo has failed to find the bank of the net for Portugal at the same feverish pace.
In 92 appearances for Portugal, Ronaldo has scored 32 times. But, he hasn't gotten a goal yet at Euro 2012. He unexpectedly missed two very makeable opportunities against Denmark this week and wasn't a factor in Portugal's opening game match against Germany.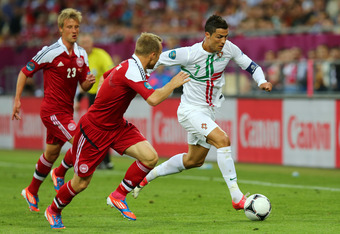 Martin Rose/Getty Images
Grumbling football fans eager to see magic strike off Ronaldo's glorious boots have been disappointed. So have begun the needless, yet never ending, Ronaldo and Messi comparisons.
Ronaldo scored seven times during Portugal's qualifying for Euro 2012, and is now heavily counted upon to find the back of the net on Sunday for Portugal to advance out of its Group of Death pool play.
Certainly, unreasonable expectations always exist for a player of Ronaldo's caliber. But, the Magic Feet of this world-class striker won't be weighed down tomorrow.
He should lead Portugal past the struggling Dutch and into the quarterfinals of Euro 2012.
Straight talk. No static.
MIKE—Mike Raffone—thee ultimate talking head on sports!