NBA Finals 2012: Why the Series Will Go 7 Games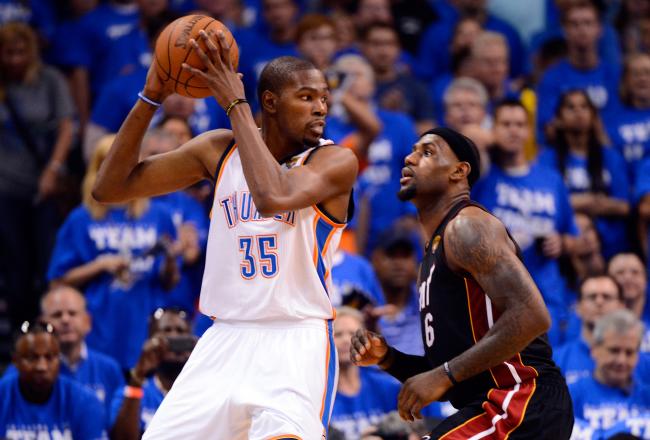 Ronald Martinez/Getty Images
The 2012 NBA Finals is tied 1-1 and the series will continue to go back and forth until a decisive Game 7.
The two sides are remarkably even and each have superstars capable of willing their teams to victory.
Here is how it will go down: Miami will take two of its three home games, forcing the Thunder to fend them off in Game 6 in Oklahoma. OKC will not lose in front of their manic fans, and the series will be decided in a seventh game.
The key to the series for each team is clearly their star. This is the first time since Michael Jordan faced Karl Malone in the 1997 finals that the scoring champion has faced the MVP.
In Game 1, Durant was the best player on the floor. He put up 36 points and eight rebounds on 12-of-20 shooting, and he went 4-8 from behind the three-point line.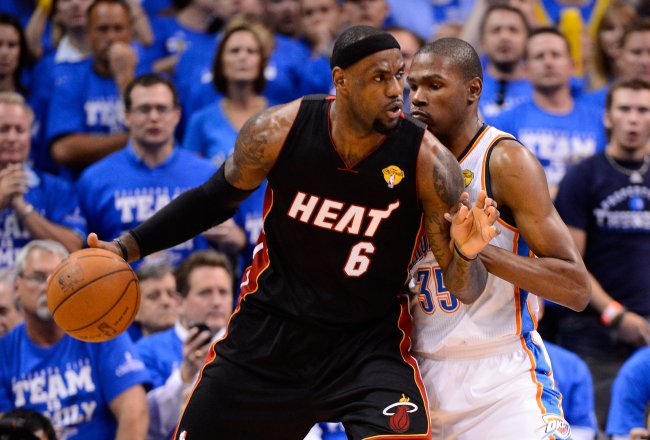 Ronald Martinez/Getty Images
James' performance was nothing to sneer at, and he posted 30 points, nine rebounds and four assists. But he struggled to score consistently against Thabo Sefolosha and went 11-of-24 from the field.
In Game 2, James did not struggle in any facet of the game. He posted similar statistics with 32 points, eight rebounds and five assists, but played more aggressive and got to the line more often. He was 7-of-9 at the charity stripe in Game 1, but 12-of-12 in Game 2.
This included two clutch free throws that sealed the Heat's victory.
How will the NBA Finals end?
Neither of these players are going to have a bad performance, and neither squad will be able to post a convincing win. Each game will be close, and each time it will come down to James and Durant.
Durant has been incredible in the fourth quarter of the first two games, scoring 17 points in the final period of Game 1 and 16 in Game 2. However, these explosions were likely influenced by the need for a comeback.
What this proved is that Durant is willing and able to do whatever it takes to get a victory
James, on the other hand, is averaging 42.5 minutes, 30.8 points, 9.5 rebounds, 5.0 assists and 2.0 steals per game in the playoffs. He leads the Heat in all of those categories so far this season.
These two are the best basketball players in the world and are lodged in an epic battle. There is not enough to separate them or allow one team to run away with this series. It will continue to go back and forth and come down to a thrilling seventh game.
This article is
What is the duplicate article?
Why is this article offensive?
Where is this article plagiarized from?
Why is this article poorly edited?