US Open Golf 2012 Leaderboard: Breaking Down the Day 3 Leaderboard
June 16, 2012

Stuart Franklin/Getty Images
Heading into the third round of the 2012 US Open, it would be foolish for any breakdown of the leaderboard to start with any golfer not named Tiger Woods. 
Woods is in a three-way tie for first place, but he has the ability and history at majors that has trained people to expect him to turn second-round leads into trophies. While Tiger hasn't won a major since he limped around the 2008 US Open, the way he is playing it is easy to forget his recent struggles. 
Woods is striking the ball wonderfully and consistently, and that is a definite must at this narrow course. His short game is dialed in, and his light putting touch is custom made for these blazing fast greens. 
Tiger is also in a position to turn the pressure up early. Woods is tied with Jim Furyk and David Toms at one-under heading into the third round. Here, take a look at the leaderboard, and then will continue the breakdown.
Leaderboard After Second Round
| POS | PLAYER | Score |
| --- | --- | --- |
| T1 | J. Furyk | -1 |
| T1 | T. Woods | -1 |
| T1 | D. Toms | -1 |
| T4 | J. Peterson | +1 |
| T4 | N. Colsaerts | +1 |
| T4 | G. McDowell | +1 |
| T4 | M. Thompson | +1 |
| 8 | B. Adams | +2 |
*Nine players are tied at +3
So Tiger and his co-leaders have a two-shot cushion at the top. This could quickly turn into a big lead for Tiger. 
After shotgun starts for the first two rounds, all players will be starting off on hole No. 1. That means every golfer will be starting off on the extremely difficult opening first six holes. 
These holes are killing scores. In the second round, they played 2.6 strokes over par. Tiger Woods has played them even. 
If Tiger can continue that success, he will undoubtedly have the lead to himself, and leave everyone pressing to catch up on a course where you just can't press. 
While Tiger is the clear favorite here, this is far from a lock, and the Olympic Club has produced some odd U.S. Open finishes in the past. Arnold Palmer blew a seven-stroke lead here on Sunday—so anything is possible.
Here is a look at the contenders with the best chance to upset Tiger.
Jim Furyk, -1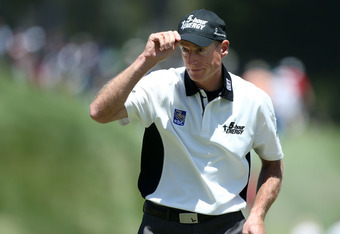 Andrew Redington/Getty Images
Tiger will be paired on Saturday with 2003 US Open winner Furyk. Furyk, and his terrible looking swing, have had a rough couple of years, but he has been playing solid golf, and when he is going well, few can manage a tight course better. 
He will have to hold it together for four rounds, but Furyk has the game and experience that could keep his head above water as others crumble in the face of this tough course. 
Graeme McDowell, +1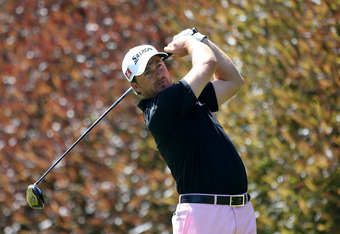 Andrew Redington/Getty Images
Graeme McDowell's 2010 US Open title was no fluke. He has the perfect game for a typical Open course.
He is a very accurate ball striker. He knows how to control his driver and irons. McDowell has had his share of struggles as of late. That all starts with his putter.
McDowell is streaky with the flat blade, but he has been putting well here. As long as he maintains that stroke, he will be a contender.
Matt Kuchar, +3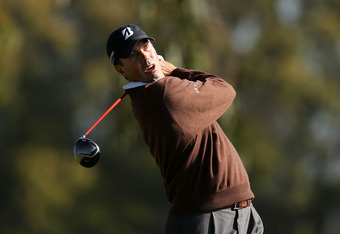 Ezra Shaw/Getty Images
Kuchar has been playing great. He is a well-rounded and steady golfer. He fired a three-over 73 on Friday, and that was aided by a double bogey on No. 1. 
Kuchar is another accurate driver. This will serve him well over the final 36 holes of this tournament. His confidence is also soaring, which should help him weather any rough patches, that this course loves to produce. 
Four strokes is not a huge deficit, especially considering there are just eight golfers ahead of him.