2012 NHL Mock Draft: Alex Galchenyuk and High-Upside Projects Worth Gambling on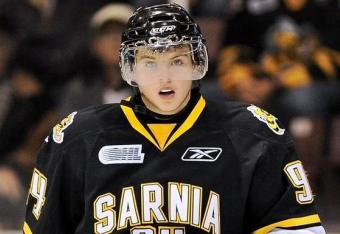 Photo courtesy of hockeysfuture.com

Speculation always tends to heat up as the NHL draft draws nearer, and with it now less than a week away, the respective values of many prospects have fluctuated greatly. It has long been known that forward Nail Yakupov would be the top selection, but after that it remains quite uncertain with regards to where others will be taken.
Many teams will have to decide whether they want to take a player with a ton of talent and a ton of risk, or select a safer player who may not have as high of a ceiling. That is an issue that front offices have to deal with on a yearly basis, but for some reason it appears to be much more prevalent heading into next week's draft.
Along with a full first-round mock draft, here is some further analysis on high-upside project players who will be worth the risk for the teams that ultimately take them.
1. Edmonton Oilers - Nail Yakupov, F, Sarnia
While every other team is agonizing about its pick, the Oilers brass are sitting pretty because they can rest assured that they are getting the best player in the draft when they selects Yakupov.
2. Columbus Blue Jackets - Alex Galchenyuk, F, Sarnia
As good as Yakupov is, there is a chance that his Sarnia Sting teammate, Alex Galchenyuk, could ultimately be a better NHL player if he lives up to his full potential. The issue, however, is that Galchenyuk has a lot more developing to do than Yakupov does. Yakupov can step in and contribute in the NHL immediately, but Galchenyuk likely needs another year of seasoning with Sarnia first.
That might not necessarily be a bad thing, but if Galchenyuk doesn't make strides, then it could really hurt his confidence. Another issue with Galchenyuk is that he missed the vast majority of this past season with an ACL tear. He appears to be recovered from the ailment, but that is a major injury for a young player to suffer. There has to be some worry that it could hamper him again down the line.
The Columbus Blue Jackets need a cornerstone player, and although it would be preferable to take a guy who can play in the NHL immediately, Galchenyuk is their best bet. No other player aside from Yakupov has the superstar ability that he does, so the Blue Jackets would be wise to roll the dice a bit and wager that Galchenyuk will live up to the hype.
3. Montreal Canadiens - Filip Forsberg, F, Leksands
Montreal could go with the consensus pick in defenseman Mathew Dumba, but they really need to add some size up front, so they'll go with a big, skilled forward in the form of Forsberg.
4. New York Islanders - Mathew Dumba, D, Red Deer
There are some who believe that Dumba could end up being the best overall player in this year's draft, and luckily for the Islanders, they have a very obvious need on defense, making him a no-brainer pick.
5. Toronto Maple Leafs - Mikhail Grigorenko, F, Quebec
It should come as no surprise that experts have differing opinions on many of the players in this year's class. When it comes to Quebec Remparts forward Mikhail Grigorenko, though, the analysis is all over the map. Some think that he is second to only Yakupov and should be the No. 2 pick in the draft, while others believe that he is such a risk that he shouldn't be taken until late in the first round.
Grigorenko put up 85 points in 59 QMJHL games this past season and stands an Evgeni Malkin-esque 6'3" and 201 lbs., so it's tough to imagine him sliding too far. Talent has never been the issue with Grigorenko, though. The main concern is that he has played just one year of North American hockey and is a huge risk to bolt for the KHL if things don't go well in the NHL or if he happens to get a big-money offer.
Also, there is some concern that he won't be willing to put forth a consistent effort on a game-to-game basis. With all of that in mind, though, Grigorenko truly has the potential to be a similar player to Malkin, so somebody has to take a chance on him. That team may very well be the Toronto Maple Leafs. The Leafs can't really afford to whiff on their pick, but they need an impact player at the same time, so general manager Brian Burke will hope that he can catch lightning in a bottle.
6. Anaheim Ducks - Ryan Murray, D, Everett
Murray was once considered the clear-cut top defenseman in the draft, and while he has dropped a bit, the Ducks will be happy to pair him with Cam Fowler for years to come.
7. Minnesota Wild - Morgan Rielly, D, Moose Jaw
Rielly is yet another one of the many talented blueliners in this draft, and his incredible offensive upside will be too much for the Wild to pass up.
8. Carolina Hurricanes - Teuvo Teravainen, F, Jokerit
The Hurricanes have an obvious lack of talent up front aside from Eric Staal and Jeff Skinner, but Teravainen is a complete forward who has produced at the highest level in Finland.
9. Winnipeg Jets - Griffin Reinhart, D, Edmonton
Some consider Reinhart to be a top-five prospect, and considering how close the Jets were to making the playoffs this past season, they'll be thrilled to grab that type of talent.
10. Tampa Bay Lightning - Jacob Trouba, D, USA U-18
The Lightning made a lot of moves to reshape their defense around the trade deadline last season, and Trouba will be another piece that can make Tampa's defensive corps elite in a few years.
11. Washington Capitals (from COL) - Radek Faksa, F, Kitchener
With Alexander Semin certain to depart via free agency, the Capitals need to bolster their forward prospect depth, and Faksa is a big player with good hands who can be ready in a year or two.
12. Buffalo Sabres - Brendan Gaunce, F, Belleville
Some aren't sure if Gaunce is athletic enough to excel at the next level. But he has size and was productive offensively in the OHL, so he seems like a great fit for the Sabres.
13. Dallas Stars - Cody Ceci, D, Ottawa
There are so many solid defensemen in this draft that it's tough to predict who will develop and who won't, but Ceci has a lot of offensive upside that the Stars will like.
14. Calgary Flames - Hampus Lindholm, D, Rogle
If a team is planning on taking a defenseman in the first round, it might be best off picking a name out of a hat because many of them are at the same level. One of the defenders in the mix is Rogle rearguard Hampus Lindholm. The Swedish defenseman has really shot up draft boards over the past couple months and has ensured that he will be taken somewhere in the first round.
Lindholm was dominant for Rogle's under-20 squad, as he was a plus-25 in 28 games before being promoted to the senior squad. He acquitted himself well playing in Elitserien, as he had four points in 20 games while playing steady minutes. He shined in the playoffs in particular with five points and a plus-five rating in 10 games in what many consider to be the third-best league in the world behind the NHL and KHL.
Lindholm has offensive ability that could make him an elite offensive defenseman in the NHL one day. His defensive skills haven't quite caught up, but he has good size at 6'2", so that should come along as well. Lindholm is a player that will probably be a long time in the making, but if the Calgary Flames take him at No. 14, I believe they will be getting a big steal a few years in the future.
15. Ottawa Senators - Sebastian Collberg, F, Frolunda HC
The Senators have struck it rich with Swedish players like Daniel Alfredsson and Erik Karlsson in the past, so they'll see if they can hit once again with the speedy Collberg.
16. Washington Capitals - Matt Finn, D, Guelph
Depending on who you ask, Finn is the last elite-level defenseman remaining on the board, so the Caps will snatch him up after going forward with their first selection.
Which project player will have the best NHL career?
17. San Jose Sharks - Olli Maatta, D, London
Maatta really helped his stock by having the best offensive performance by any defenseman in OHL playoff history, and the Sharks would love a player with that type of big-game success.
18. Chicago Blackhawks - Zemgus Girgensons, F, Dubuque
Girgensons is an interesting player, as he is a Latvian playing in the USHL. He would be a great fit for the Blackhawks as they continue to add forward depth to their system.
19. Tampa Bay Lightning (from DET) - Malcolm Subban, G, Belleville
Subban is considered the consensus top goalie in the draft, and while the Lightning did give up a lot for Anders Lindback, they will be happy to develop Subban as well.
20. Philadelphia Flyers - Derrick Pouliot, D, Portland
With Chris Pronger's future in doubt and Kimmo Timonen in the twilight of his career, the Flyers must nab a player like Pouliot and develop him as a future NHL defenseman.
21. Buffalo Sabres (from NAS) - Tom Wilson, F, Plymouth
The Sabres took a big forward with their first pick, and they will do the same with their second, as they take the physically imposing 6'4" Wilson to complement Gaunce.
22. Pittsburgh Penguins - Ludvig Bystrom, D, Modo
The Penguins were picked apart defensively in the postseason, and although Bystrom has a couple years of seasoning left before he becomes a factor, the pick is a logical one.
23. Florida Panthers - Stefan Matteau, F, USNTDP
General manager Dale Tallon transformed the Panthers quite impressively. But they do lack some size at forward, so Matteau will be a welcomed addition.
24. Boston Bruins - Brady Skjei, D, USA U-18
The Bruins have one of the weaker farm systems in the NHL currently and need to start developing some defensemen for the future, so Skjei has to be the pick here.
25. St. Louis Blues - Pontus Aberg, F, Djurgardens
St. Louis got as far as it did this past season thanks to defensive responsibility, and Aberg is a player who is great in that regard and can also pitch in offensively.
26. Vancouver Canucks - Slater Koekkoek, D, Peterborough
The Canucks seem to have everything they need for a Stanley Cup run despite their first-round exit, so they can afford to take the best player on the board, and that may be Koekkoek at this point.
27. Phoenix Coyotes - Tomas Hertl, F, Slavia
There is a lot to like about Hertl, as he is big and can play the center position, so the Coyotes will take him and hope that he comes along like their other Czech stars in Radim Vrbata and Martin Hanzal.
Besides Nail Yakupov, who is the best player in the draft?
28. New York Rangers - Scott Laughton, F, Oshawa
Few teams have as much prospect talent as the Rangers. But they could stand to become a bit more dynamic offensively, so they'll select Laughton and hope he pans out.
29. New Jersey Devils - Nicolas Kerdiles, F, USA U-18
Zach Parise probably won't be re-signing with the Devils, so they'll turn to another American in Kerdiles and hope that he can become half the player that Parise is.
30. Los Angeles Kings - Mark Jankowski, F, Stanstead
The Kings are Stanley Cup champions, so they can do anything they want, and that includes taking a shot in the dark with an intriguing Canadian collegiate player in the form of Jankowski.
Follow @MikeChiari on Twitter
This article is
What is the duplicate article?
Why is this article offensive?
Where is this article plagiarized from?
Why is this article poorly edited?