Picking a Manchester United Starting XI to Include Luka Modric
Claudio Villa/Getty Images
The deal for Tottenham Hotspur and Croatia central midfielder, Luke Modric, is one that will no doubt provide a great source of excitement and entertainment over the coming weeks.
With the completion of Shinji Kagawa, from German side Borussia Dortmund, now confirmed for the Red Devils, United can look to strengthen their midfield, which has been the source of some heavy criticism from pundits over the years, even further. In fact, if the deal for the Croat does come to fruition then, in a drastic turn of events, United's midfield may well go from its Achilles heel to its strongest asset.
Without question the return to glory of the likes of Paul Scholes and Michael Carrick have meant that for the 2011-12 Premier League season, the centre of United's team has already seen a vast improvement from how they performed after the initial loss of Cristiano Ronaldo.
However, despite their heroic efforts, the two ageing players will find it hard to continuously compete with the ever increasing skill exhibited by the rest of the Premier League's big boys in the centre of the park – at least not without some new fresh blood to give them a helping hand.
Scholes in particular is playing on borrowed time these days, and one would have to expect that the United legend will be embarking on his final voyage with the side at the start of the 2012-13 League season.
Of course, at this stage any United fan expecting that Modric will definitely end up coming to Old Trafford this summer would be deluding themselves.
At the current moment in time, all the media is going on are rumours and mutterings from both the Spurs and United camps.
Still, generally when Fergie really wants to sign somebody, he will eventually end up getting his man.
The chances are good, but by no means odds on in relation to Luka playing in the red of United next season.
But with the potential addition of Modric to the United starting XI in mind, how will Sir Alex line his players up, come mid-August?
GK: David De Gea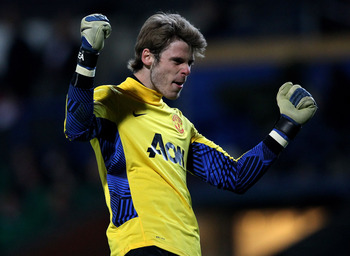 Alex Livesey/Getty Images
An easy one to start off with.
David De Gea's arrival at Old Trafford was not exactly a ceremonious one. In all truth, the Spaniard was not the first choice of many fans or members of the United coaching staff alike.
In fact number one on Sir Alex's list of priorities last summer, was to bring the German and then Schalke goalkeeper Manuel Neuer to the club as a replacement for the retiring legend, Edwin van der Sar.
Eventually Neuer would do what all Germans, bar Mesut Ozil, seem to have done in recent years when vied after by a range of clubs – he joined Bayern Munich.
The deal was met with frustration from all three sets of fans.
United were perturbed to have been snubbed to their top transfer target of the summer, Schalke were angry that they had lost their keeper and star player, and amazingly even the Munich fans were outraged by Neuer's arrival.
It seems startling to any fans of an English side, who would welcome a player from a bitter rival in with open arms, but in Germany that kind of behaviour is frowned upon even by the side who receives the new player.
As such, Bayern – who share a fierce rivalry with Schalke – were less than forgiving when the young keeper came to the Allianz, brandishing a "Code of conduct" that they enforced Manuel to follow.
Things didn't exactly start off with gusto for De Gea at Old Trafford either. The pressure was on David as soon as he arrived to step not only into the boots of Van der Sar, but also to make up for the failure to sign the German number one by eclipsing his performances for Bayern.
In his first competitive match for United, – the Community Shield -- De Gea fumbled a (relatively) easy to save shot from Manchester City midfielder, Yaya Toure, into the back of the net. United fans watched on in despair as memories of Massimo Taibi started to re-emerge in the Old Trafford Faithfull's heads.
Things didn't get a whole lot better for the Spaniard in his next few matches, as he was seemingly unable to cope with the pressure and burden that had been placed on his extremely young shoulders.
However, as time went on the performances started to gradually improve, and it looked like United hadn't bought another flop of a keeper after all.
After a spell out with an injury, David returned to first team football looking to keep his number one spot ahead of Anders Lindegaard (who had himself greatly impressed in De Gea's absence).
It was like watching a completely different player between the sticks, as De Gea took up the prestigious title of United first team keeper with aplomb.
He's not quite the finished article just yet, but in a few years time we might be talking about David De Gea as the next great Manchester United goalkeeper for the ages.
As such, there is no doubt he will be first on the team sheet come the first fixture of next year.
RB: Phil Jones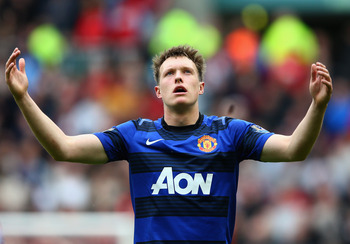 Clive Mason/Getty Images
"Phil Who?"
A year ago many honest United fans would have to admit that the Blackburn Rovers centre-back, Phil Jones, was not someone that the majority of Red Devil followers knew much about.
Certainly Jones had his admirers, and even a few of the more eagle eyed and alert supporters out there might have pre-emptively touted the young man for greater things. But on the whole, Jones was something of an unknown commodity when he signed with United in the summer.
Since then, Phil has gone on to be one of the bargain transfers in recent memory, playing a crucial part in the "success" that United achieved last season. Sure, Fergie's men finished the campaign without a piece of silverware to their name, but overall finishing joint first with the league winners on 89 points, can be considered a good output for any side.
In a twist to how many pundits expected the young man to play for United, Jones adopted the position of either right-back or defensive midfield as opposed to playing in the centre of defence as he did for the Rovers.
The results were phenomenal, with Jones winning the hearts of many United fans and neutrals of the game alike.
With the introduction of two new midfielders (again imagining in this scenario United have signed Modric) Jones will more than likely return to the defence, once again playing at right-back.
This is a position United have had severe trouble filling since the retirement of Gary Neville half way into the 2010-11 season. Since then, both of the Da Silva twins, as well as Chris Smalling, have tried their hands at the position and have, for the most part, done well in the role.
However, Jones' performances for United this season have more than earned him the chance to try his hand at making the right-back role his own. If Jones can master the position, it ends another possible headache that Sir Alex would otherwise be having about the future of his defence.
Jones has shown all season that he isn't afraid to bomb forward when appropriate, and has even managed to (somewhat) replicate the type of crosses that most United fans will remember Neville putting into the opposing penalty area.
Way back in September at the Reebok Stadium, Jones played this position like a seasoned pro, continuously penetrating the Bolton defence, whilst at the same time tracking back and making those crucial tackles. United ended up winning the game 5-0.
Some of you may argue with Jones' inclusion in this particular role, but if what he's done so far at right-back is anything to go by, we may be looking at the United, and England, first choice for many years to come.
Of course that's an audacious claim to be making, but Jones' versatility to seemingly play any defence role, bare left-back, that is asked of him is something that makes him a key asset to United.
CB: Nemanja Vidic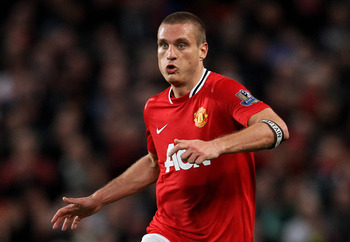 Alex Livesey/Getty Images
Having missed almost all of the last campaign, it will be a struggle for the Serbian to instantly bounce back to the form he was showing in his prime at United. Not to say he wont eventually get there again, though.
In lieu of his injury this year Johnny Evans – who before this season was slowly starting to lose his place within the United setup – stepped up to the plate brilliantly, and put in shifts that saw him make the front running for the Manchester United player of the year award.
For this, Evans has won a place in the hearts of all United fans. Unfortunately however, I can't help but think his time within the first team – at least playing regular first XI football – may draw to an end with the return of Vidic.
It would be a gutsy move on Fergie's part to keep Nemanja on the bench, after the vast amounts of success he has achieved playing in the back four. This is the kind of decision where Sir Alex is damned if he does, and he's damned if he doesn't.
If Evans is left on the bench then there will be pockets of United fans in uproar about how a player that saved United in it's time of need, has been so "heartlessly" discarded.
However, by the same merit, if Vidic is the one eventually left on the substitutes bench, the same fans will more than likely complain about why United are leaving "one of their best players" out of the starting XI.
On sheer consistency alone one would have to expect that eventually it will be Vidic who gets the nod ahead of the Irishman. The massive positive for United fans, is the knowledge that if anything does happen to Vidic – or Ferdinand – during the season, then they have a more than sufficient replacement ready and willing to come on and influence the game once more.
CB: Rio Ferdinand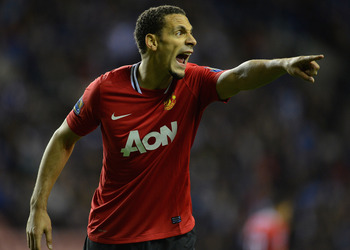 Michael Regan/Getty Images
Rio has had a lot of trouble with injuries in recent years (again good news for Evans!), and will probably struggle to make it through the season without picking up at least something minor.
Still, when he is at the top of his game there aren't many United fans alive who would fail to include the world's most expensive defender in their starting XI. Ferdinand has been a loyal servant to Manchester United over the years and, although perhaps not being quite the player he once was, is still able to have a massive positive impact on any game.
Despite not even travelling to the tournament, Ferdinand managed to become the centre of attention in English football again this summer, when he was not selected as part of the 23 man squad to play in Euro 2012.
Rather than take the defeatist attitude of quitting the International scene altogether, Rio later came out to announce that as long as he was playing football, he would always be open to selection for the national side.
This kind of attitude epitomises the type of man that Ferdinand is. Never willing to give up on something that means a lot to him. The 33-year-old will give it his all, time and time again, in order to achieve the most that he possibly can.
Admittedly, it may well be this exact attitude that has led to the somewhat severe condition that his back and legs are in right now.
Continuously pushing himself to the limit for the past decade has weakened the great man's body to an extent where he now struggles to play more than two thirds of a campaign.
Last year, Rio managed to trot out for a total of 37 appearances. Not bad for a knackered old soul like Ferdinand.
There will come a time soon when the likes of Chris Smalling will step up and replace Ferdinand in his custom centre-back position, but I don't think that time is just yet.
LB: Patrice Evra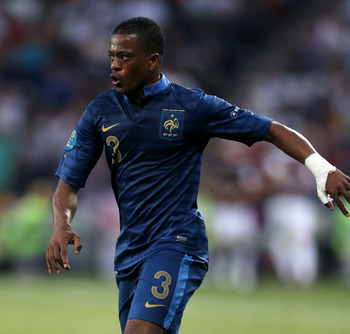 Ian Walton/Getty Images
Truth be told, if there was any real progress in regards to the move for Everton defender, Leighton Baines, it may well have been the Liverpudlian's name on this list, instead of Patrice's.
Patrice Evra is another man who's time with Manchester United is slowly starting to run out. Having been a faithful servant of the club for six years, the Frenchman will live long in the memory of all who have seen him play.
However, now aged 31, Evra is on his last legs when it comes to football at the very top tier. That's not to say that he wont be able to put in a string of great performances for United should he still be the first choice left-back come August.
The phrase "form is temporary, class is permanent" springs to mind when talking about this particular individual. There are days when Evra looks nothing like the pacey young full-back of old, who would dart down the wing before deliver a low driven cross-come-shot into the box for Rooney to get on the other end of.
His speed is dwindling, and on rare occasions his positional awareness seems to go completely out the window. When all is said and done he isn't quite "world class" anymore.
But he is still a fantastic player.
Any team in the Premier League would more than welcome Patrice into their squad, with a genuine chance of making all of their first XI's. Even the likes of Cole and his possible replacement, Baines, would find it hard to get their name on that team sheet every week ahead of Evra.
You can say what you like about Evra's attitude off the pitch – he didn't exactly win many fans with his childish debacle at the 2010 FIFA World Cup – but on it he is almost always a key player in any game.
There is still something left for Patrice to give to United, and hopefully when the time does eventually come for him to depart it will be on good terms.
Although as this is Evra, that seems unfortunately unrealistic.
CDM: Luka Modric and CAM: Shinji Kagawa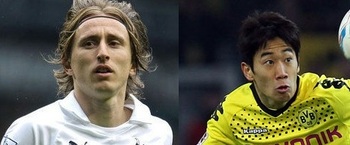 Right, here's where things start to actually get interesting.
The decision to play Luka as a centrally defensive player would not be one that Sir Alex has originated himself. For the past couple of seasons, Modric has alternated between this role and a slightly more attack minded one for Spurs -- although in most cases this kind of position has been his primary one.
With the very attacking Kagawa being brought into the side, it was be suicidal to play the regular 4-4-2 formation that we are often accustomed to at United. As such, to accommodate Kagawa, I think it would be a lot more likely that a 4-3-3, or even a 4-5-1 formation will come into effect.
This would see a lone striker playing off two wingers, with Kagawa playing just off the trio. Modric and the other central midfielder would play a more holding role just in behind the Japanese international.
This is controversial, but for Kagawa and Modric to co-exist in the same team, it's the only possible scenario that can theoretically play out.
For those of you who perhaps aren't so convinced, a 4-4-2 would mean that Kagawa is playing as one of only two central midfielders. With the greatest respect to the young man, he is not exactly known or admired for his defensive duties to his side -- and nor should he be, given the nature of his style of play and contribution to a team.
As such, Modric would be left alone as the sole centre of the entire United midfield, leaving the Red Devils almost completely open to a counter attack.
A 4-3-3 allows for Kagawa to play off the lone striker and go forward in attack himself (acting as more of a midfielder come striker -- his more natural style of play), but leaving two players to hold the defensive line in the centre of the park if need be.
On top of this, Modric would also act as the "playmaker's playmaker", feeding Kagawa (and the rest of the United attack), whilst at the same time holding the ball up and winning it back when required. Working in tandem with the other central midfielder, Modric would be able to ensure that United keep possession of the ball in the middle of the pitch, and wait for the opportune moment to pick out the right pass.
It's something that he's used to doing and something that can in theory make United's midfield one of the strongest in Europe again.
It's been a very long while since United had a proper attacking midfielder. Many players have tried to step up to the plate in recent years - even on the rarest of occasions Wayne Rooney himself has tried it out. But as of 2012 nothing has really worked for Fergie and his men regarding the position.
Kagawa changes all that, coming into a side that has been crying out for a player like him for far too long. His inclusion to the side does mean that it is likely a striker will lose their place as a regular within the team, but it may well be a worthy sacrifice.
The real question is, which other midfielder would work along side these two in the middle?
CM: Tom Cleverly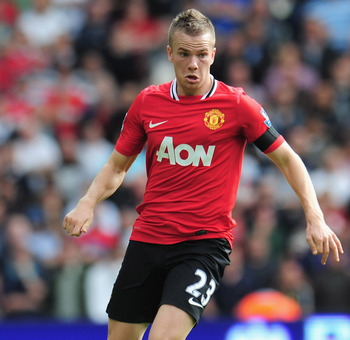 Shaun Botterill/Getty Images
Yes, despite coming out of retirement and putting in some absolutely heroic performances, I can't help but think that Sir Alex will turn to the young up and coming Cleverly to sure up the midfield, ahead of Paul Scholes. Cleverly has been touted by many as being the next Scholes, after some moments of brilliance at the start of the 2011-12 season.
In reality the only reason that Paul was even asked to come back to the United fray was because of the severe injury that Cleverly suffered so early on in United's campaign. It is my firm belief that had that unfortunate injury not occurred, Tom would have been playing regular first team football for United all season long.
His eye for a pass is nothing short of sublime and, unlike his cohort Scholes, Cleverly has been known to make some crucial -- and perhaps more poignantly, well timed -- tackles in the midfield when required to. As such, his inclusion in the starting XI acts as almost a win-win situation, providing both a play-making attacking edge, as well as introducing another central midfielder who can win back the ball.
This selection would also mean that yet another of this season's star players for the Red Devils, Michael Carrick, may well drop back down to the bench. This is something that is again an extremely unfair occurrence, but from a United point of view, it simply can't be helped.
With Modric no doubt playing the more defensive role he is accustomed to at Spurs, there is no need for Carrick in the midfield. However, by the same merit, if Modric were to adopt the role which he is more commonly seen playing for his nation Croatia, then this could once again allow Carrick to come into the side instead of Cleverly.
The fantastic thing for Sir Alex could be that his dilemma for next season would not be "Can I get enough decent midfielders out for a game?", but rather "Who do I leave on the bench?".
After all, if Cleverly -- or even Modric or Kagawa -- fail to perform, he knows that he can fall back on Carrick and Scholes who have been instrumental in any of the success that United attained this season. And that's not to mention Park, Giggs or even the possible return of Darren Fletcher.
One thing is for certain, United should not struggle to find first team midfielders next year.
LW: Ashley Young
Ian Walton/Getty Images
Despite receiving some negative reviews from certain areas of the United fan-base last year, Ashley Young for the most part had a great debut season with the Reds.
Despite many fans believing that Young would not be United material, Ashley proved them wrong, breaking into the regular first XI before being struck down with an injury in October. Still, that wasn't enough to stop him, as Young went on to not only earn himself a regular slot within the United first team, but also for England.
His turn of pace and ability to put in almost impossible to defend crosses, have made him one of the most deadly wingers in the Premier League this season. Young's presence has been greatly missed at his former side, Aston Villa, who slumped to near relegation by the start of May.
The link up play between Young and Wayne Rooney has perhaps been the most positive aspect of his introduction at Old Trafford, though. Really there should have never been any doubt that the two would play and link up well together. Young's style of play works perfectly with Rooney's -- that being early balls into the box, whether glided high or driven low, for Rooney to get on the end of.
It's a combination that could work well come Sunday when England take on Italy in the Euro 2012 quarter final.
England have impressed at the tournament beyond most fans expectations, and the partnership between Rooney, Welbeck and Young that so often works a treat for United, could be the success to European Championship glory. Of course, if that is to happen, then it will have to gel a lot better than it did against the Ukraine on Tuesday night.
RW: Antonio Valencia
Laurence Griffiths/Getty Images
Rather unsurprisingly, Antonio Valencia was awarded with Manchester United Fan's and Player's player of the year for this past season. The 26-year-old Ecuadorian had a bumper season, which saw him put all doubters of his ability and class to bed once and for all.
In fact, the only real fault one could make about Valencia's season was that he wasn't selfish enough! There were plenty of opportunities in matches for him to take a pop at goal, where he instead decided to play a team-mate in for the glory instead.
For that exact reason (along with the fact that he may well not be a United player come the start of the season, if reports linking him with a move to Juventus are true) both he and Young are deserved of a place in the starting XI ahead of the impressive, but ball-hogging Nani.
Nani is one of those players who never really had much of a chance at United whilst Cristiano Ronaldo was around, but almost as soon as his Portuguese colleague left Old Trafford, he stepped up to the plate and shows up what kind of player he really is.
Unfortunately last season that talent was not always evident, and in some cases Nani's seeming inability to pass the ball resulted in some good goal-scoring opportunities being wasted. Valencia on the other hand seems to have a real knack of knowing when, and when not to, pass the ball.
If both Young and Valencia play as well next year as they have this, then it leaves one's mouth practically salivating at the prospect of United going forward. Valencia, Young, Kagawa, Modric, Cleverly and the last man on this list, are sure to destroy defences country-wide all season long.
FW: Wayne Rooney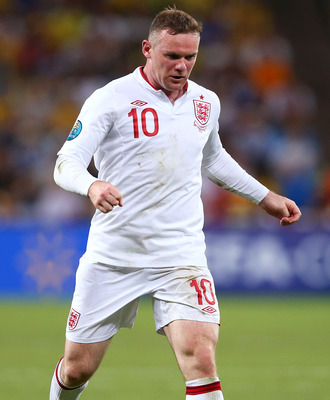 Alex Livesey/Getty Images
Who else, but Wayne?
If this formation is how Sir Alex will decide to play next season (and again I stress that with Modric and Kagawa in the team it's more than likely the only one that can theoretically work) then it means that upsettingly the likes of both Welbeck and Hernandez will drop down to the United substitute bench.
Of course, this is again another example of fantastic talent available on the bench to come on and impact a game. If Fergie ever does revert back to the familiar 4-4-2 then there are two strikers on the bench who are more than willing to step up and be counted.
As for Rooney playing as the "sole" striker, -- remember Kagawa will be playing just off him, usually getting himself into almost a secondary striker position himself -- this is a role that I see Wayne taking on with gusto.
There will be no lack of attacking edge to tee up the chances for Wayne, and on top of this it gives him the opportunity to bag a hat-full of goals for himself. Playing upfront alone means that Rooney knows he is where most of the goals are coming from. This sounds like an odd point to make, but it will encourage him to shoot more in positions close to goal -- in theory resulting in more goals being scored!
Remember, all this does hinge on the signing of Luka Modric this summer, and as of yet, nothing is really confirmed. But if United do manage to bring the Croatian to Old Trafford, we could very much be looking at one of the strongest United teams in many a year.
Keep Reading

Manchester United: Like this team?