Heat vs. Thunder: NBA Finals Are Destined to Go 7 Games
June 17, 2012

Ronald Martinez/Getty Images
With the 2012 NBA Finals shifting to Miami for Game 3 Sunday night, the Oklahoma City Thunder find themselves tied at one game apiece with the Heat.
This marquee matchup has the makings of going seven games and being the back-and-forth slugfest NBA fans wanted. Both teams are ready for an extended series and going the distance looks like the most likely outcome.
The NBA Finals start and end with the best one-on-one battle fans could have asked for between Kevin Durant and LeBron James. While it is James that is defending the NBA's scoring leader, it is Heat guard Dwyane Wade feeding the Thunder star ammunition.
Wade told the Bradenton Herald about his non-relationship with Durant:
I don't have a personal relationship with K.D. outside the court like him and LeBron did, spent time in the summer. If I see him, it's, 'What up, KD, what up?' It's one of those where I respect his game. But I don't know a lot about him, either. I know probably just as much as you guys know. And sometimes it's where you're at. If he was in Los Angeles, Chicago, somewhere, it would be a little different. Being in Oklahoma kind of dims his light a little bit, not him on the basketball court, but him off the court. There's not a lot of exciting things going on out here.
Shots fired.
James has kept his composure all postseason, but surprisingly, Wade has been offbeat with his comments and appears to be really letting things get to him on a personal level.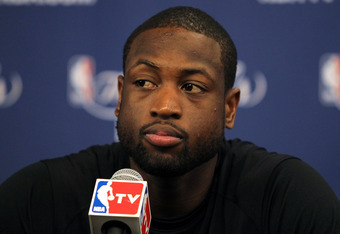 Chris Chambers/Getty Images
As much as Miami is Wade's team, LeBron has to take the helm and tell Wade to stop antagonizing one of the best players in the NBA. This series was going to be a battle before, but these words will have Oklahoma fans fuming.
When the finals come back to the Thunder's house, you can expect Wade to get a college-football-esque earful. If he is easily thrown off his game, the volume in that building will have his focus clouded.
Not only will this series go seven games, it will begin to get very physical in Game 3. This series will culminate in an all-out war in Game 7, but it will be OKC that walks away victorious.
Check back for more on the National Basketball Association as it comes, and don't miss Bleacher Report's NBA page to get your fill of all things basketball.