Heat vs. Thunder: LeBron James Must Meet Unrealistic Expectations in NBA Finals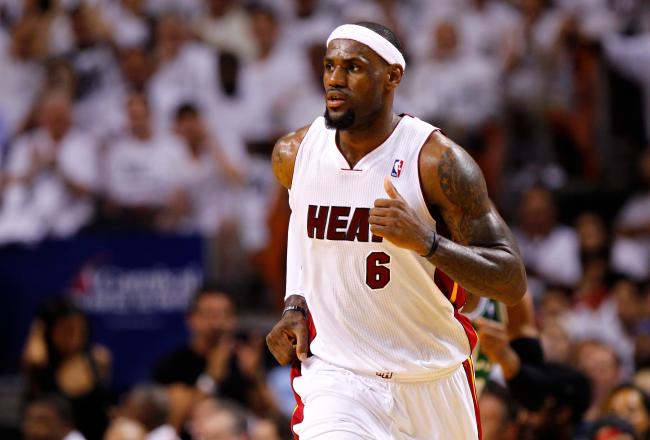 Mike Ehrmann/Getty Images
Miami Heat superstar LeBron James may have the toughest gig in sports, and he undoubtedly faces the most unrealistic of expectations in the 2012 NBA Finals. Unfortunately for him, these are unrealistic expectations that he has no choice but to meet.
Will LeBron get his first title?
He must win. Nothing else will be acceptable.
LeBron has to be incredible, every moment of every game, or else he's a failure. Not only that, but no matter how he plays, his game will always be judged on the last few minutes of the fourth quarter and whether or not he can come up "clutch."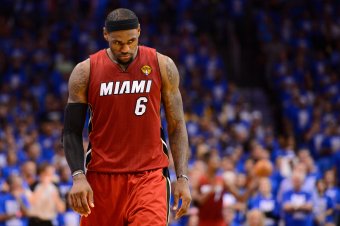 Ronald Martinez/Getty Images
He could have 48 points, 24 rebounds and 12 assists in the NBA Finals, but if he passes it to Dwyane Wade with a minute to go and the game on the line—he's a loser.
Even more perplexing is the phenomenon that is the ever flip-flopping media opinion on James. If he puts up the aforementioned stat line and the Heat win, everybody heralds it as a "legacy game" and touts James as the greatest basketball player in the Milky Way.
If he notches that very same line and the Heat lose, though, you better take cover because Armageddon is on the way faster than Skip Bayless can say Tim Tebow.
Like it or not, these are the expectations for King James.
While these expectations are certainly unrealistic, one would be naive not to realize that this is the price James has to pay for his greatness.
Great talent demands great expectations.
He is the most talented basketball player in the world, so it's expected that he can and will do things that other players simply can't do.
We expect him to put up monster statistical nights because we know he is more than capable. We expect him to be clutch because, well, that's just what the best player in the world is supposed to do.
By his own admission, he expects to bring the Heat multiple NBA titles, but as of right now. he's still 0-for-1 and the Thunder are worthy championship contenders.
Raise your hand if you have as many NBA titles as LeBron James.
If most of us are still able to raise our hands to that statement when this series is done, that would be unacceptable for James.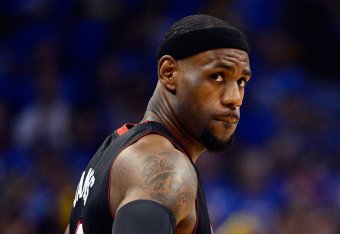 Ronald Martinez/Getty Images
It's anybody's series right now, but the pressure is firmly on the Heat. A Thunder series loss can be forgiven. Kevin Durant and Oklahoma City can bounce back and try again next year.
LeBron and the Heat can, too, but the perception would be completely different. It would be yet another year, yet another blown NBA Finals shot.
It would be the best player in the world not being able to capture a ring yet again. It would be the constant comparisons to Kobe and Jordan and the glaring difference between those two and James—the trophy case.
The unrealistic expectations would come crashing down on King James' throne for yet another disappointing offseason, and the pressure would continue building up.
Durant wouldn't have to deal with that pressure, heck, nobody else in the NBA has to deal with that pressure. But then again, nobody else is the best basketball player in the world.
You see, here's the catch...
The expectations for LeBron may be unrealistic, but in no way are they unfair.
This article is
What is the duplicate article?
Why is this article offensive?
Where is this article plagiarized from?
Why is this article poorly edited?

Miami Heat: Like this team?