Arizona Cardinals: Why 2012 Is a Make-or-Break Season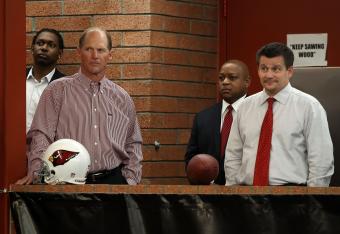 Christian Petersen/Getty Images
The 2012 season is make or break for some important pieces to the Arizona Cardinals' organizational puzzle. Front office, coaching and positional jobs could be on the line, as well as the fate of the fanbase.
Team president Michael Bidwill, general manager Rod Graves and head coach Ken Whisenhunt have worked hard since the retirement of quarterback Kurt Warner to rebuild the team. They have used the draft to bring in talented young players on both sides of the ball to do so, as well as adding veteran help through free agency.
Though Arizona is 13-19 in two seasons post-Warner, it seems poised for a breakout season. From the front office and coaching to the players and the fans, the 2012 season is important for everyone.
From the front office and coaching…
Coach Ken Whisenhunt has been great for the Cardinals. He and GM Rod Graves have added a lot of talent to the roster where there was little before.
By first adding veterans—mostly on defense—who have been around the block in the NFL, they have been able to draft many talented players and mold them into what they need while they serve as backups behind the vets.
The young talent is now taking over starting spots all over the field, and the team is as good on paper as it has ever been.
But what happens if the team struggles to another losing season? Is 7-9 good enough for everyone to keep their jobs or will it take a complete disaster of a season to see heads roll?
It won't take a 5-11 or 4-12 record to see that happen.
Everyone—front office, coaches, players and fans—expects this team to compete for the NFC West title. Anything below a .500 record could spell doom for Whisenhunt and/or Graves.
To the players…
For the sake of his own NFL future, Kevin Kolb needs to win the starting quarterback job. He could be cut after the season if Skelton outperforms him, and it would not be a shock to watch every team avoid him as a starter—should that happen.
His injury concerns are just part of the problem, but they could be enough to scare franchises away from giving him "starter money."
Levi Brown needs to continue the momentum with which he ended last season. He is due for a breakout season, but if he plays poorly once again he may be out as Arizona's left tackle.
Brown is entering his sixth season as an NFL lineman, and it's time he finally performs as the No. 5 pick in the draft should. He was great the final eight games of 2011, and carrying that into 2012 will solidify his place anchoring the left side of the line for many years to come.
And the fans…
On A Scale of 1-5 With 1 Being the Least and 5 Being the Most, How Important Is It for Arizona To Finish With a Winning Record in 2012?
Before the 2006 opening of University of Phoenix Stadium the Cardinals could not give away tickets to fill a stadium with fans. The games were played at Sun Devil Stadium, home of the Arizona State football team, and fall games were nasty.
Every game the Cardinals have played at U of P has been a sellout, but that could change down the road if this season is a failure.
Residents of Arizona come from all over the country, so naturally there are a lot of fans with dual fan-ship. I am one of them. Hailing from the great state of Ohio, I am also a Cleveland Browns fan.
If Arizona becomes a doormat once again, people will deny they were ever fans just as quickly as Peter denied knowing Jesus of Nazareth. And once that happens, the franchise will have been broken.
We fans want desperately to see a Cardinals Super Bowl victory. This team may not have the talent yet to bring the Lombardi Trophy to the Valley, but the pieces are in place to build a winner for a long time. All they have to do is execute.
The 2012 season is important for everyone
A losing season with the talent this team possesses would be catastrophic in terms of jobs and fans lost. While jobs could be lost immediately, losing fans will be less immediately obvious, but equally—more so, perhaps—damning for the franchise.
Yes, the 2012 season is make or break, and to be broken is not an option if the Arizona Cardinals hope to be contenders for the foreseeable future.
This article is
What is the duplicate article?
Why is this article offensive?
Where is this article plagiarized from?
Why is this article poorly edited?

Arizona Cardinals: Like this team?