2012 NBA Mock Draft: Star Point Guards Guaranteed to Go in the 1st Round
June 17, 2012

Streeter Lecka/Getty Images
Point guards are generally players who could facilitate with the basketball, find the open man and create offensive opportunities for others with penetration.
While that's still the case, the position is slowly changing. We are seeing more and more one-guards driving to the rim not to find the open man, but to score on a consistent basis.
The 2012 NBA Draft has a mix of old school and new school point guards. Here are some point guards guaranteed to go in the first round. 
You can find those players with (*) beside their school. 
1. New Orleans Hornets: Anthony Davis, PF, Kentucky
Anthony Davis will be the first pick in the draft and rightfully so. He has the size, athleticism and tools to be the first pick in the draft and he is sure to pan out.
Ronald Martinez/Getty Images
He's a dominant shot-blocker, rebounder and his offensive game is legitimate. Davis will be a multiple-time NBA All-Star. 
2. Charlotte Bobcats: Michael Kidd-Gilchrist, SF, Kentucky
At worst, Michael Kidd-Gilchrist will be an All-NBA defender at the next level, at best he's a star.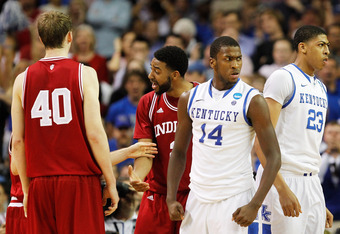 Streeter Lecka/Getty Images
Kidd-Gilchirst's size, length, grittiness, intangibles and skill set is one of the best in the draft class. You can't not love what this kid brings to the table on a game-by-game basis.  
3. Washington Wizards: Bradley Beal, SG, Florida
Bradley Beal's skills are perfect for the No. 3 spot. However, I have my doubts about his ceiling at the next level.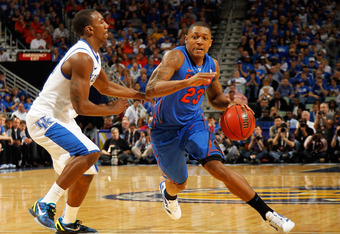 Chris Graythen/Getty Images
At 6'3" Beal is an undersized shooting guard. He was right to leave Florida after one season because of his draft stock, but he is slightly overrated. Nevertheless, he's still a top-five talent. 
4. Cleveland Cavaliers: Harrison Barnes, SF, North Carolina 
Harrison Barnes dropped 40 points on Clemson in the ACC tournament two years ago. His mid-range game is something to behold.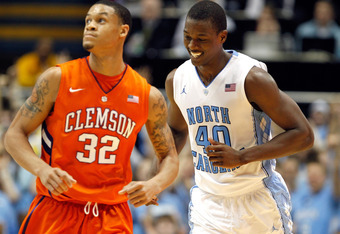 Streeter Lecka/Getty Images
Barnes has great size and underrated athleticism. 
He averaged 17.1 points and 5.2 rebounds per game this past season. Cleveland will be happy if they draft him at this position.  
5. Sacramento Kings: Andre Drummond, C, UConn
Andre Drummond has all the talent in the world. His athleticism, length, size and skill set are something deserving of a top-five pick.
However, he would have benefited from another year at UConn. His offensive game needs loads of work and he is invisible for too many stretches of games. 
6. Portland Trail Blazers (via Brooklyn): Thomas Robinson, PF, Kansas  
One of the best scoring and rebounding power forwards in this draft class, Thomas Robinson, will translate his skills to the next level.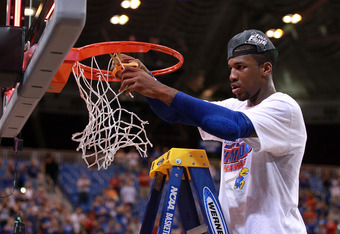 Andy Lyons/Getty Images
His dedication to improve as a basketball player is apparent; he'll do whatever it takes to succeed. 
7. Golden State Warriors (via Utah): Perry Jones III, PF, Baylor
Perry Jones III is one of those players you select with your eyes closed. He has all the talent you would want to see in the NBA but he rarely puts it all together.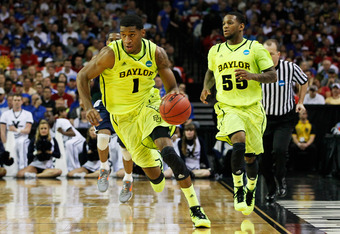 Kevin C. Cox/Getty Images
His size, athleticism and skill set are top-10 worthy, but I would be wary of selecting him this high. Sometimes, however, teams will draft on potential. That's what Golden State will do here. 
8. Toronto Raptors: Austin Rivers, G, Duke 
Duke's Austin Rivers provides extreme explosiveness. 
His offensive game is dynamic and he can get to the rim when he wants. He reminds me of Dwyane Wade with his 6'4" size and overall game. 
Who knows if he can reach that status, but if he's close, Toronto and its No. 28 scoring offense will be happy. 
9. Detroit Pistons: Arnett Moultrie, PF, Mississippi State
Arnett Moultrie is an intriguing first-round prospect. He's a guy who slid under the radar this past season, but his talent and size compare well to today's NBA.
Detroit will give him a hard look at this selection. 
10. New Orleans Hornets (via Minnesota) Kendall Marshall, PG, North Carolina *
New Orleans is going to have the draft of the year. Not only will they select Anthony Davis but they will also select Kendall Marshall from North Carolina.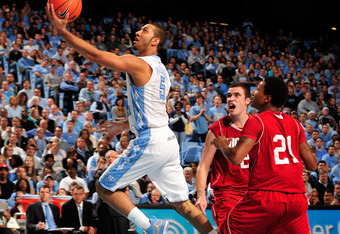 Grant Halverson/Getty Images
Marshall is arguably the best point guard in the draft class. If he isn't the best point guard, he is surely the best pure point guard.
He averaged eight points and 10 assists per game this past season at North Carolina. Marshall isn't the best shooter from the perimeter but he isn't as awful as people think.
Marshall shot a respectable 35 percent from behind the arc this season compared to 38 the season before. 
Nobody in this class sees the floor like Marshall does. He would work wonders with Davis and the rest of the roster in New Orleans.
11. Portland Trail Blazers: Damian Lillard, PG, Weber State *

Damian Lillard has star potential written all over him. He averaged 24.5 points, five rebounds and four assists per game this past season.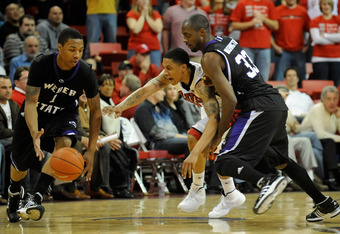 Ethan Miller/Getty Images
Today's NBA is about scoring point guards. Derrick Rose and Russell Westbrook are changing the mold. Lillard fits their style of play and he has the potential to be the next best thing to those two superstars.
Lillard played against inferior competition at Weber State but he is the real deal. 
12. Milwaukee Bucks: Tyler Zeller, C, North Carolina

No Andrew Bogut means Milwaukee will be looking for a center. North Carolina's Tyler Zeller should be the answer here.
In today's NBA, Zeller can be successful at the center position. He's athletic, talented and has the size to compete down low. He could be a very good role player.  
13. Phoenix Suns: Dion Waiters, SG, Syracuse 

Dion Waiters was instant offense with Syracuse this past season. Whenever Syracuse needed a spark, Waiters was implemented in the game and the spark was ignited. 
Phoenix needs youth and athleticism. With Waiters' high ceiling, this selection makes sense. 
14. Houston Rockets: Royce White, PF, Iowa State 
Royce White is one of my favorite players in this draft class. He has star potential mixed with great intangibles.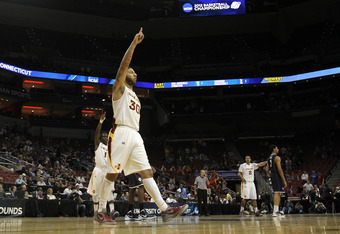 Jonathan Daniel/Getty Images
He can handle the ball, shoot from outside, lead transition breaks and find the open man. He's a legitimate superstar if he reaches his ceiling. 
15. Philadelphia 76ers: John Henson, PF, North Carolina

John Henson brings size and that's what Philadelphia needs most. Expect to see this selection with the No. 15 pick.  
Henson averaged 13.8 points and 10.1 rebounds per game this year. 
16. Houston Rockets (via New York): Terrence Ross, SG, Washington
Terrence Ross could be the steal of this draft if he pans out at the next level.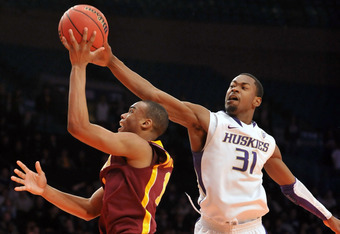 Jason Szenes/Getty Images
He has the size, talent and athleticism to play a major role in the NBA. He'll just need to be more consistent. 
17. Dallas Mavericks: Jeremy Lamb, SG, UConn

Jeremy Lamb seemed to have more promise in his freshman season than his sophomore campaign.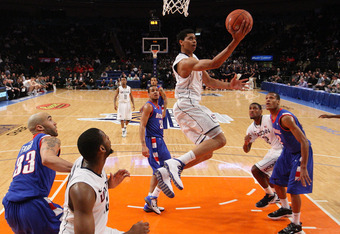 Jim McIsaac/Getty Images
Nevertheless, Lamb is being overlooked in this draft. Connecticut didn't have a great season, but Lamb averaged 17.7 points per game.
It was a very underrated year. 
18. Minnesota Timberwolves (via Utah): Moe Harkless, G/F St. John's 

Moe Harkless has star quality. He has the size, athleticism and scoring ability to dominate in today's NBA.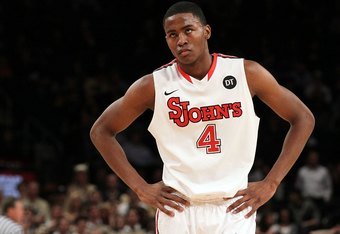 Jim McIsaac/Getty Images
His 7'0" wingspan combined with his offensive skill set is something that could be dangerous. 
Harkless scored 15.3 points and recorded 8.6 rebounds per game in his freshman season. 
19. Orlando Magic: Meyers Leonard, C, Illinois
Who knows what will happen with Dwight Howard. One day he will be gone and the next day he is staying; we have heard it all.
Leonard should be the selection with this pick. 
He provides great size and potential at the center position. 
20. Denver Nuggets: Jared Sullinger, C/PF, Ohio State
Jared Sullinger won't be a star in the NBA but he could be beneficial to a winning team. He doesn't have great size but he does provide quality offensive production if he can combat larger and more athletic defenders. 
Sullinger could be a DeJuan Blair type player. Blair started more games than any San Antonio Spurs player this season. 
Not too shabby. 
21. Boston Celtics: Andrew Nicholson, PF, St. Bonaventure
Andrew Nicholson's game reminds me of Kevin Garnett, especially on the offensive end. His mid-range game is dynamic and he would work wonders with Rajon Rondo in pick-and-roll and pick-and-pop situations.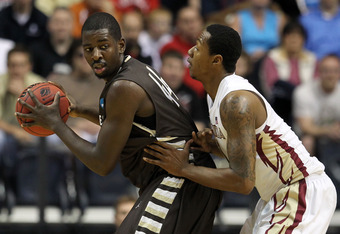 Jamie Squire/Getty Images
Then again who wouldn't? 
22. Boston Celtics (via Los Angeles Clippers): John Jenkins, SG, Vanderbilt

Ray Allen is all but out the door in Boston. The Celtics need to search for a replacement in the draft.
Insert John Jenkins.  
Jenkins shot 44 percent from beyond the arc this past season at Vanderbilt.
23. Atlanta Hawks: Tony Wroten Jr., PG, Washington *
Tony Wroten Jr. has the size and athleticism to thrive at the next level. His shooting is awful, but he can improve upon that similar to what we're seeing with Boston's Rajon Rondo.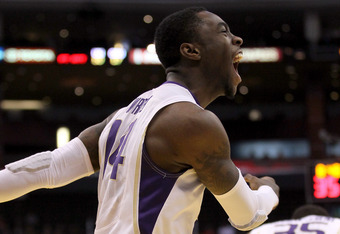 Stephen Dunn/Getty Images
Wroten is 6'5", 203 pounds, he is excellent at getting to the rim and his vision is great. Today's NBA isn't about true point guards, it's about athletic point guards, guys who can get to the rim and make things happen. 
Wroten is that type of player. He has the characteristics and skill set of today's best. 
24. Cleveland Cavaliers (via Los Angeles Lakers): Draymond Green, SF, Michigan State
Maybe I'm rating Draymond Green too highly, but I love his game. He's undersized, doesn't have great length and he could potentially be worked over on defense.
However, he is a basketball player. He can handle the ball, lead fast breaks, shoot from outside, rebound and lead with his top-notch character. He could become a great role player. 
25. Memphis Grizzlies: Quincy Miller, F, Baylor 
Quincy Miller should have stayed at Baylor for his sophomore season. Nevertheless, he's still a top-25 talent at this year's draft.
He's looking more like a project, but he could be a really good player if he reaches his ceiling. 
26. Indiana Pacers: Marquis Teague, PG, Kentucky *
Marquis Teague is from Indianapolis, Indiana and he has a chance to play for his hometown team.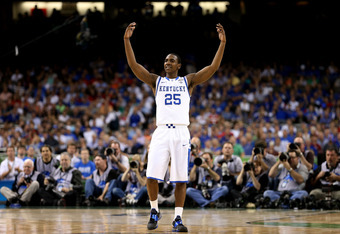 Chris Graythen/Getty Images
Teague turned up his game for the NCAA Tournament after many considered him one of the weak links on Kentucky's roster.
He doesn't provide great numbers in the assists category, but in today's NBA he doesn't need to be great. If he can attack the rim he will find success.
Teague can attack better than most in this class; it's his game. Indiana needs another slasher and Teague should be the guy they select. 
27. Miami Heat: Fab Melo, C, Syracuse
Miami needs a big man. Fab Melo brings size, shot blocking, rebounding, length and he can run the floor surprisingly well.
Melo would be a great fit with the Heat. 
28. Oklahoma City Thunder: Jeffery Taylor, SF, Vanderbilt
Oklahoma City is still searching for another Jeff Green after they traded him to the Celtics. Jeffery Taylor is that type of player.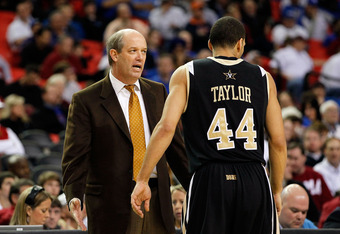 Kevin C. Cox/Getty Images
Taylor has size and he can shoot from the perimeter. This would be a great selection for Oklahoma City in the NBA Draft. 
29. Chicago Bulls: Will Barton, SG, Memphis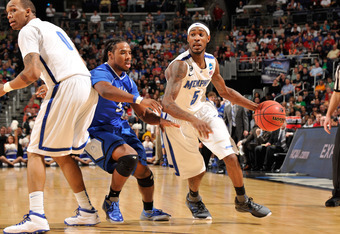 Jamie Sabau/Getty Images
Will Barton is a legitimate scoring option late in the first round. He has solid size, athleticism and he can score the rock with great proficiency.
Barton should be the selection for the Bulls with this pick if he's still on the board.   
30. Golden State Warriors (via San Antonio) Evan Fournier, SG, France 
Usually we see one European player in the first round of the NBA Draft. 2012 won't be any different.
Evan Fournier, the French shooting guard, will be looked at heavily by teams in the latter half of the first round. With his services still on the board at No. 30, expect Golden State to select him.