US Open Golf Results 2012: Strong Saturday Is Integral for Tiger Woods
June 16, 2012

Ezra Shaw/Getty Images
Take one look at the 2012 U.S. Open leaderboard and it would appear that Tiger Woods is back on top of his game.
Currently sitting pretty at one-under overall and tied with Jim Furyk and David Toms at No. 1 on the leaderboard, this is a spot that Tiger has been accustomed to being in throughout his historic career—at the top.
While it may seem like Woods is a lock to continue his hot play and come away with the U.S. Open title this year, let's not rush to any hasty conclusions.
This is Tiger Woods we are talking about.
At one point, that could only mean that he would be dominant, but ever since his epic fall from grace, Tiger has become a much more dynamic player. Dynamic in the sense that we just don't know what golfer we are getting.
There have been times where he's looked like the Tiger of old—and so far he's been pretty darn close to that at this U.S. Open—but there have been other tournaments in which he has looked plain bad.
We've seen him lose accuracy, poise and even his temper; and more times than not we've seen him play like an average golfer.
Tiger is not a shoo-in to win the 2012 U.S. Open. He's going to have to work for it.
Getting off to another hot start on this U.S. Open on Saturday is going to be integral for Woods. He needs to come into weekend play and show some consistency. Not only would that go a long way toward helping him stay on top of the pack, but it may help take some pressure of him.
At one point, pressure was not an issue for Tiger, but nowadays he's probably better served playing loose, having fun and taking it hole by hole. If he can go into Sunday with the lead or near the top of the board, that's when the Tiger of old will certainly try to come out of his cage, but he needs to have a strong showing on Saturday before he can even consider that.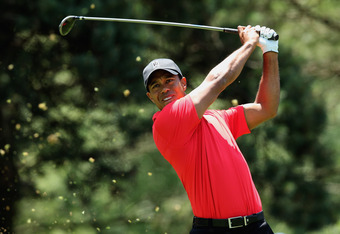 Scott Halleran/Getty Images
One bad round can change the course of a tournament, especially at the U.S. Open, so don't underestimate how important this day of golf is going to be for Tiger. He needs to keep up the momentum and he needs to stay focused on the task at hand.
If he comes out shaky on Saturday, this can go either way, but if he comes out strong and busts out the Sunday red on top of his game, there might not be anything that can stop him.
Click here to check out results from the 2012 US Open as they happen.