Dwight Howard: The 10 Best Trade Destinations for Orlando Magic Star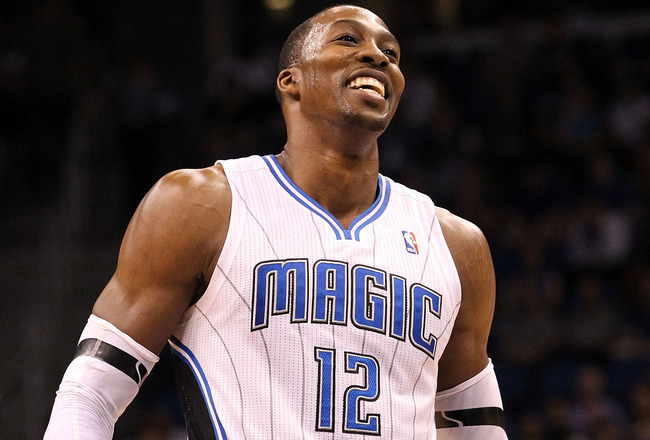 Sam Greenwood/Getty Images
Orlando Magic center Dwight Howard may have decided to waive his opt-out clause, but that doesn't mean that he isn't on the market this summer.
After all of the drama that went down with Howard and former Magic head coach Stan Van Gundy last season, Orlando simply cannot afford to have that cloud of uncertainty hang over the team for another year.
The franchise is likely to move its All-Star center sooner rather than later, and nearly every team in the league will call Orlando in the hopes of making a trade.
But while Howard will almost certainly improve the prospects of his future employer, there are a few places that stand out among the rest. So as Orlando figures out what to do with its mercurial superstar, let's take a look at the ten best trade destinations for Dwight Howard.
10. New Orleans Hornets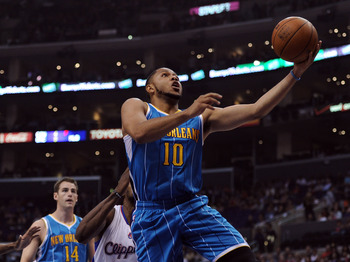 Harry How/Getty Images
The conspiracy theorists would be out in full force if it ever happened, but a theoretical Howard trade to the Hornets for the No.1 overall pick would be a win for (virtually) everyone involved.
Instead of the unknown quantity known as Anthony Davis, New Orleans could get a proven cornerstone in the 26-year-old Howard. Orlando, meanwhile, would have the league's most-heralded rookie as well as a healthy amount of cap space they could use to surround him with complementary pieces.
The Hornets' franchise would be relevant again, much to the delight of the NBA. As for Howard? Well...at least he wouldn't have to travel very far to enjoy the best in Cajun and Creole cuisine.
9. Portland Trail Blazers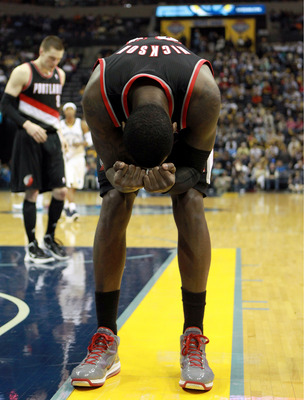 Andy Lyons/Getty Images
Aside from New Orleans, Portland might have the most to offer Orlando in exchange for Dwight Howard.
The No. 6 and No. 11 picks in this 2012 NBA Draft straight up for Howard probably get the deal done, but the Trail Blazers would have to free up some cap space in order to absorb the $19.26 million due to the Orlando center in 2012-13.
Imposing is the word for what the Portland frontcourt of Howard and LaMarcus Aldridge would look like. If the team could somehow keep Wes Mathews and Nicholas Batum as well, the Trail Blazers might be one of the dark horses in the Western Conference playoff race next season.
8. New York Knicks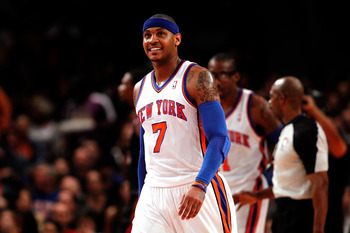 Jeff Zelevansky/Getty Images
While calling the Knicks "clumsy" may be a bit of an overstatement, it's obvious that something needs to change if New York is serious about winning an NBA championship.
The Carmelo Anthony-Amar'e Stoudemire experiment has yet to bear any fruit, and despite the "Linsanity" that swept the Big Apple this year, Jeremy Lin simply isn't talented enough to take the Knicks to the next level.
If the team could somehow deal Stoudemire to Orlando for Dwight Howard, it may be time for New York to cut its losses and move on. Then again, if Anthony continues to be the "ball stopper" that many make him out to be, it may not matter who the other players are on the floor for the Knicks.
7. Boston Celtics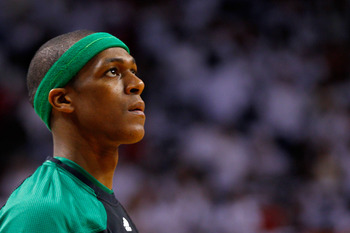 Mike Ehrmann/Getty Images
With the "Big 3" era in Boston (seemingly) coming to an end, Celtics' president Danny Ainge may try to move heaven and earth in an attempt to land Dwight Howard this summer.
The Orlando center has previously stated his affection for the Celtics' franchise, and the allure of playing for Doc Rivers isn't something that can easily be discounted (via Slam Online).
A trio of Rajon Rondo, Pierce and Howard is nothing short of impressive, and even when Pierce's deal runs out in two seasons, Boston would still be left with two top-25 NBA players who are just entering their prime.
As of now, Boston only has four players currently under contract for next season, so any trade would likely revolve around draft picks. And while Paul Pierce is by no means untouchable, it's doubtful that the Magic would want to build around the Celtics' aging superstar.
6. Philadelphia 76ers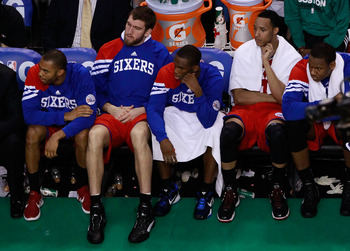 Jared Wickerham/Getty Images
Adding Dwight Howard to Philadelphia's young nucleus could take the 76ers from a middle-of-the-pack playoff team into an immediate contender.
Howard hasn't shown any desire to play in the City of Brotherly Love, but it is a major market, and Howard instantly becomes the alpha male on a team poised to take the next step in the Eastern Conference.
In exchange for Howard, the Magic shouldn't accept anything less than Andre Iguodala, one of the Sixers' young prospects (perhaps Jrue Holiday) and/or a few picks. The trade would not only leave both teams flush with talent, but two players in desperate need of a change of scenery (Howard and Iguodala) would finally have new places to call home.
5. Atlanta Hawks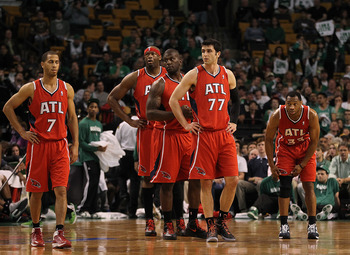 Jim Rogash/Getty Images
Luring Dwight Howard back to his hometown of Atlanta would be a coup for the Hawks: a moribund franchise in desperate need of an adrenaline rush.
The Hawks have plenty of talent, but they have consistently failed to put it all together for a deep postseason run. The addition of Howard would make Atlanta one of the top contenders in the Eastern Conference, and a deal could be made without too much disruption to the Hawks' core unit.
Al Horford and Marvin Williams might be an appealing package for Orlando, but the Magic would likely ask for a future first-round pick (or two) to be thrown into the deal.
4. Dallas Mavericks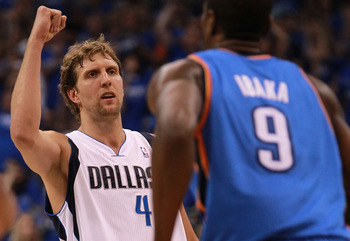 Ronald Martinez/Getty Images
It would take some creative cap maneuvering, but it would not be entirely surprising to see Dwight Howard in a Mavericks uniform next season.
Orlando would have to settle for far less than market value in return for Howard as the Mavericks don't have many assets to offer in a trade.
In Howard and Dirk Nowitzki, Dallas would have the best front line in the NBA, but they still might struggle against the powerhouse teams in the Western Conference. And although it has been widely rumored, the Mavericks simply don't have the ability to acquire Howard and Brooklyn Nets guard Deron Williams unless one (or both) take a huge pay cut.
3. Chicago Bulls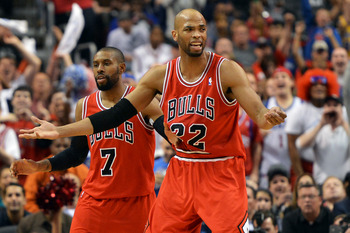 Drew Hallowell/Getty Images
From strictly a basketball standpoint, Chicago may be the best destination for Dwight Howard.
With Derrick Rose already in the fold, the Bulls could potentially wind up with the best young tandem in the NBA. And even if the Bulls had to give up center Joakim Noah in a deal, the team would still have one of the deepest rosters in the NBA, and a legitimate chance to play for the Larry O'Brien Trophy every year for the rest of the decade.
There was some speculation floating around at the beginning of the season that Adidas didn't want its two biggest stars—Rose and Howard—playing in the same city (via ESPN).
Howard, however, told ESPN that is not the case.
2. Brooklyn Nets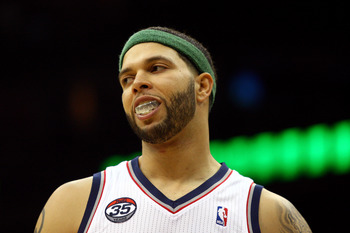 Chris Chambers/Getty Images
The Nets were long rumored to be the major suitor for Howard's services, and the team will need him more than ever if Deron Williams, Gerald Wallace and/or Kris Humphries choose to leave for greener pastures.
If Howard truly wants to be a megastar away from the court, then the stage doesn't get much bigger than in the Big Apple. With the Knicks seemingly trapped in mediocrity, Howard could become the city's most recognizable basketball icon in extremely short order.
A sign-and-trade involving Brook Lopez and a few high draft picks might get a deal done, but Orlando may insist on the inclusion of Nets' shooting guard MarShon Brooks. Whatever the price may be, it just might be worth it for a Brooklyn franchise looking to make a statement as it makes its move across the Hudson River.
1. Los Angeles Lakers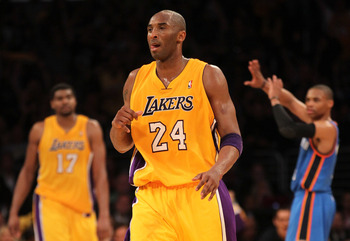 Stephen Dunn/Getty Images
If New York isn't the play, Los Angeles is also a prime destination for Howard should he force his way out of Orlando.
According to Jarrod Rudolph of RealGM.com, Howard might already be in LA if it wasn't for a conversation that the Magic center had with Lakers' guard Kobe Bryant.
Bryant reportedly told Howard that if the two joined forces, Howard would play the "Tyson Chandler" role on the team as the third option behind Bryant and Pau Gasol. The discussion reportedly had a negative effect on Howard, who cooled to the idea of playing for the Lake Show.
Any trade would almost certainly involve one of the Lakers' big men (Andrew Bynum, more than likely), but Los Angeles would still boast three All-Star caliber players. Most importantly, the team should still be able to battle the Oklahoma City Thunder for Western Conference supremacy until the day Bryant decides to walk away from the game for good.
Keep Reading

Orlando Magic: Like this team?