US Open Golf 2012: Who Can Challenge Tiger Woods This Weekend?
June 16, 2012

Stuart Franklin/Getty Images
Tiger Woods is tied for the lead at the 112th U. S. Open with David Toms and Jim Furyk.
Both Furyk and Toms have won major titles in the past and both play the disciplined style of golf that Olympic Club requires.
It is unlikely that either of these two will have a massive train wreck, but one never knows what may happen in a U.S. Open, especially on a course as difficult as Olympic Club.
Double-bogeys and the dreaded "others" are always lurking. 
It doesn't appear that the rest of the field has much of a chance.  Tiger has won eight out of the nine times that he has led a major championship after 36 holes.
Of course, that was "old Tiger."  What will the new, retooled Tiger do?
Other than Furyk or Toms, are there others that could challenge Woods on the weekend?
Graeme McDowell is only two shots behind the leaders and appears to be in good form this week.  He got a closeup look at Jim Furyk's patience over Olympic Club for the first two rounds.
Did he learn something that may help this weekend?
McDowell won the 2010 U.S. Open at Pebble Beach.  He understands the grit and determination that is needed to win a U.S. Open.
Graeme will be paired with fellow European Nicholas Colsaerts for Saturday.
Colsaerts is a long hitter but does not have the experience necessary to contend at a major championship.  Maybe ignorance is bliss.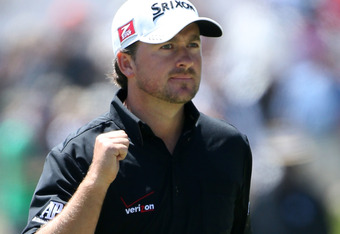 Andrew Redington/Getty Images
Here are three other names just four shots back at three over par that could move up the leaderboard: Matt Kuchar, Hunter Mahan and Jason Dufner.
Kuchar has been one of the most consistent players over the past two years and has had some success at this course as an amateur back in 1998.
Matt also got a big win earlier this year at the Players Championship.  Although the Players is not officially a major, it has a stronger field than any of the majors and is played on a very demanding golf course.
Kooch has the steady, accurate game that is required for a USGA setup and may just have the experience and temperament to apply pressure.
Hunter Mahan has won twice on tour this year and has become a major star on the PGA Tour.
Even though Hunter has only hit 57 percent of the fairways, 67 percent of the greens and has taken 62 putts through 36 holes, he has still gotten his ball around the course and is only three over par.
If he can just hit a couple more fairways and greens, plus shave a couple putts off his score over the weekend, he could move up the leaderboard in a hurry.
The hottest golfer on the planet over the past two months has been Jason Dufner.
He has had six birdies over the first two rounds, but he has also had seven bogeys and one double-bogey.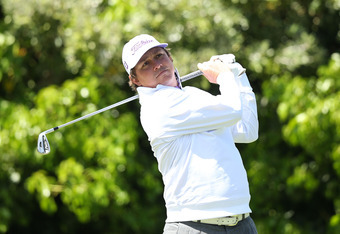 Ezra Shaw/Getty Images
Dufner, just like Kuchar and Mahan, has proven that he can get the ball around this golf course. 
He has been battle-tested in a major.  Have you forgotten his runner-up finish at the PGA Championship last summer when he went head-to-head with eventual winner Keegan Bradley?
His fairways and greens stats are not overwhelming through the first two rounds.  If he can find just one or two more fairways, plus get the odd putt to fall, he will find himself very near the top of the U.S. Open leaderboard.
One more name in the pack at three over par that bears consideration is Charl Schwartzel.
Schwartzel won the 2011 Masters by making four consecutive birdies to close out the final round and don the Green Jacket.
Tiger Woods is playing golf reminiscent of his dominant style from the early 2000s. 
He must be wary, however, of several major champions on his tail, plus some hungry young guns seeking their first major.
Will Tiger be able to turn back the clock, hold off the surging pack and capture his 15th major championship?
Stay tuned. It's going to be a bumpy ride at Olympic Club this weekend.